Italy warned Libyan jihadists are 'just south of Rome'
Italian government calls for UN-led international intervention to restore order
Michael Day
Monday 16 February 2015 20:33 Comments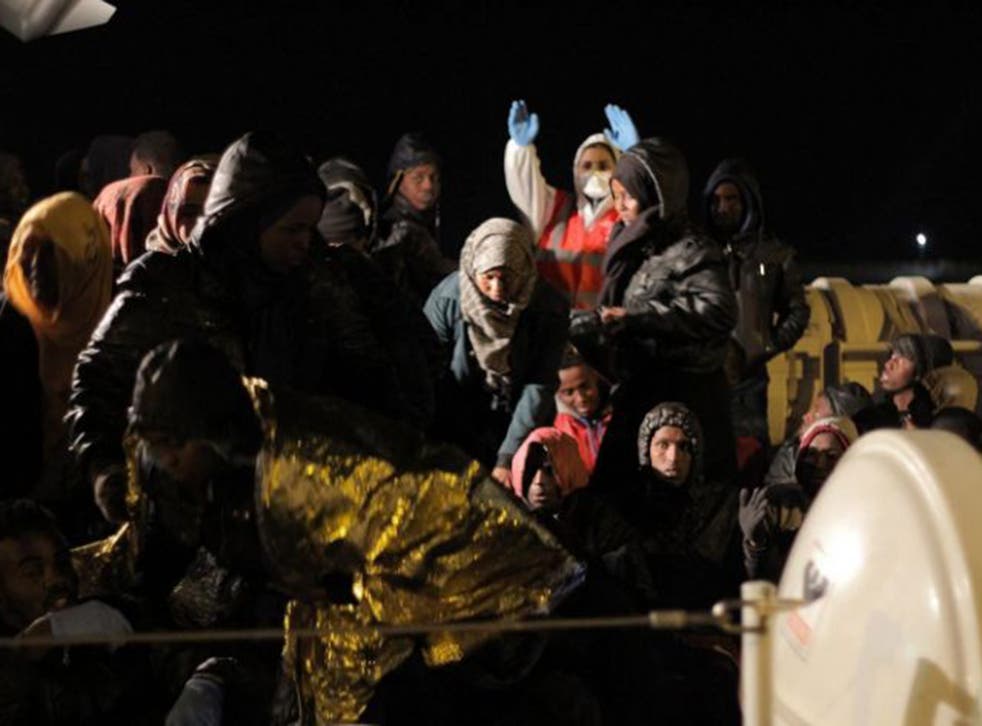 Fears in Italy of an imminent Islamic terror attack mounted after Libya-based Isis affiliates warned the jihadist group was now "just south of Rome".
The Italian government called for UN-led international intervention to restore order in the North African country, with Corriere della Sera quoting secret service sources as saying that "Italy has never been as exposed to the jihadist threat" as it is from terrorists in Libya.
The political pressure for stemming the chaos in Libya increased with unsourced reports in the Italian press saying that up 200,000 migrants were ready to flee the Libyan coast for southern Europe, and principally Italy.
In pictures: Coptic Christians mourn victims of Isis beheadings

Show all 15
The Interior Minister Angelino Alfano repeated earlier calls by the Prime Minister Matteo Renzi for a peace-keeping force in Libya. He told La Repubblica: "There is not a minute to lose. We have to intervene in Libya with a UN mission. The international community must understand that it is crucial for the future of the West."
Mr Alfano said the risk of Isis terrorists seeking to enter Italy disguised as refugees "could not be discounted". Justifying his calls for UN intervention in Libya, Mr Alfano said the global community "had on its conscience" the danger that it had exposed Italy to by ousting Gaddafi.
Expert observers, such as the international affairs expert Professor Raffaele Marchetti of Rome's LUISS University, said there was little or no chance of UN intervention in the increasingly chaotic North African country.
By this afternoon Mr Renzi had backtracked somewhat and called for caution regarding direct intervention in Libya.
But Professor Marchetti said the danger to Italy was real: "The situation is worrying. All these sources taken together suggest that some sort of attack will be attempted." And with Italian passport-holders returning from the Middle East, "there is the possibility of an attack from two fronts", he said.
He added that the Vatican, as "the centre of Christianity", would be a likely target of jihadists. The mass beheading of Coptic Christians on the Libyan shore of the Mediterranean, facing Italy, was a clear threat to that effect," he said.
It came as jihadists, broadcasting from Mosul in Iraq, denounced the Italian Foreign Minister Paolo Gentiloni as "the minister for the Italian crusades".
On Sunday several human traffickers threatened Italian coastguard officers with Kalashnikovs, in order to stop them seizing their boat, while the officers were in the process of rescuing nearly 2,000 migrants from 11 small vessels between Lampedusa and Libya on Sunday.
Observers blame the mounting chaos in Libya and the vacuum that this has created for allowing local affiliates of Isis to spring up there – and menace Italy, the former colonial power. Italy's concerns about Libya are compounded because it also has important economic interests in the country, after it carved up the oil industry with the then dictator Muammar Gaddafi.
Register for free to continue reading
Registration is a free and easy way to support our truly independent journalism
By registering, you will also enjoy limited access to Premium articles, exclusive newsletters, commenting, and virtual events with our leading journalists
Already have an account? sign in
Join our new commenting forum
Join thought-provoking conversations, follow other Independent readers and see their replies