Jewish museum killing: Gunman in Belgian shooting was caught on film
Police launch manhunt for man who shot dead an Israeli couple and a French woman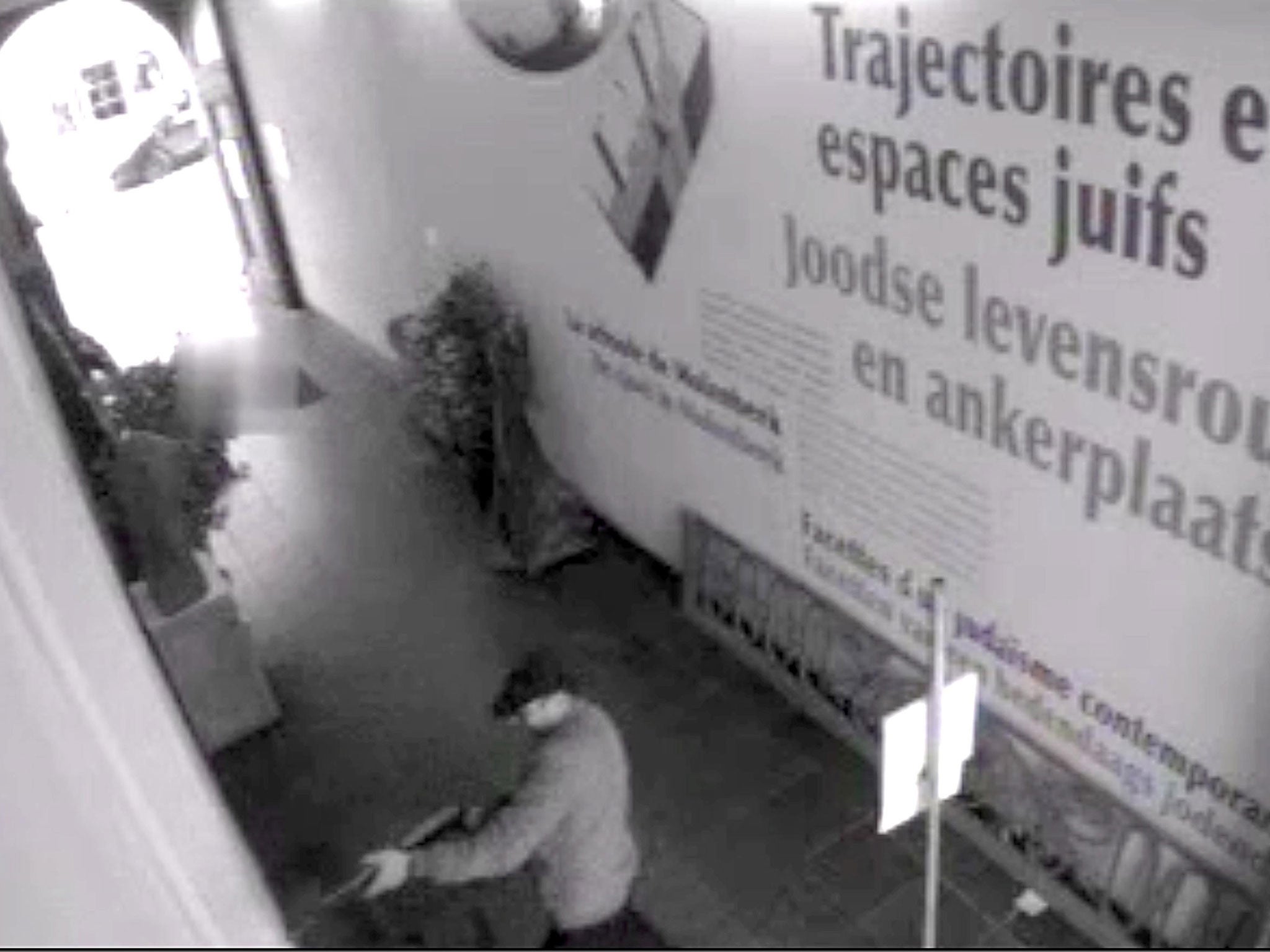 Belgian police released video footage on Sunday of a gunman they are hunting after an attack at a Jewish museum in Brussels that left three people dead, as Jewish leaders called for heightened security following an anti-Semitic attack near a synagogue in Paris.
An Israeli couple and a French woman died in the museum attack, which took place on Saturday afternoon in a busy street. A man drove up to the building, walked into the foyer and shot the two Israeli tourists and the French museum attendant in the head and neck before fleeing. A Belgian man was also critically injured in the attack.
The shooting took place on the eve of national elections, and police have called on citizens to help identify and apprehend the gunman. One person arrested on Saturday was released without charge.
On Sunday, the authorities published three video clips and two stills from security footage of the incident. They showed a man wearing a blue shirt and baseball cap and carrying two bags walking on a cobbled street near the museum entrance. Another clip showed him entering the foyer, opening a door, then firing into a room with a Kalashnikov assault rifle before calmly walking away.
"We call on the whole population to help identify this person," said Ine Van Wymersch, a deputy prosecutor, adding that police believed the gunman acted alone in a carefully planned assault.
While officials have refused to give a definitive motive for the attack while investigations are in progress, both the Interior Minister, Joelle Milquet, and the Foreign Minister, Didier Reynders, have said the location of the shooting suggested it was an anti-Semitic attack. Jewish community groups expressed outrage, with Moshe Kantor, the president of the Brussels-based European Jewish Congress (EJC), saying it was "horrific but not surprising". He urged governments to do more to share intelligence and enact tough punishments for hate crimes.
"How many more deadly attacks at Jewish institutions does our community need to endure until European governments get serious with a climate of increasing hate towards Jews?" he asked. "It is our basic right as European citizens to go about our daily lives in full security."
As police increased security at Jewish sites across Belgium, France enacted similar measures after two brothers were attacked near a synagogue in Paris. One was punched in the eye with a knuckleduster. The French President, François Hollande, told the news channel I-Tele: "We must do everything to fight against anti-Semitism and racism."
World leaders also sent condolences to the Belgian victims, with David Cameron telling Prime Minister Elio Di Rupo: "We join you in condemning this dreadful attack and will work with you to confront such bigotry across Europe."
The EJC has recorded a rise in anti-Semitic attacks and there has been a surge in support for far-right politicians.