Karamba Diaby: The man who aims to become Germany's first black MP
Many of his constituents have never met a black person. He is not deterred, he tells Tony Paterson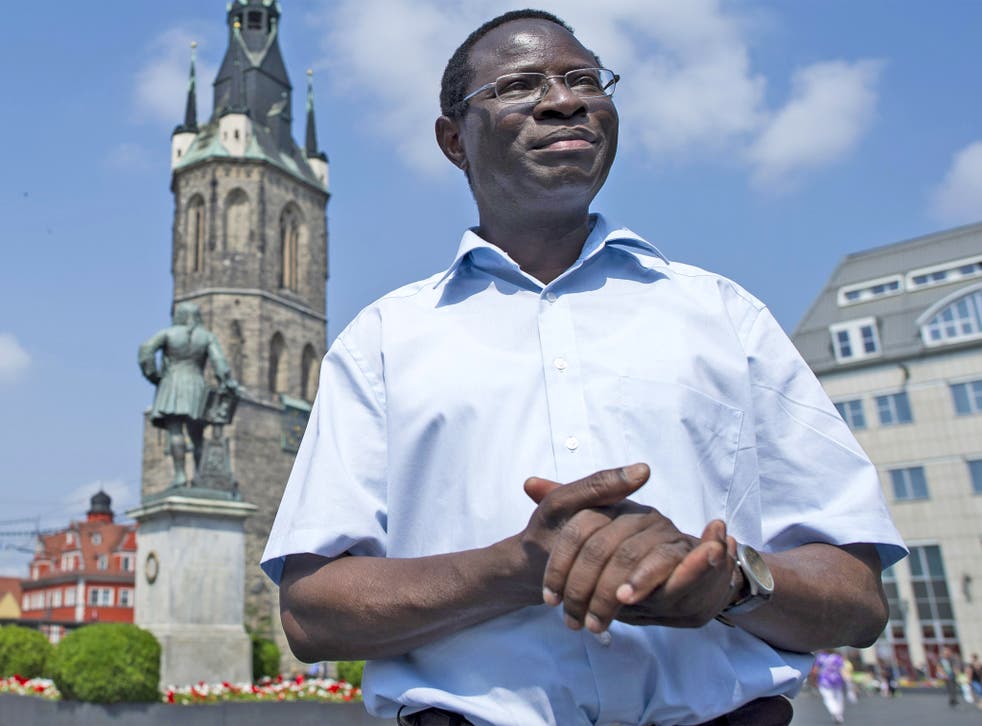 In a the back room of the "Soup Ladle" community centre on a rundown communist-era housing estate, an elderly woman was getting hot under the collar about foreigners. "Germany cannot keep taking them all in," she protested.
"They're all coming here for the money." The occasion was a routine meet-and-greet session involving pensioners from the suburb of Silberhöhe in the eastern city of Halle and their prospective Social Democrat MP as part of the gear-up towards Germany's general election in September.
There was nothing unusual about the meeting apart from one thing: the would-be MP was a black politician called Karamba Diaby. The 51-year-old was born in Senegal and aims to become Germany's first black MP. For many in the room, it was the first time they had ever spoken to a black person.
"I have to tell you that Germany has some of the toughest immigration laws in the world," Mr Diaby told the pensioner who had voiced her anti-immigrant view. "What is more, eastern Germany is the area least visited by foreigners. They prefer to go to places like Canada, where there is a more welcoming culture."
That eastern Germany has a reputation for making foreigners unwelcome is something Mr Diaby has experience of. In 1992, he was attacked by a gang of far-right skinheads while walking the streets of Halle. Two years ago, he was inundated with hate mail and death threats after his photograph appeared on the front page of a right-wing newspaper.
He insists that racism occurs everywhere and that since German reunification in 1990, Halle has made great progress in overcoming the problem. That said, the neo-Nazi National Democratic Party holds seats in the parliaments of two eastern federal states. The far right has created "no-go" areas for foreigners in some regions and Roland Berger, a renowned international business consultant, warned earlier this year that the predominance of the far right threatened to deter investment in east Germany.
Trapped behind the Iron Curtain and the Berlin Wall for close on three decades, most east Germans' experience of non-Europeans was minimal. Against this backdrop, Mr Diaby's ascent from the position of ostracised black foreigner in communist East Germany to that of prospective MP for the region seems like material taken from a Hollywood film script.
Yet his upbringing in Senegal was also a struggle of Herculean proportions. Mr Diaby was born in the small town of Marassoum in the country's south-west. By the time he was seven he had lost both his parents. He was brought up instead by his older sister and her husband. At 13, he was sent to boarding school and four years later he gained a place at a Senegal Lycée, putting him on track for university in the capital, Dakar.
It was at university that Mr Diaby became interested in politics. As a member of the student movement, he became friends with the country's current president, Macky Sall. "We were both interested in changing things," Mr Diaby recalls. But while Mr Sall went on to pursue a career in Senegalese politics, his friend applied for and won a coveted place to study in communist eastern Europe.
"I was very grateful to the East Germans. I didn't see the country as the oppressive place it was considered to be by the West," he says. After spending nine months in Leipzig on a compulsory German language course, Mr Diaby was in 1986 awarded a place at Halle's Martin Luther University, which at the time he had mistakenly assumed was named after the black American civil rights campaigner.
"I wanted to go study at a university I thought was named after one of my heroes. It was Martin Luther King who brought me to Halle," he admits with a smile. It was in Halle that he met his future German wife, Ute, who was studying agriculture. Mr Diaby studied chemistry and remained active in student politics as head of the International Student Committee. But then the Berlin Wall fell and the secure if not often monotonous world of communist East Germany suddenly fell apart. Like millions of others, Mr Diaby's future was uncertain. But then Halle's allotments came to the rescue. At the time, a western developer was convinced that most of Halle's 12,911 allotments had been hopelessly polluted by the region's chemical plants. He used his claims to argue that most of the allotments should be broken up for use as building land.
Mr Diaby, the chemist, was told to go and find out whether the developer's claims were true. "Like many students, I looked down on allotment holders. I thought they were all small minded and petit bourgeois. I couldn't have been more wrong," he says.
"There were all kinds of different people, ranging from university professors, to policemen and train drivers. Many had lost their jobs since the fall of the Berlin Wall. They took an interest in me. At first, they made jokes about black men always wanting blonde girls, but I got to know them and they me."
Mr Diaby's research showed that the allotments had suffered from air pollution but that the ground was largely uncontaminated. His conclusions saved thesmallholdings and since then Mr Diaby has not looked back. He joined the Social Democratic Party and in 2009 was elected to the city council. He is now so well known locally that it takes him half an hour to cross Halle's main marketplace because so many people want to stop and talk to him.
During the city's severe flooding last month, when the River Saale reached its highest level for 400 years, Mr Diaby helped to fill sandbags with the rest of the population, taking time out from his job as integration adviser to the regional state government.
His candidacy is a rare highlight in one of the Social Democrats' worst election campaigns in recent history. Although Mr Diaby is likely to win a seat in the Bundestag, few give his party much chance of beating Chancellor Angela Merkel's conservative Christian Democratic Union. Mr Diaby's latest election gimmick is to have persuaded a local brewery to produce Karamba Diaby beer mats. "Your Good Health – from Karamba Diaby" reads the accompanying slogan.
"His chances of winning a seat must be good," Marcus Schelgelmilch, his campaign manager, told The Independent yesterday.
"The beer mats are disappearing like hot cakes. Now lots of other Halle breweries want them."
Merkel pledges no tax rises if she is elected
Chancellor Angela Merkel would oppose tax rises of any kind if she is re-elected in September.
"[For many voters the election is] about a stable euro, jobs – if possible for everyone, a strong economy for our country," she said yesterday. "For that you need reliable conditions. That means tax rises are wrong. Of any kind."
While most pollsters expect Ms Merkel to win a third term in September, it is unclear if her Christian Democratic Union will be able to continue its centre-right alliance with the Free Democrats, who favour low taxes. She may have to seek a "grand coalition" with the the opposition Social Democrats. Tax policy could be one of the thorniest issues in any talks between the parties. Reuters
Join our new commenting forum
Join thought-provoking conversations, follow other Independent readers and see their replies