Kazakhstan dictator heaps praise on David Cameron and says he would vote for him
President Nazarbayev said he had been watching Cameron and praised him for 'the way he protects the interests of the British people all over the world'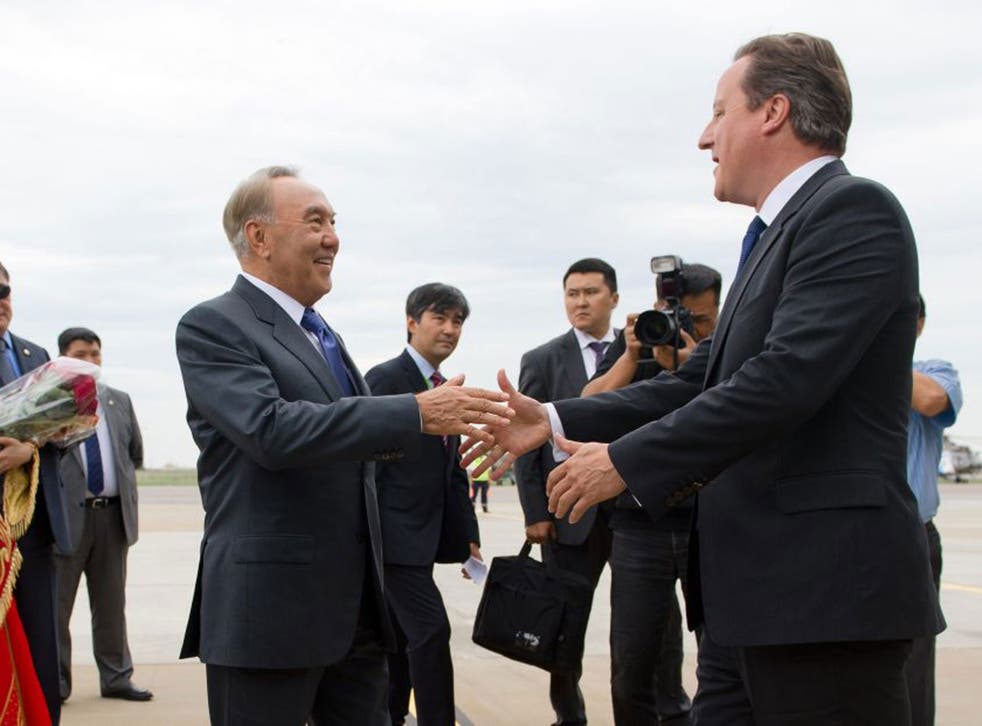 The final day of David Cameron's visit to central Asia was overshadowed by political embarrassment today after Kazakhstan's hardline ruler said he would vote for the Prime Minister if he had the chance.
President Nursultan Nazarbayev said he had been watching Mr Cameron and publicly praised him for "the way he protects the interests of the British people all over the world".
The controversial Kazakh leader, who recorded 95.5 per cent of the popular vote at his last election, added: "Personally, I would vote for him." A visibly squirming Mr Cameron, who had spent much of the previous 24 hours with the President, replied: "That's one [vote]; I just need another 20 million and I'm in business."
The Prime Minister, who had proclaimed that the relationship between the two countries was moving "to the next level", was also forced to apologise after it emerged that a Kazakh artist with no hands had been denied a UK visa because he had not provided fingerprints.
The unwelcome interventions dominated a press conference held in the presidential palace in Astana, to rubber-stamp a series of agreements on trade and a "strategic partnership" between the two countries. Mr Cameron, who had travelled to the oil-rich state with a delegation of British firms including BP, Shell and Rolls-Royce, said Kazakhstan was "a dynamic country that is poised to become a high income country by the end of this decade".
The Prime Minister spent much of the previous 24 hours with the President, travelling in his private jet and drinking with him in an "Irish Bar" where Guinness sells for £11 a pint. He confirmed that he had raised the issue of human rights in Kazakhstan, including "credible allegations" that the Nazarbayev regime was guilty of torture and curbs on religious and press freedoms.
He said: "In the relationship that Britain has with Kazakhstan, the relationship I have with President Nazarbayev nothing is off the agenda.
"We talk about the full range of subjects and that includes human rights. I discussed for instance the letter written by Human Rights Watch and the concerns in that letter. It is very important we have a frank dialogue on all of these issues."
But the President, who has ruled over Kazakhstan since it became independent in 1991, dismissed the allegations, insisting there was "no political oppression" in his country.
He said: "Of course we don't reach the level of Europe. Democracy is the outcome, is the aftermath, the final goal, not the beginning.
"For the first time in our history we have adopted our independence because for many years we lived under totalitarianism both under the Tsar and the Communist regime. So in 20 years to transit to democracy is not an easy thing.
"Nobody has the right to instruct us how to live."
Mr Cameron apologised after he was confronted with the case of Kazakh artist Karipbek Kuyukov who was denied a visa to travel to Britain to attend a conference and show his paintings.
"That was clearly deeply regrettable," the Prime Minister said when asked about Mr Kuyukov, who was asked for fingerprints even though he was born with no hands. "That's being put right and it shouldn't have happened."
Earlier, Mr Cameron told university students in Astana that he would like to be Harry Potter - but hinted that many Britons might view him as the evil Voldemort.
The Prime Minister revealed the unlikely aspiration during a question-and-answer session at Nazarbayev University, in which he also opened his heart about missing wife Samantha "desperately".
Mr Cameron also revealed that he still gets told off by some of his former Oxford tutors over mistakes in running the country.
Asked which character in the JK Rowling books he would like to be, Mr Cameron said: "My daughter is nine years old, she's just started to read all the Harry Potter books so I'm sort of rediscovering them all over again.
"I can think of all sorts of characters you don't want to be and I suppose in the end you know if you've got any sense you want to be Harry Potter. That must be the correct answer.
"But I suspect people in Britain might want to paint me in a different role but I'll let them do that, I won't make the work easier for them."
Mr Cameron, who has been overseas since Thursday on a visit taking in the European Council in Brussels, Afghanistan, Pakistan and Kazakhstan, said he was missing his wife.
Asked what moment of his life he would like to relive, the Prime Minister said: "I do still remember vividly the day I was married. It's the most exciting day of your life. I still remember it.
"I haven't seen my wife for several days now and I miss her desperately.."
He added: "Of course the birth of your first child, particularly is an incredibly emotional and powerful moment."
Asked about his student days reading politics, philosophy and economics at Oxford, Mr Cameron said: "I was very lucky to have some very good tutors.
"In fact some of them still write me letters, often telling me that what I am doing is not a good idea but every now and again saying well done.
"They keep in touch, I think they still feel they are training me even now."
Mr Cameron was presented with a Nazarbayev University hoodie and cap on his visit.
Join our new commenting forum
Join thought-provoking conversations, follow other Independent readers and see their replies