The killing of Marius the giraffe opens an important debate about genetics, animal rights and zoo inbreeding
As staff at Copenhagen Zoo receive death threats after the culling of an 18-month-old giraffe for 'conservation reasons', Cahal Milmo reports on how the animal's death has divided geneticists and animal rights activists worldwide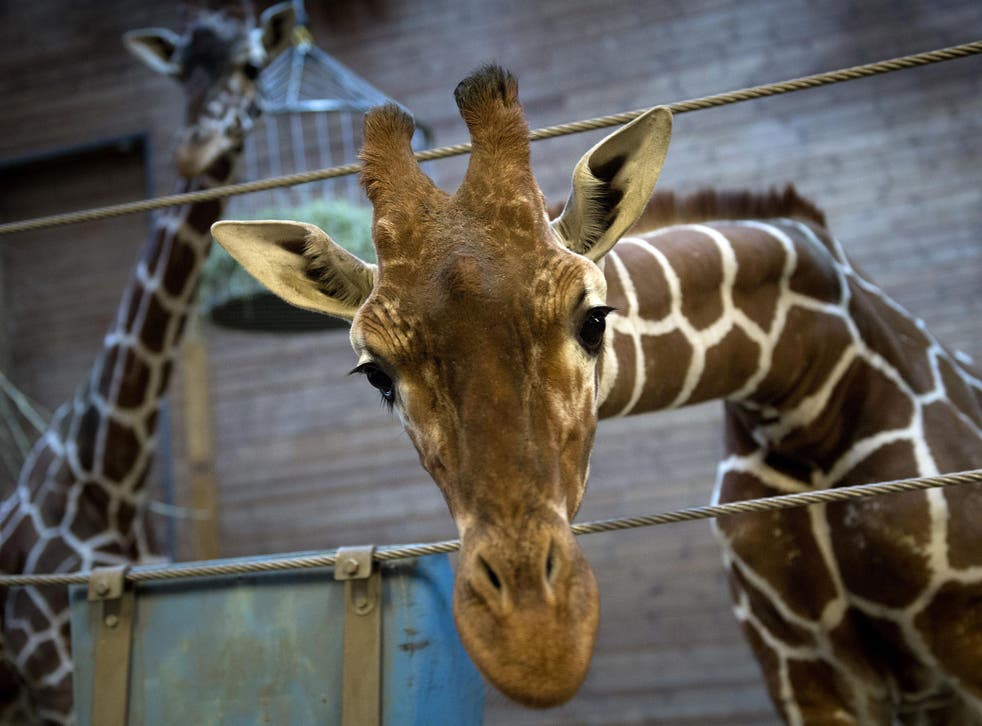 Marius was ill-fated but he was not the first. There were the two leopard cubs culled at Copenhagen Zoo in 2012. Four years before that, three Siberian tigers were put to sleep in Germany. Like the giraffe, all were healthy. But their genes did not fit with the fight to conserve their species, with experts worrying they were too similar – or not similar enough – to others in breeding programmes to allow them to mate.
While the reasoning might be familiar to geneticists, the sight of 18-month-old Marius being dissected in front of visitors to the Danish capital's zoo over the weekend, after it had been dispatched with the aid of a piece of bread and a bolt gun, sparked anger and incomprehension worldwide. Pictures of the dismembered corpse then being fed to lions reinforced the impression, for some, that the law of the savannah had been perversely transplanted to the civilised climes of urban Scandinavia.
The brutal destiny of Marius has also brought into sharp relief much wider questions about what purpose is served by zoos and whether their mission to conserve and educate is being compromised by profit and space.
Few zoos advertise when they put down healthy creatures which, broadly, they have pledged to help save from the spectre of extinction.
Zoo managers in Copenhagen confirmed the perils of the practice last night by revealing that staff, including its head of conservation, had received death threats by phone and email since a petition and an offer by the Yorkshire Wildlife Park to take in Marius failed to save him.
In pictures: Marius the giraffe skinned and fed to lions as children watch on (Warning: graphic images)

Show all 8
The euthanising of the three tigers at Magdeburg Zoo in 2008 only came to light after German authorities investigated and a court ruled welfare laws had been broken.
Zoo managers insist the culls are scientifically justified. Copenhagen Zoo said Marius, and the two-year-old leopards in 2012, were killed because the animal's genes were already well-represented in captive populations. In the German case, it had been discovered the cubs' father was not a 100 per cent pure Siberian tiger.
But animal rights groups on Monday claimed that the culling of healthy "surplus animals" was being repeated regularly in Europe's leading zoos and kept out of public view to avoid the difficult debate. Campaigners said there are about 7,000 animals in zoos in Europe which could be considered surplus to need and accused some institutions of breeding "box office" species to draw crowds when the animals are young before culling them in adulthood.
The European Association of Zoos and Aquaria (Eaza), the body which approved the decision to euthanise Marius, insisted incidents remained rare. Since records began around a century ago, five giraffes have been put down for similar "conservation management reasons" out of a captive population in Europe that now stands at 798.
Figures for other species are hard to come by. Eaza, along with the British and Irish Association of Zoos and Aquaria, said they were unable to provide an exact figure for animals culled.
The Zoological Society of London, which runs London Zoo, said it worked hard to avoid euthanasia but had to use the procedure for welfare reasons with some fast-breeding species that cannot be managed with contraception. Last year, it put down eight Australian water rats, eight brown rats and 61 Seba's bats out of a group of 200 to reduce "health and aggression issues".
For zoos, the need to reach for the bolt gun or the lethal injection is a last resort in a much larger battle to build captive populations of animals – from black rhinos to Amazonian frogs – which are endangered or on the brink of extinction. David Williams-Mitchell, of Eaza, said: "There are habitats which are disappearing and zoos are the last line of resistance in building captive populations…
"But in order for the captive populations to be viable, in-breeding must be avoided. Breeding without attention could allow genes which increase the likelihood of major problems in the future to be passed… throughout captive populations."
Zoos across Europe act as a coalition in the European Endangered Species Programme (EEP), pooling resources to build genetically-diverse species for potential release into the wild.
Attitudes to euthanasia are different in the US, where zookeepers put hormones in the feed of giraffes and giving chimpanzees human birth control pills.
Some European zookeepers argue that it is better from a welfare perspective to allow adult animals to procreate and raise young, and then euthanise unwanted offspring at the point when they separate from their parents. As such, they are only recreating what would occur in the wild.
But Mark Jones, a vet and executive director of the British office of the Humane Society International, said: "The fact of the matter is that it is the young animals that help zoos to draw in the crowds and zoos are finding that when they reach maturity there is no space for them and no market for them in other zoos."
Eaza yesterday reaffirmed its backing of Copenhagen Zoo, saying it was putting in the public domain a debate that should not be "just swept under the carpet".
Others differ. Liz Tyson, of the British-based Captive Animals Protection Society, said: "Marius was never destined to be released to the wild. He was bred to spend his life in unnatural, man-made surroundings because zoos make money from showing off exotic animals.
"If we… want to prevent further needless deaths, the answer is simple – do not visit the zoo."
Join our new commenting forum
Join thought-provoking conversations, follow other Independent readers and see their replies