King Eric takes a wild shot at the French presidency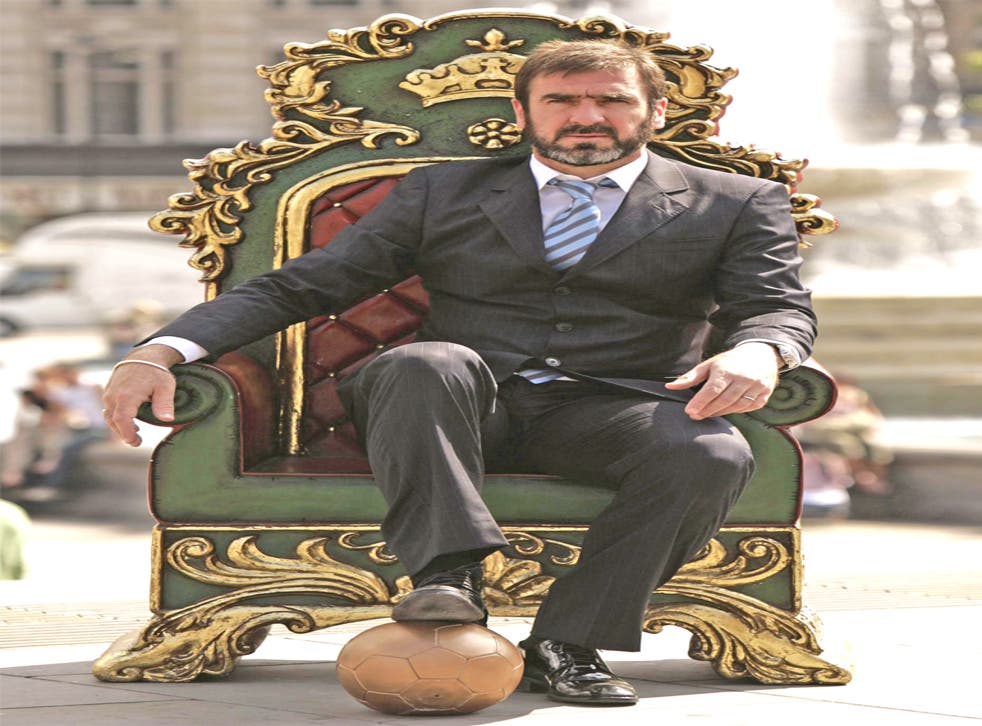 The man who created sardine philosophy yesterday invented cod politics. Or, to put it another way, Eric the ex-Red served up a giant red herring in a good cause.
Eric Cantona, actor, activist, photographer, artist and former footballer, let it be understood yesterday that he intended to run for the French presidency this spring. It later emerged that he planned to gather the 500 official endorsements needed to make a presidential run – but not to campaign.
In football terms, the former Manchester United striker sold France and the world a brilliant dummy. Whether or he not gathers his 500 signatures, he attracted instant attention to his cause: the shortage and poor quality of social housing in France.
In a letter to every mayor in France – there are 36,782 of them – Mr Cantona, 45, appealed for the 500 signatures of elected officials that a candidate needs to take part in a French presidential race. He wanted the signatures, he said, to spread a "simple, clear message" about the "millions of families in France whose suffering is forgotten".
The implication was that Mr Cantona intended to join the dozen or so would-be challengers to President Nicolas Sarkozy this April and May. The newspaper Libération then published an interview with Mr Cantona in which he suggested that his real intention was to shame other presidential candidates into supporting the housing pressure group, the Fondation Abbé Pierre.
The foundation's director, Patrick Doutreligne, confirmed later that the Cantona declaration was a ruse to capture public attention. "We told ourselves we needed an extra kick," he said. "He will not be a candidate."
The Fondation Abbé Pierre estimates that there are 3,600,000 people in France who are homeless or living in unfit or overcrowded homes. It wants all presidential candidates to sign a petition calling for the building of more social housing and for rules to regulate rents and house prices.
In his interview with Libération, Mr Cantona put the number of people in France living in inadequate housing at 10,000,000 – or one in six of the population. "A home is crucial, the foundation of a stable family," he said. "It is unacceptable that people often have to make huge sacrifices just to find a place to live, a roof over their heads."
Since he retired from football in 1997, Eric Cantona has made a successful new career as an actor. He has also held exhibitions of photographs and paintings.
His career in English football is remembered for his brilliance but also for his enigmatic statements and his flying kick at a Crystal Palace fan who abused him from the stands in 1995. At a press conference after this event, Mr Cantona made his celebrated declaration: "When the seagulls follow the trawler, it's because they think sardines will be thrown into the sea."
From balls to ballots: Footballers turned politicians
George Weah
Named Fifa World Player of the Year in 1995 after successful stints with Monaco and Paris St Germaine, the man fans nicknamed "Oppong" went on to play for AC Milan, Chelsea and Manchester City. In 2005 he took to the political stage in his home nation of Liberia as a contender in the presidential race. He lost out to Ellen Johnson-Sirleaf, and lost a second challenge (as Winston Tubman's running-mate) in 2011.
Pele
The Brazilian legend played in four World Cups, winning three of them: 1958, 1962, and 1970. In 1993 he denounced corruption in Fifa and in 1995 he entered politics as Brazil's Extraordinary Minister for Sports.
Romario and Bebeto
Two members of Brazil's World Cup-winning 1994 squad. Ex-Barcelona striker Romario became a member of the Brazilian Socialist Party (PSB) and was voted into congress in October 2010. Bebeto, who stood for the Democratic Workers' Party, was elected as a state representative for Rio de Janeiro.
Join our new commenting forum
Join thought-provoking conversations, follow other Independent readers and see their replies