King Juan Carlos of Spain abdicates: Monarch to end 39-year reign to make way for 'younger generation'
The 76-year-old has suffered health problems in recent years, and will be replaced by his 46-year-old son Crown Prince Felipe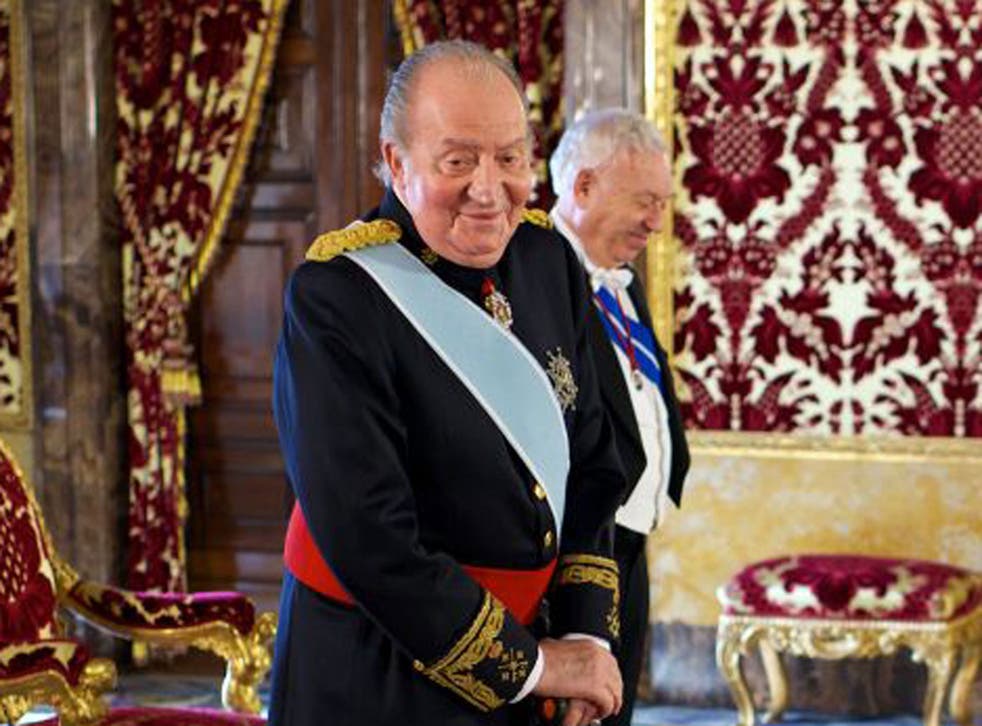 King Juan Carlos of Spain became Europe's third monarch in less than 14 months to abdicate yesterday, ending a colourful 39-year reign, which at the beginning saw him feted for steering the country from dictatorship to democracy, but latterly has been hamstrung by scandal. His son, the Crown Prince Felipe, will become the new king.
The 76-year-old said his decision, taken in January, was a result of his desire "to bring a younger generation with new energy to the forefront of affairs," at a time when he recognised that Spain bears "scars in its social fabric" from its worst recession in more than half a century.
Spain's younger generation, the King said, is "fully determined to carry out the transformations and reforms that the current situation demands."
The news was declared by the Spanish prime minister, Mariano Rajoy, in a special bulletin broadcast nationally this morning.
Mr Rajoy did not provide details of a timeframe for Juan Carlos to step down since, unprecedented in the era of Spain's relatively recent constitutional monarchy, it will require the government to draft a new bill making it legally binding.
Images released by the royal palace showed the king signing a document promising his abdication, handing it to Mr Rajoy and shaking his hand.
In pictures: Reign of King Juan Carlos of Spain

Show all 20
The abdication also comes at a complicated moment for the Spanish monarchy. Since 2011, the royal family's previously unblemished image has been tarnished by lurid headlines emerging from a corruption scandal involving the King's son-in-law, Iñaki Urdangarin, and thanks to which his daughter Princess Cristina has also been questioned in court. Both deny any wrongdoing.
Matters worsened for Juan Carlos thanks to his 2012 elephant hunting trip to Botswana in the middle of the country's worst recession in more than half a century. He later apologised, but a photo of the King standing in front of a dead elephant had caused too much damage. He was sacked as honorary president of Spain's WWF, while reports that a long-standing female friend of the King's, had also been at the hunting camp played yet more havoc with his previously unsullied image. Perhaps unsurprisingly, many cash-strapped Spaniards began to question their King's playboy lifestyle in such hard economic times – or indeed the need for a monarchy at all.
By the end of 2012, the number of declared Spanish republicans had tripled to 37 per cent and the King's uncertain state of health, which has forced him to undergo five operations in 18 months, only underlined the royal family's seeming vulnerability.
However, when Prime Minister Mariano Rajoy announced the King's abdication on Monday morning, it was nonetheless described in some quarters as "a surprise". As recently as last September, the King's spokesman had firmly said that abdication was not on the agenda. Furthermore, the King's health has improved so much he had commenced an energetic renewal of his public duties in the past few months.
However, the King's decision, taken – by all accounts – by himself, was made before then, in January on the day of his 76th birthday and there has been no last-minute U-turn.
"He has been a tireless defender of our interests," Mr Rajoy emphasised, "all Spaniards bear him a huge debt."
He said ministers would hold a special meeting of cabinet to discuss the logistics of the abdication and added: "I'm convinced this is the best moment for change."
Despite being hand-picked by General Franco in 1969 to continue his dictatorship, King Juan Carlos instead was jointly responsible, together with former Prime Minister Adolfo Suarez for overseeing the country's transition to democracy. Backed by the King, Suarez set about the rapid dismantling of Franco's authoritarian legacy, introducing universal suffrage and creating a new legislature.
King Juan Carlos was so determined to prevent the military's return to power that in February 1981, he was instrumental in preventing a coup d'etat, after Civil Guards had taken over the parliament at gunpoint.
In the early hours of the morning, he appeared on state television to say categorically that the coup did not have his blessing. The uprising fizzled out less than a day later.
To older generations of Spaniards, therefore, Juan Carlos is regarded as a commanding father figure. For younger Spaniards, though, Juan Carlos's battles to install democracy seem increasingly distant and the royal family's annual budget of a reported €8.3m is questioned, rather than admired for being much smaller than most other European equivalents.
As Spain's new democracy matured the king moved into a largely ceremonial role, traveling the globe as an ambassador for the country. He has nonetheless largely been regarded as a stabilising force in a country where the Basque and Catalan regions have remained restive.
It is expected that when the prince ascends to the throne he will take the title Felipe VI.
The 46-year-old has a law degree from Madrid's Autonomous University and obtained a masters in international relations from Georgetown University in the US.
Felipe is married to Princess Letizia, a former TV journalist, and they have two daughters. Like his father, the prince spends the majority of his time travelling the globe on royal engagements.
He has been particularly engaged with trying to maintain Spain's influence over former colonies in Latin America, while seeking to promote the nation's international business interests.
News of his abdication had barely broken yesterday before pro-Republican groups were calling for a referendum on the royal family's future.
Join our new commenting forum
Join thought-provoking conversations, follow other Independent readers and see their replies