Latest euro-zone bailout? Slovenian PM Alenka Bratusek threatens to quit
She warns 'time for games is over' and faces party leadership challenge this month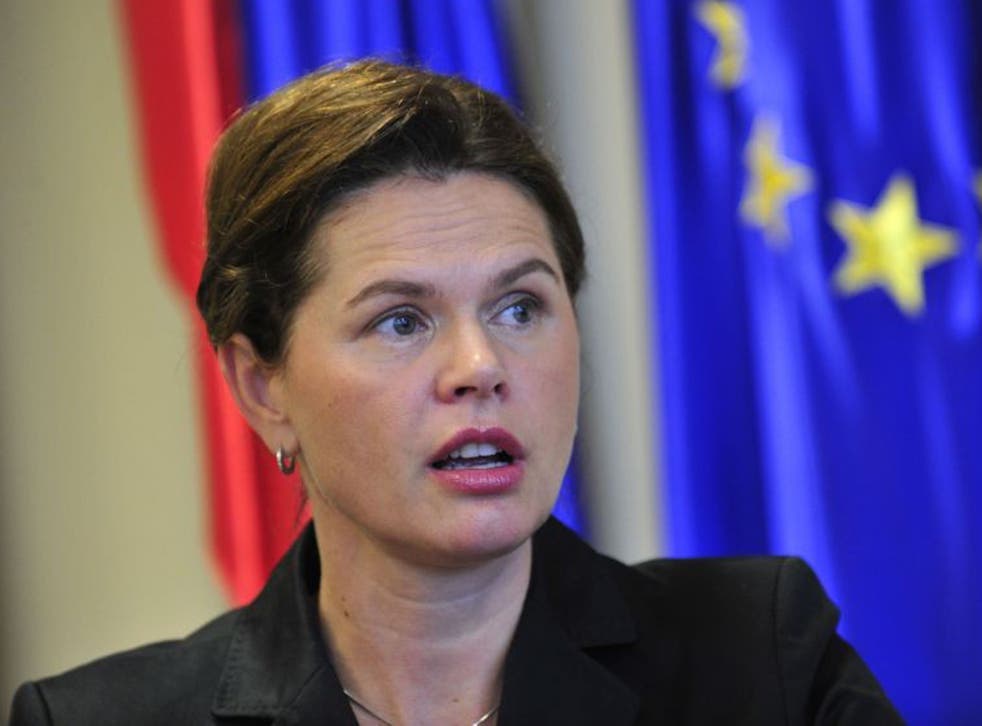 The Slovenian Prime Minister Alenka Bratusek threatened today to quit the government if she loses a party leadership vote this month, saying the country had no time for "games" as it seeks to avert an international bailout.
Bratusek's resignation would almost certainly trigger a snap election, delaying a raft of crisis measures to shore up Slovenia's finances and increasing the likelihood it will become the latest member of the 17-nation euro zone to seek EU/IMF aid.
In a direct challenge to Bratusek's authority, Ljubljana mayor Zoran Jankovic, who created the Positive Slovenia party in 2011 but resigned in February, announced on Wednesday he would challenge her for the party leadership at a congress on 19 October.
Bratusek's coalition allies have said they would quit the governing alliance if Jankovic, who has been tainted by accusations of corruption, returns as party leader. The government already faces a confidence vote, expected in November, over the 2014 national budget.
Analysts say it is far from certain which way the party leadership vote will go. Technically Bratusek can continue as prime minister even if not leader of the party, but she made clear she would not.
"The fact is that someone else will have to try to form a government if I would not have sufficient support in the party," Bratusek said in a statement.
"My biggest worry is how to effectively overhaul the banks, confirm a sustainable budget, start a new development and investment cycle," she said. "It should be clear to everyone that the time for games is over."
Jankovic stepped aside as leader of Positive Slovenia in February to clear the way for Bratusek to form a coalition government with the urgent task of overhauling the Alpine country's debt-laden banks and offloading more than a dozen state-controlled companies.
The other coalition parties had refused to cooperate with Jankovic after a state anti-corruption commission said he was unable to explain the origin of a large part of his income over recent years. Jankovic denied any wrongdoing.
Ex-socialist Slovenia's export-driven economy was the euro zone's fastest growing when it joined the bloc in 2007 but hit a wall with the onset of the global crisis.
Its banks, mostly state-owned, are now nursing an estimated 7.9 billion euros ($10.7 billion) in bad loans, equivalent to as much as 22.5 percent of national output. The government is waiting on the results of an international audit ordered by the European Commission and due in November before it can recapitalise the banks.
With Slovenia's recession forecast to last until at least 2015, markets are increasingly nervous that the recapitalisation bill will be too high, forcing the country of 2 million people to seek a bailout.
Though Slovenia's economy represents a tiny fraction of the euro zone's entire output, another bailout following that of Cyprus would further dent confidence that the single currency zone can contain its debt crisis.
Having issued two bonds worth $3.5 billion in May, Slovenia will have to tap the markets again before its 5-year 1.5 billion euros bond expires on 2 April.
"The struggle between Jankovic and Bratusek is undecided and either of them could win at the congress," said Borut Hocevar, a political analyst at the Slovenian daily Finance.
"But if Jankovic wins the government will fall, which would increase political instability for several months and make a bailout practically unavoidable."
Reuters
Join our new commenting forum
Join thought-provoking conversations, follow other Independent readers and see their replies