Lech Walesa: activist, electrician, president, Nobel Peace Prize winner... homophobe?
Sam Masters
Sunday 03 March 2013 18:55 Comments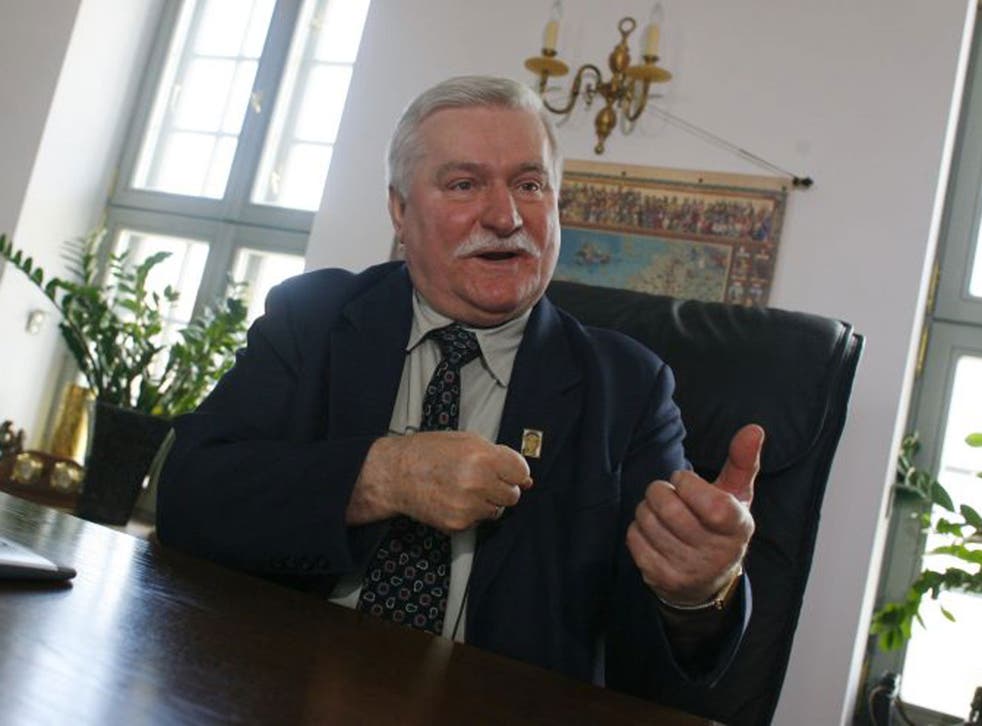 He is an icon of the democratic Left, who successfully challenged a repressive communist regime to become Poland's first elected president.
But Nobel Peace Prize-winner Lech Walesa has risked shattering his legacy with an outspoken attack on gay people – saying that as a minority they must take a back seat and "adjust to smaller things."
Walesa, a former shipyard worker from the socially conservative port town of Gdansk, claimed in a television interview that gay people had no right to a prominent role in politics.
The 69-year-old said they did not deserve to be the front benches in parliament, and should instead be relegated to the back or "behind a wall".
"They have to know that they are a minority and must adjust to smaller things. And not rise to the greatest heights ... spoiling things for the others and taking from the majority," he told the private Polish broadcaster TVN. "I don't agree to this and I will never agree to it. A minority should not impose itself on the majority."
Amid the fallout from the interview yesterday, Walesa was accused of having "disgraced the Nobel Prize" by the leading Polish television journalist Monika Olejnik. Prosecutors launched an investigation following complaints that he had advocated hate crime.
The devout Roman Catholic and father-of-eight was elected as Poland's first democratic leader in 1990 after working in Gdansk shipyards as an electrician. In the 1970s he organised free non-Communist trade unions and took part in strikes and protests on the Polish coast.
He was kept under surveillance by Soviet state security services and was frequently detained. In August of 1980 he led the Gdansk shipyard strike which gave rise to waves of industrial action, winning the Nobel Piece Prize 1983.
The protests eventually led to the downfall of communist leader, Wojciech Jaruzelski, and the installation of Walesa's Solidarity union. He was narrowly voted out of power in 1995, after which his political influence have waned.
Since then he has hinted at his reactionary social views, telling a campaign rally in 200 that gay people needed "medical treatment".
A staunchly Catholic country, Poland has been accused of "suppressing" discussions of gay rights with the Polish church, which still plays a strong role in political life, maintaining that homosexuality is deviant.
Gay men and lesbians still say they face continued persecution and in some cases violence in the country while other former Soviet Baltic states including Estonia, Latvia and Lithuania still do not recognise gay partnerships.
A recent poll revealed that 69 per cent of Poles still oppose gay marriage.
In what was seen as a watershed moment, voters gave seats to the country's first openly gay man, Robert Biedron, and first transsexual Anna Grodska in parliament in 2011.
Polish priest Father Tadeusz Rydzyk, who founded Radio Maryja and its associated media outlets, said at the time that "the sodomites are coming; it is a really grave matter".
Sam Dick, head of policy at Stonewall, said: "It's sad that a human rights activist like Mr Walesa sees fit to deny lesbian, gay and bisexual people the same basic rights he fought so long and hard for."
Adam Bielan, a conservative Polish member of the European parliament. said: "I am surprised that only now we are noticing that Walesa is not in control of what he says and that he has views that are far from being politically correct."
Lech Walesa: Revolutionary reactionary
Lech Walesa's mother Feliksa is said to have shaped her son's beliefs and tenacity.
After graduating as a qualified electrician, Walesa worked from 1961 to 1965 as a car mechanic before beginning two-years of mandatory military service.
He joined the Lenin Shipyard in Gdansk in 1967 where just a year later he encouraged his colleagues to boycott official rallies condemning student strikes. He married in 1969 as he furthered his interests within trade union groups at the shipyard.
In 1970, when workers protested against increasing food prices, 30 people were killed. He led the Solidarity trade union of some 10 million members until it became a political party in all but name in 1988. A year later he forged the first non-communist government in the former Soviet bloc.
Register for free to continue reading
Registration is a free and easy way to support our truly independent journalism
By registering, you will also enjoy limited access to Premium articles, exclusive newsletters, commenting, and virtual events with our leading journalists
Already have an account? sign in
Join our new commenting forum
Join thought-provoking conversations, follow other Independent readers and see their replies