Lorry drivers in Calais reveal frustration at migrant crisis: 'We need help, they are aggressive, they are stealing our goods'
Video: Freight drivers feel powerless in the face of growing numbers of migrants at French port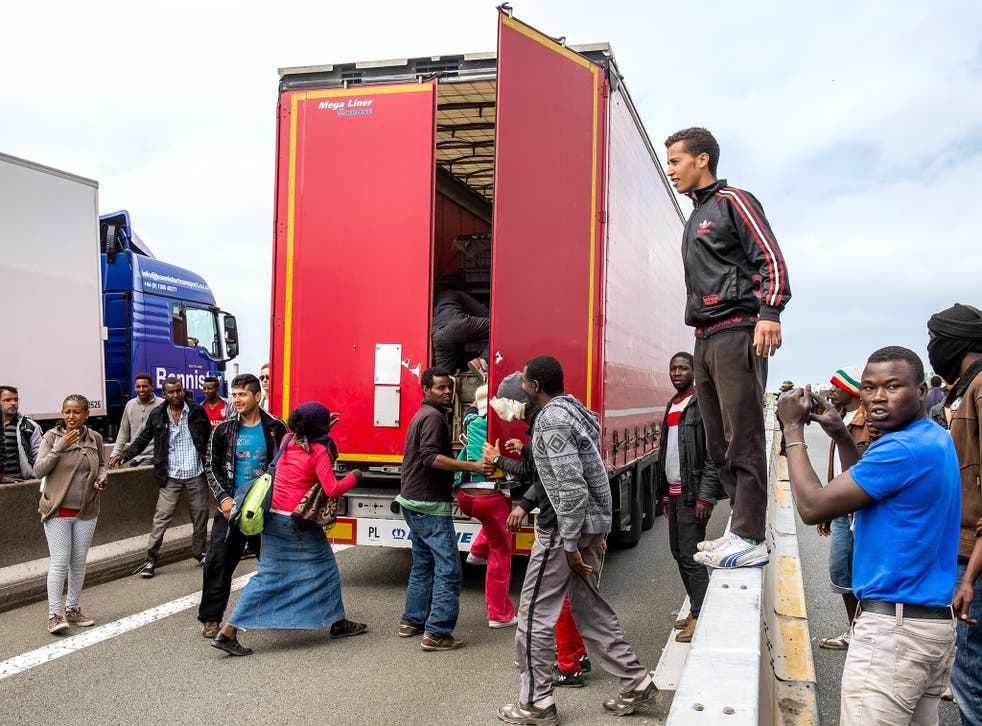 While Channel Tunnel services are beginning to return to normal, that will be of little consolation to lorry drivers making regular trips from Calais to Dover, who claim that migrants – some reportedly armed with knives – are 'torturing' them on a daily basis in their attempt to get across the Channel.
"We need help, they are aggressive, they are closing the doors so we don't see what happens and they are trying to go into our trucks, they are stealing our goods," cries one truck driver, who had just searched underneath her vehicle and in every possible gap to see whether any migrants had managed to hide.
Another told Sky News that some are armed with knives "and they're not afraid to use them", leaving drivers powerless to tell them to get out.
This followed the chaotic scenes of Tuesday, when France's striking ferry workers managed to break into the Channel tunnel, forcing its closure. The resulting traffic delays saw migrants use the opportunity to board lorries bound for the UK.
Growing numbers of migrants have been waiting in Calais at the side of the motorway for several months as they attempt to board trucks stuck in slow-moving traffic in hope of a better life in the UK. Videos from Tuesday and in recent weeks have shown many migrants climbing onto the backs of trucks, opening the doors and clambering inside.
In pictures: Calais crisis

Show all 15
Natalie Chapman from the Freight Transport Association told LBC radio that yesterday was "a perfect storm" of strikes, closures and tailbacks.
"When you combine that with the current crisis we're having with migrants trying to get on board vehicles, it's caused some real issues for drivers," Chapman said. "I think some drivers certainly the other side of the Channel have spent a very disturbed night of sleep really just keeping one eye open to see who's trying to get on board their vehicle."
Another said, "They broke my padlock, broke my seal. Up in my truck are around ten or eleven people."
According to estimates, the number of migrants at Calais has reached over 3,000. Aid workers believe 2,000 refugees from Eritrea, Syria and Afghanistan could arrive over the next few months.
In a bid to ease the fears of British truck drivers - with British freight officials claiming their drivers are dealing with a "war zone" in Calais - the immigration minister, James Brokenshire, said that more resources would be put in place to screen lorries when they arrive at Dover. There will also be an increase of French police officials in Calais.
The deputy mayor of Calais, Philippe Mignonet, said that the border should be moved from northern France to Britain.
Eurotunnel said that passenger and freight shuttles were now running as scheduled, with Eurostar also operating a full service from London through to Paris and Brussels.
Additional reporting by the Press Association.
Join our new commenting forum
Join thought-provoking conversations, follow other Independent readers and see their replies