Malaysia Airlines flight MH17 crash: Loss of the two Boeing 777 planes are 'unlikely to be linked'
Today's crash of a flight from Amsterdam to Kuala Lumpur is likely to be confirmed quickly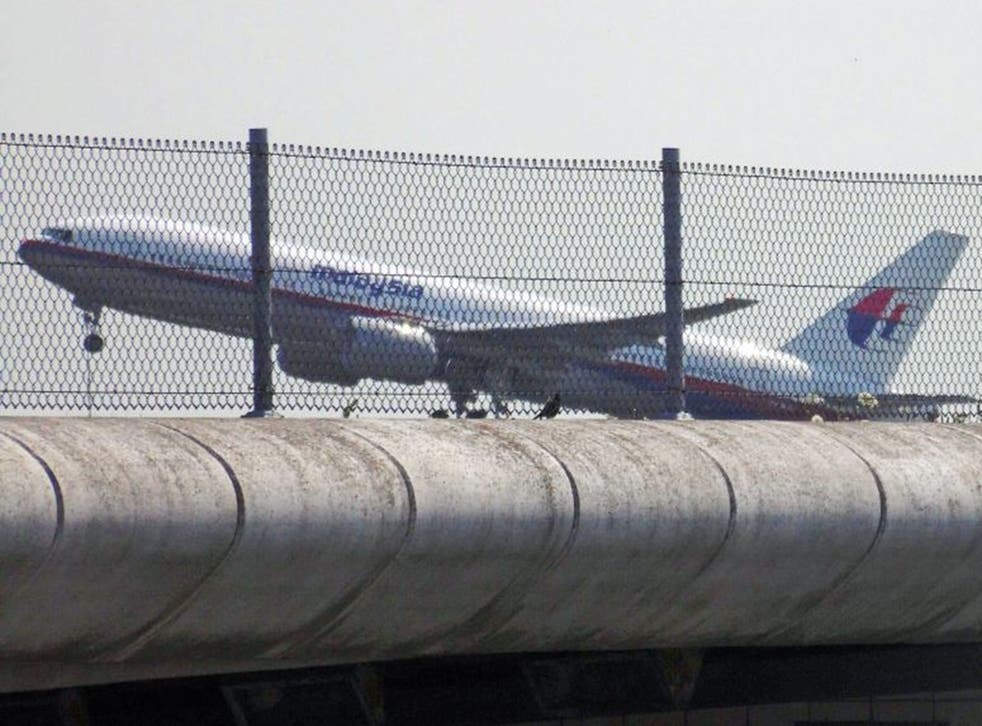 For any airline to lose two passenger aircraft within a few months is extremely rare. For a pair of catastrophes to occur when the planes are cruising normally at high altitude is unprecedented.
But the causes of the losses of the Malaysia Airlines Boeing 777 flights, MH370 and MH17, are most unlikely to be linked.
The first, in March, remains a mystery. But the cause of today's destruction of a flight from Amsterdam to Kuala Lumpur, with the presumed loss of 280 passengers and 15 crew, is likely to be confirmed quickly – even allowing for the propaganda battle by the opposing sides in the Ukraine conflict.
Until the story of the last moments of MH17 are known, as with any air disaster only possibilities and probabilities can be considered.
The make-up of the 280 passengers on board to be a broad mix of nationalities, possibly including a number - likely to be small - of British passengers who had taken morning flights to Amsterdam and changed to the flight to Kuala Lumpur.
Many Dutch travellers, heading to Malaysia or nations beyond such as Indonesia and the Philippines, are likely to be among the passengers. And since Malaysia Airlines has a network of flights from its hub to Sydney, Melbourne and Perth, there may well have been a number of Australian passengers.
In pictures: Malaysia Airlines flight MH17 crash

Show all 109
Since the news broke, many travellers have expressed astonishment that commercial flights should be routed over a conflict zone such as eastern Ukraine. In fact, such flights are routine. Many international air routes pass over areas such as Iraq, Afghanistan and Libya.
Passenger planes have long been assumed to be immune to the conflict: usually for the practical reason that the weapons typically used are far too primitive to reach an aircraft flying six or seven miles high.
The factions in such regions are thought unlikely to have the kind of sophisticated weaponry that could reach a target at such altitudes.
Civil aircraft constantly transmit their identity to notify air-traffic controllers and other pilots, while large swathes of the sky are off-limits to passenger jets because they are military zones.

Technology available to anyone with a smartphone allows aircraft easily to be tracked – with real-time details of airline, flight number, heading and altitude provided.
Previous events involving shootings-down of large passenger planes have been the result of mistakes or misadventure.
In 1983, a Boeing 747 - flight KE007 from Anchorage to Seoul belonging to Korean Airlines - was shot down by a Soviet fighter after the plane strayed into restricted airspace. Five years later, Iran Air flight 655, an Airbus A300 from Tehran to Dubai, was shot down by an American warship in the Gulf. Some have said the Lockerbie bombing, later in 1988 was a response to this incident.
Video: Film purports to show the moment plane crashed into ground
Virgin Atlantic said that a number of its flight paths will be adjusted to circumvent the region where the crash took place. The airline serves destinations in China and India with flights that often traverse Ukraine. British Airways is looking at how the incident could affect its flight plans.
Malaysia Airlines was already suffering commercially as a result of the loss of MH370. The destruction of MH17 is likely also to have severe consequences, even if the airline itself is found to be blameless.
Join our new commenting forum
Join thought-provoking conversations, follow other Independent readers and see their replies