Man arrested at US Embassy in Berlin after 'shouting about Osama bin Laden' and claiming he had bomb in suitcase
The luggage was destroyed in a controlled explosion as a precaution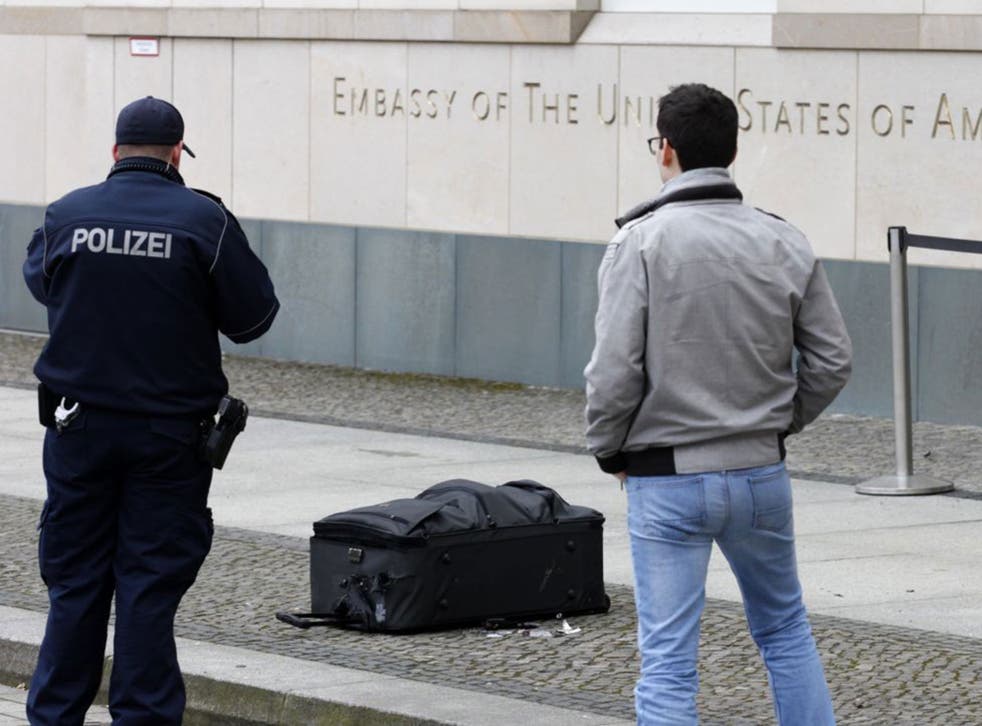 A man has been arrested in Germany after attempting to enter the US Embassy in Berlin and claiming he had a bomb in his suitcase.
The luggage was found to contain clothes and other personal belongings but the alert sparked the partial closure of Pariser Platz, by the famous Brandenburg Gate, on Friday morning.
Police did not confirm German media reports that he claimed he wanted to "avenge" the death of Osama bin Laden, the former leader of al-Qaeda, as he was being subdued.
The incident started at around 7.30am, when the man was turned away by security guards at the entrance to the nearby US Embassy, a spokesperson for Berlin police said.
He then allegedly became violent and attempted to punch the guards before being detained at the scene.
The suspect, a 23-year-old German man, then shouted that there was a bomb inside the suitcase he left in front of the embassy entrance, causing a security alert.
A spokesperson for the US Embassy said the man had presented an American passport to staff that he said he wanted to renew but became angry when he was directed elsewhere.
"When the embassy's local guard offered a card with the address for passport services, the man struck the guard with his fist," a spokesperson said.
"The embassy guard pinned the man to the ground, then German police handcuffed him. The man yelled that he had a bomb in the suitcase as the German police led him away."
A specialist bomb disposal unit dispatched a robot to open the bag, which was found to contain clothes and other harmless items.
It was later destroyed in a controlled explosion as a precaution and operations in the embassy building have returned to normal.
Few details about the man were immediately available, but a police spokesperson said "there are many indications he is psychologically disturbed".
German authorities have increased security measures at public buildings, tourist attractions and landmarks in Berlin following Paris attacks carried out by Isis in November.
Additional reporting by AP
Join our new commenting forum
Join thought-provoking conversations, follow other Independent readers and see their replies