Masked gang's attack on polling station in Kosovo threatens elections
Widespread voter intimidation heightens doubts over EU-brokered plan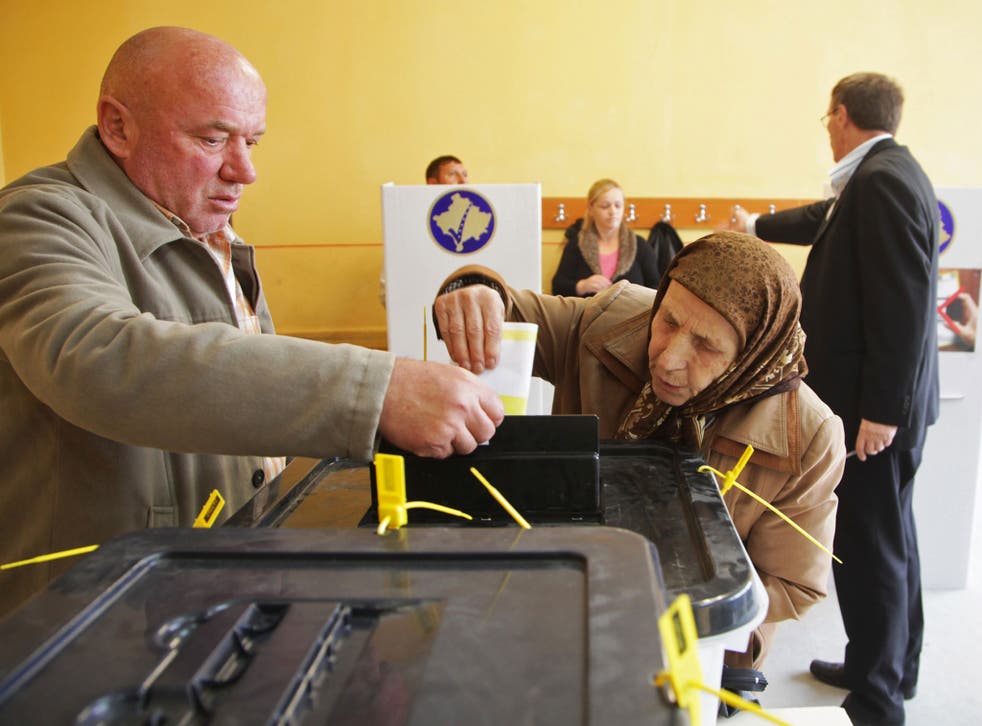 The EU-brokered plan to integrate Kosovo's Serbs into the rest of the country appeared to be headed for disaster on Sunday night after a gang of masked men attacked the largest polling station in the anarchic north of the country amid a widespread campaign of voter intimidation designed to derail local elections.
Serbia has never accepted the independence declared by Kosovo in 2008, but in order to win accession talks to the EU, it agreed earlier this year to allow Kosovo-run local elections for the first time in the Serb-majority enclave of North Kosovo. The agreement has been met with much resistance from locals, who make up around a third of Kosovo's 140,000 Serbs. Many feel abandoned by Belgrade and see the elections as a tacit recognition of Kosovo's independence.
At around 5pm local time last night, a gang stormed into a polling station in the Serb part of Mitrovice, the largest town in North Kosovo.
Ballots had apparently been destroyed and international election observers forced to flee without ballot boxes.
Throughout the day, groups of men surrounded polling stations telling people not to vote and shouting abuse at mayoral candidates.
"The politicians in Belgrade are traitors, trying to complete Kosovo's independence with our votes," Vladica Kostic, a member of the Council for Boycott, said. "But our campaign has been a great success – hardly anyone has come to vote today."
Stickers calling for a bojkot (boycott) were plastered across the Serb half of the city and polling rooms were almost deserted yesterday. By lunchtime, one typical polling station had received just eight votes from a voter list of almost 1,000.
"It's mostly old people – we've had only one youngish guy," an election volunteer said. The most optimistic estimates put the turnout at around 15 per cent before the attack on the main polling station.
An underlying threat of violence had already helped keep people away. "I might not get beaten up for voting today," a local journalist, Branko Jaksic, said. "But in 10 days' time, maybe my car will be set on fire. Will Belgrade buy me a new one?"
The resistance is driven as much by material concerns as it is by sectarianism. Under the agreement, Serbia has promised to cut funding to North Kosovo.
For years, locals have benefited from Belgrade's patronage, with public servants often drawing salaries from both Serbia and Kosovo, and hardly anyone paying tax.
"I pay €10 (£8.5) a month for water and less than €2 for garbage collection – that's it," Mr Jaksic said.
Smuggling and other organised crime is rampant in the lawless atmosphere. The killing of an EU customs officer – shot dead by unknown gunmen in September – demonstrated the huge challenge Kosovo and the international community will face in trying to establish normal institutions here after the elections. "It's a disaster for the EU. If it's a boycott of 85 to 90 per cent, it's the end of Brussels' agreement," said Ilir Deda, of the Pristina-based think tank Kipred.
Other analysts disagree. With Serbia, Kosovo and the EU all desperate to paint the elections as a success, there will be considerable pressure to gloss over resistance in the North.
"Legally, the number of voters makes no difference – there will be a mayor and institutions and they will carry on their work," Ardian Arifaj, of the Kosovo Institute for Policy Research, said. "But morally, how can they claim to be representing people in the North?
"The EU is paying the price for tolerating lawlessness in the North for all these years, which it did because it was afraid of undermining pro-EU forces in Belgrade."
Meanwhile, in the rest of Kosovo, the elections were much more popular, with early results showing a turnout above 60 per cent, and the main concern has been to avoid a repeat of the industrial-scale fraud experienced in past polls.
With results due late at night, parties were hoping for a boost ahead of parliamentary elections in mid-2014.
Join our new commenting forum
Join thought-provoking conversations, follow other Independent readers and see their replies