Mediterranean migrant crisis: A baby, pregnant women and young children among 300 rescued by Italian coastguard
Arriving in Sicily, they revealed how they were beaten and threatened with guns by Libyan gangs before beginning a journey that has killed hundreds in the past year alone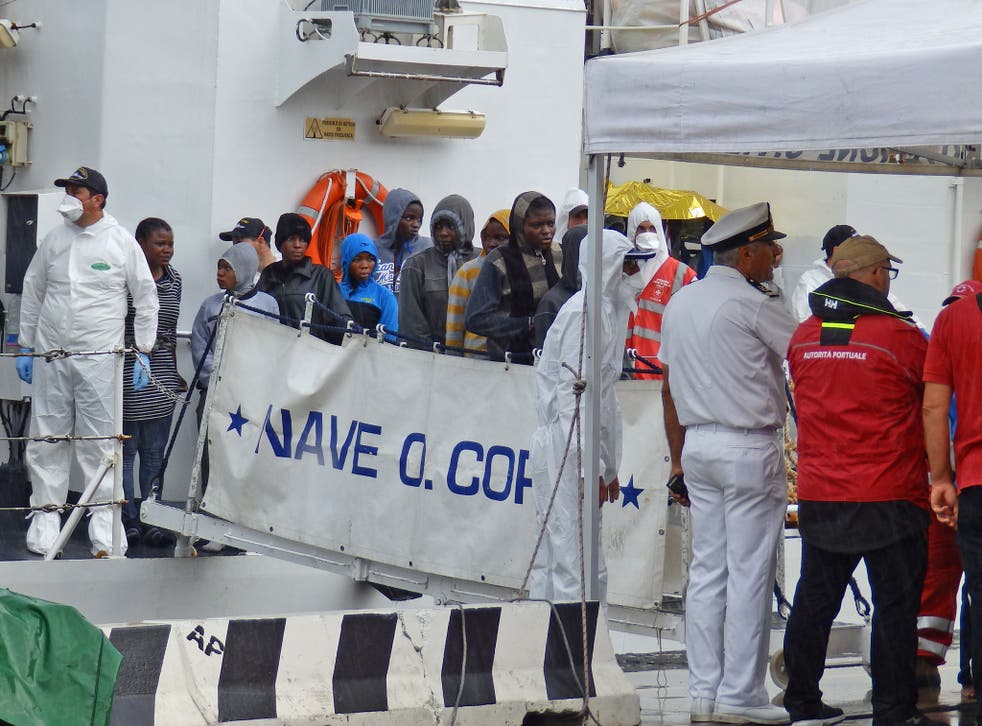 A baby who survived almost two days without food and water was among more than 300 migrants that have been rescued in Sicily.
The infant had been crammed amongst men, women and children from sub-Saharan Africa who paid people smugglers for a voyage on a dinghy packed so tightly that even life jackets were not permitted.
Migrants landing in Italy told how they had been beaten and threatened with guns by Libyan gangs before beginning the journey across the Mediterranean that has killed hundreds of people in the past year alone.
Two small vessels, left to drift in international waters by smugglers careful to avoid detection, were rescued by a coastguard vessel that brought them safely into the port of Messina.
After Red Cross medics boarded the ship to attend to those most in danger of succumbing to days of starvation and dehydration, pregnant women and young children were the first to be brought to safety on dry land.
Out of the 306 people on board, 13 were taken straight to hospital for urgent care and 27 passengers were discovered to be unaccompanied children.
A baby was carried screaming along the gangplank by an aid worker as an unexpected storm sent rain hammering on to the deck.
Migrants who had travelled with the child from Libya said it was the first time the starved infant had made a sound.
Hamidou, a 17-year-old from Mali, told The Independent the baby had been travelling with his mother and father.
"We didn't hear it cry the whole time," he added. "They gave us no food or water, nothing."
The teenager was travelling with his seven cousins, who ended their long journey sat in a tent run by charity Save the Children.
When asked why they left Mali, Hamidou said they fled a "big conflict" to get to Libya, only to find violence and lawlessness spreading there, too.
He and his cousins had heard talk of Italy on the television and among friends.
"We want to stay in Italy, we feel safe here," he said. "We want to send money home, we are going to stay together like a family."
Their journey had taken five months and four days, seeing the teenagers walking and being driven through Algeria and Libya by ruthless criminal gangs.
More than 90 people made the journey with them from Mali to Algeria, then 45 more to Libya and 120 on a small dinghy embarking under the cover of darkness near Tripoli to take them to Europe.
Hamidou and his seven cousins had strength in numbers compared to the thousands of unaccompanied children and teenagers who risk their lives making the same journey.
But that did not stop them being tortured and extorted by gangs.
"They beat us in Libya, they held guns to our heads," he said. "They made us give them money and forced us to work."
And the two nights and one full day spent at sea was no respite. When asked to describe the conditions on the smugglers' dinghy, the boys squeezed together with their arms flat at their sides and mimed sitting on top of each other.
"We were scared when we were on the boat but we didn't care because we wanted to come to Italy," Hamidou said.
"We are just so happy. We want to tank everyone who has helped us."
The boys were among the last of the migrants to be packed on to coaches to be taken to reception centres scattered across Sicily, where they will be given the information, education and legal advice necessary to start a new life.
Migrants' desperate boat journeys to Europe

Show all 33
They were joined by two 13-year-old boys and a girl aged 15, who was deemed too traumatised to speak to journalists gathered on the dock.
Despite the horrors of the voyage, all aboard the coastguard ship survived their long journey.
Migrants who arrived the day before were not so lucky. The bodies of four women and one man were found on a rubber boat carrying more than 100 other people.
Medics from Doctors Without Borders (MSF) said they were believed to have died of severe dehydration during the 13-hour voyage, although other sources said a stampede caused by panic in the locked hold may have caused their deaths.
They were witnessed by relatives and friends, including a young boy believed to be the son of a woman who died.
Two small children who had lost their father, three who had seen their mother die and numerous other migrants deprived of their partners and siblings were being counselled by MSF psychologists.
A memorial service to the dead was carried out on one of the organisation's rescue ships, the Argos, with survivors who listened as the names of their lost fellow passengers were announced.
A spokesperson for MSF called for a bigger search and rescue operation where smugglers are launching migrant vessels near the Libyan coast.
"MSF continues to call for member states to ensure adequate resources are allocated as long as necessary for search and rescue operations in order to prevent more deaths," she added. "As long as there is a lack of safe and legal channels for people to reach Europe, vulnerable people will continue to be forced to make dangerous journeys in overcrowded boats."
The names in this article have been changed to protect identities
Register for free to continue reading
Registration is a free and easy way to support our truly independent journalism
By registering, you will also enjoy limited access to Premium articles, exclusive newsletters, commenting, and virtual events with our leading journalists
Already have an account? sign in
Register for free to continue reading
Registration is a free and easy way to support our truly independent journalism
By registering, you will also enjoy limited access to Premium articles, exclusive newsletters, commenting, and virtual events with our leading journalists
Already have an account? sign in
Join our new commenting forum
Join thought-provoking conversations, follow other Independent readers and see their replies