MH17 crash: Investigators discover more human remains and 'huge section of plane'
OSCE monitors say investigators have made significant finds a week after the crash
Heather Saul
Friday 25 July 2014 16:32 Comments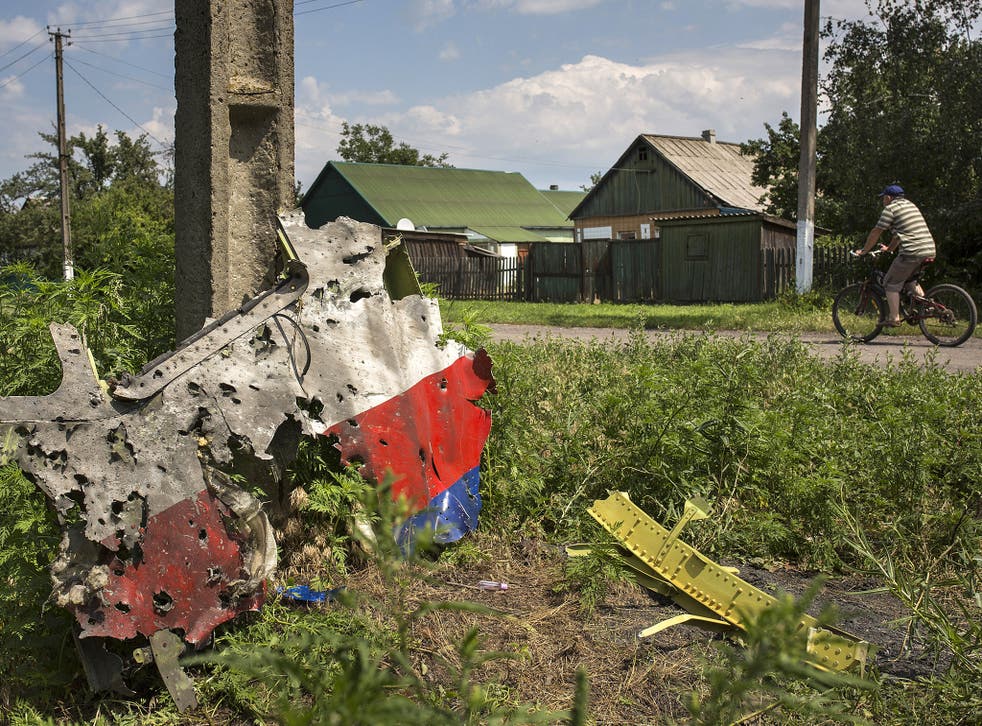 Investigators have found more human remains and a huge section of a plane at the crash site of the downed flight MH17, an international monitor has claimed.
The bodies have been marked with a white flag but have not been removed as investigators do not have the facilities to handle human remains, Michael Bociurkiw, a spokesman for the Organisation for Security and Cooperation in Europe (OSCE) guiding the team through the site told ABC News.
Teams have also retrieved a previously undiscovered "huge piece of fuselage" in a heavily wooded area close to the crash site, which Mr Bociurkiw told the Australian Broadcasting Corporation "appeared out of nowhere".
"The most significant find today was we went into a heavily wooded area and found a huge piece of fuselage,' he said.
"I think this is the part of the plane that came down which ... travellers would say resembles an airline. The windows were still intact and if one wanted to they could even climb inside and be covered.
Mr Bociurkiw said investigators were closely examining the area where the cockpit landed as it still contains "personal and professional" belongings of the flight crew.
"For the second day in a row we did come across more human remains, not much, but it does indicate that they are there [...] a very detailed sweep of the entire area will probably be needed to make sure nothing is missed."
The first bodies of the crash victims arrived in the Netherlands on Wednesday and were received by Dutch King Willem-Alexander, Queen Maxima and hundreds of relatives during a solemn ceremony.
In pictures: Malaysia Airlines flight MH17 crash

Show all 109
The news comes as it was confirmed a five-nation 'coalition of the grieving', expected to be led by the Dutch, was being formed. The multi-national coalition is expected to supply forces to help secure the 50-square-km site, The Sydney Morning Herald reports.
However, the coalition will need to be signed off by President Petro Poroshenko and passed by the Ukraine Parliament before it comes into effect.
The Australian Prime Minister Tony Abbott announced yesterday he has dispatched 50 federal police officers to London who are on standby to assist with securing the area. He has confirmed another 100 are being deployed to Europe today.
Register for free to continue reading
Registration is a free and easy way to support our truly independent journalism
By registering, you will also enjoy limited access to Premium articles, exclusive newsletters, commenting, and virtual events with our leading journalists
Already have an account? sign in
Register for free to continue reading
Registration is a free and easy way to support our truly independent journalism
By registering, you will also enjoy limited access to Premium articles, exclusive newsletters, commenting, and virtual events with our leading journalists
Already have an account? sign in
Join our new commenting forum
Join thought-provoking conversations, follow other Independent readers and see their replies