Migrant boat crisis: Human smugglers 'throwing pregnant women and children overboard to drown to force commercial ships to rescue them'
Traumatised sailors have reported the abuses in the Mediterranean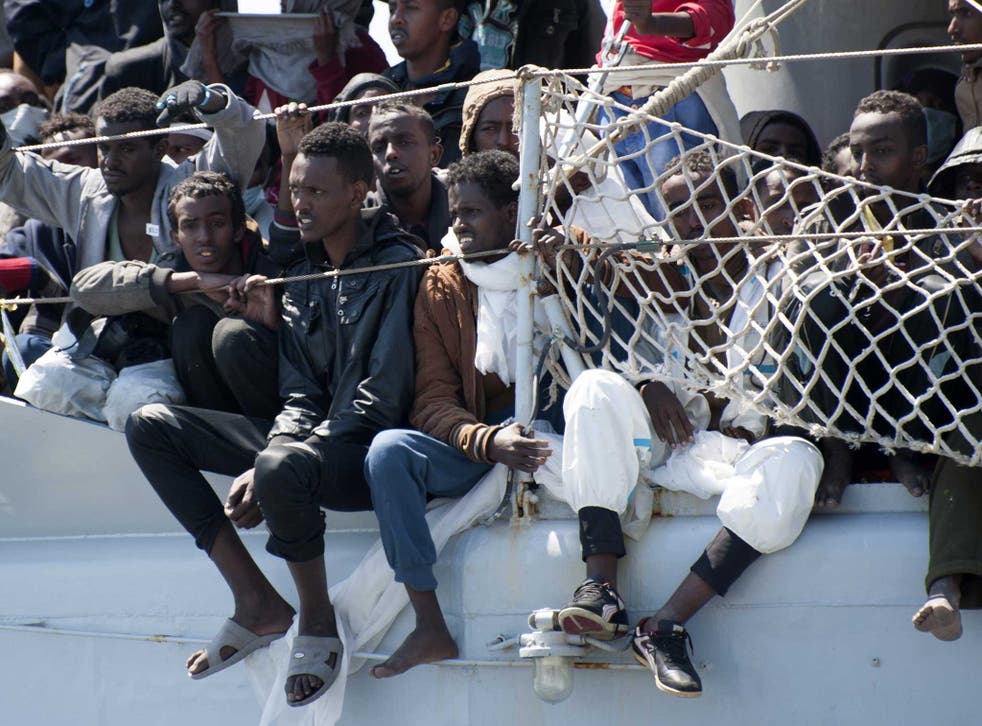 Human smugglers are reportedly throwing pregnant woman and children into the sea and leaving them to drown to force merchant vessels to take migrants ashore.
Crews of commercial ships in the Mediterranean have reported the abuses perpetuated by ruthless traffickers who attempt to offload their human cargo before reaching European ports, where they fear being arrested by authorities.
In a report to the UN's refugee agency, the International Chamber of Shipping (ICS) said that smugglers from Libya are deliberately "dumping" migrants in sight of merchant vessels.
"They seem to be well aware that large merchant ships will be diverted by European coastguards, the merchant ships will naturally be seaworthy, they will have supplies, and they will be able to get the migrants to a port in Europe," the report continued.
"In a sense, the shipping industry is being used by smugglers."
But when a ship's response is not quick enough for them, the ICS said they have been known to push women and children overboard.
"There are reports that children and pregnant women have been thrown into the water by smugglers to draw urgent response from merchant vessels," the report said.
"In some of the most tragic circumstances, when merchant vessels arrive the crew may only find a few survivors amongst the corpses in the water."
In pictures: Migrant boat disaster

Show all 10
John Murray, marine director at the ICS, said sailors are risking their safety embarking on such rescues at sea and can be left traumatised by the horrors they witness.
"They are not specialised in trauma or anything like that and to witness the things people are witnessing would take a massive toll on anyone," he added.
Mr Murray told The Independent that ships with a crew of only around two dozen may take on board hundreds of people who have no understanding of the hazards of their vessel.
"When 20 seafarers, who are not specially trained to manage crowds and are needed to manage the ship safely, are faced with a group of migrants that might be very agitated and ill, the danger to all concerned is very apparent," he added.
Guidance issued by the ICS urges seafarers to try and calm migrants while they board the ship to stop scenes seen in previous rescues where desperate people have attempted to swim over and climb aboard merchant ships, threatening to capsize them.
The sinking of a migrant ship that killed up to 900 people in April was believed to be partly caused by the movement of passengers who rushed to one side of the boat as a commercial vessel approached to rescue them.
The smugglers' boat collided with a Portuguese container ship during the incident and overturned in the ensuing panic.
Italian prosecutors stressed that none of the Portuguese crew were under investigation and that their attempts to help the ship in distress "in no way contributed to the deadly event".
Mr Murray said the shipping industry would always do its upmost to help anyone in distress but that the solution to the current crisis was on land, not at sea.
Commercial vessels have helped in more than 1,000 migrant rescue operations since the number of vessels crossing the Mediterranean started to skyrocket last year, according to ICS figures.
The industry body welcomed increased EU funding for Operation Triton, which started in November after Italy ended its Mare Nostrum initiative because it could no longer afford it.
Peter Hinchliffe, Secretary General of the London-based ICS said the capacity of current efforts remained "highly doubtful" as most sinkings and fatalities happen near the Libyan coast.
He added: "It seems that merchant ships, which are not best equipped to rescue hundreds of people at a time, will continue to be called upon frequently to respond to requests for assistance."
More than 36,000 migrants have arrived in Italy since January and the International Organisation for Migration estimates that 1,820 people have died or gone missing attempting the voyage.
Register for free to continue reading
Registration is a free and easy way to support our truly independent journalism
By registering, you will also enjoy limited access to Premium articles, exclusive newsletters, commenting, and virtual events with our leading journalists
Already have an account? sign in
Register for free to continue reading
Registration is a free and easy way to support our truly independent journalism
By registering, you will also enjoy limited access to Premium articles, exclusive newsletters, commenting, and virtual events with our leading journalists
Already have an account? sign in
Join our new commenting forum
Join thought-provoking conversations, follow other Independent readers and see their replies