Ministry of Defence flies €1million in cash to Cyprus to help British troops and their families based on the crisis-hit island
RAF flight left earlier this afternoon, with the money onboard designated for emergency loans in the event that cash machines and debit cards stop working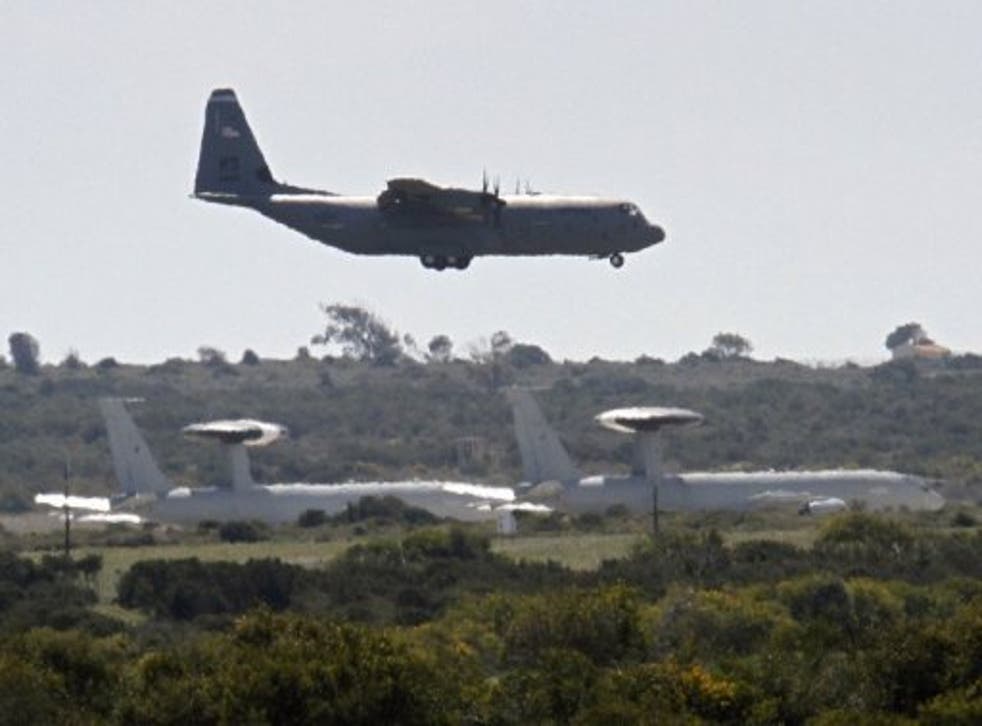 The Ministry of Defence has sent a plane carrying €1 million to Cyprus as a "contingency measure" to help British troops and their families based on the island.
The RAF flight left the UK earlier this afternoon, with the money onboard designated for emergency loans in the event that cash machines and debit cards stop working on the crisis-hit Mediterranean island.
The MoD said it is determined to minimise the impact of Cyprus' banking problems on "our people" and it will consider further shipments if required.
The announcement comes amid moves by the Government today to re-assure British troops posted to Cyprus that they will be fully compensated for any plans to raid their savings.
The MoD said that as well as sending out the emergency fund, it is asking personnel if they would prefer this and future months' salaries to be paid into UK bank accounts.
In a statement released today, the MoD said: "An RAF flight left for Cyprus this afternoon with one million euro on board as a contingency measure to provide military personnel and their families with emergency loans in the event that cash machines and debit cards stop working completely...We will keep this under review and consider further shipments if required."
It added: "The MoD is proactively approaching personnel to ask if they want their March, and future months' salaries paid into UK bank accounts, rather than Cypriot accounts...We're determined to do everything we can to minimise the impact of the Cyprus banking crisis on our people."
The position of more than 3,000 British service personnel was thrown into doubt yesterday when Treasury Minister Greg Clark only went as far as saying that they would not suffer "unreasonable losses" as a result of the planned levy.
However, George Osborne told Cabinet that UK Armed Forces personnel and civil servants posted to Cyprus will be "compensated in full" for any losses as a result of the planned levy on savings.
The Chancellor's comments confirm a pledge he made on Sunday that "people who are doing their duty for our country in Cyprus will be protected from this Cypriot bank tax".
The Cypriot government is planning to impose the levy to secure an international rescue of the country's troubled banks. EU ministers and officials have said 5.8 billion euro (£4.9 billion) of the 15.8 billion euro (£13.5 billion) rescue package must be raised by Cyprus.
After prompting an outcry from depositors, Cypriot politicians have been considering the possibility that savers with smaller deposits should escape having to pay.
The country's banks remain closed until Thursday, and analysts are warning that the plans set a troubling precedent, undermine confidence and could trigger an exodus of money.
Outlining today's Cabinet discussion, Prime Minister David Cameron's official spokesman said: "The Chancellor set out the position that both he and the Foreign Secretary made clear at the weekend, which is that all UK personnel will be compensated in full for any losses as a result of the decisions that may be taken with regard to the Cyprus banking situation.
"The Chancellor was clear on Sunday that UK personnel will be compensated in full. He reminded the Cabinet of that position."
Unlike the previous rescues for Greece, Portugal, Ireland, and Spanish banks, the proposed Cypriot bailout is the first one that dips into people's bank accounts to finance the measures.
Suggestions have been made that eurozone leaders, particularly in Germany, insisted on the levy because of the large amount of Russian capital kept in Cypriot banks, amid fears of money-laundering.
The bailout package involves the International Monetary Fund (IMF), European Central Bank and European Union.
Former UK chancellor Alistair Darling told the BBC Radio 4 Today programme that the plans involve "everything you shouldn't do when you are trying to solve a problem like this".
He said: "They have actually now said to people 'We will come after your deposits, no matter how small your savings are' and that seems to me to make it more likely that, if you are a saver in Spain or in Italy, for example, and you have just the sniff of the EU or the IMF coming your way, you will take your money out and you will get a run on the bank."
Tristan Cooper, fixed income sovereign credit analyst at Fidelity Worldwide Investment, said confidence in the security of bank deposits in Cyprus could have been "fatally undermined".
He said: "This will likely prompt capital flight once the banks reopen and may necessitate the sustained imposition of capital controls in order to stem an escalating banking crisis."
Former Central Bank of Cyprus chief Athanasios Orphanides claimed the government is essentially being "blackmailed" into taking savers' cash.
He told Bloomberg Television: "What we are witnessing is the slow death of the European Project...
"What we have seen in the last few days is a very serious blunder by European governments that are essentially blackmailing the government of Cyprus to confiscate the money that belongs rightfully to depositors in the banking sector in Cyprus."
Join our new commenting forum
Join thought-provoking conversations, follow other Independent readers and see their replies