Mitt Romney's backer to build huge £18bn 'EuroVegas' resort outside Madrid
Bishops fear Sheldon Adelson's €22bn casino will lead poor Spaniards into gambling addiction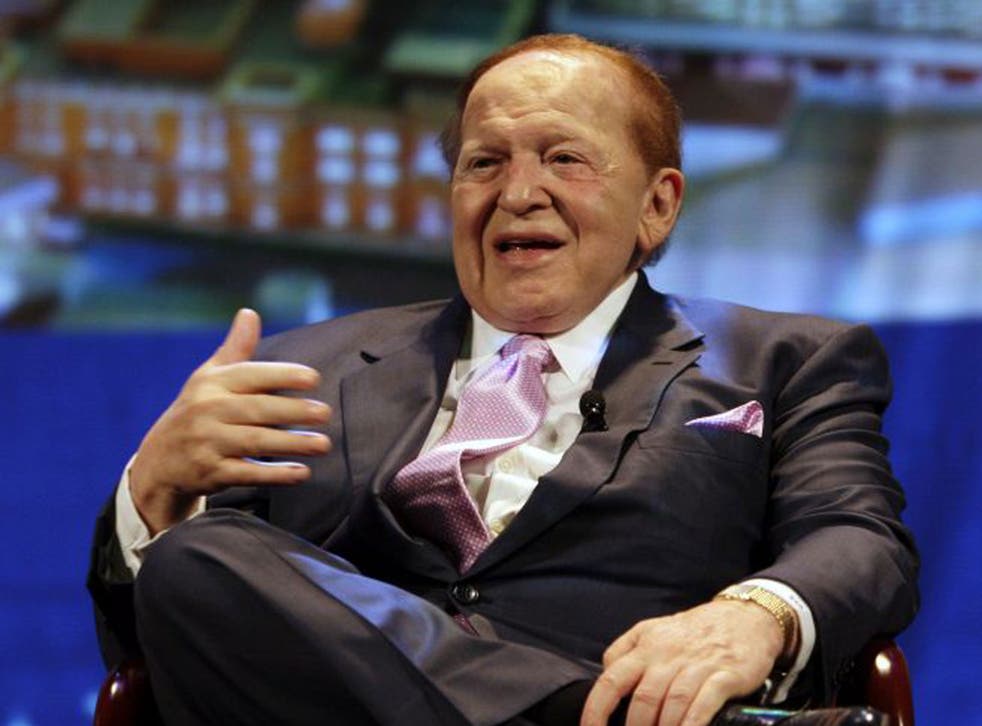 At a time when 26 per cent of Spaniards are unemployed, on paper it could hardly be better news: the Las Vegas Sands Corporation and Madrid's government selected the large dormitory town of Alcorcón for what is set to become Europe's biggest casino resort.
Alcorcón's mayor, David Pérez, said that the €22bn (£18bn) project dubbed "EuroVegas" will turn his town – which has 15,000 jobless amongst its 170,000 inhabitants – into "an unprecedented nexus of employment just at the moment that it is most needed".
But EuroVegas has already created an unlikely alliance of opponents. Catholic bishops have warned of increased gambling addiction. Ecological associations have questioned the environment impact of the "strip", which will be roughly triangular in shape with sides three kilometres long and contain at least 12 hotels and six casinos.
Soon after the announcement, the EuroVegas No Campaign announced a protest in Madrid's Puerta del Sol square, saying in a statement: "What guarantees do such supposed jobs have? Beyond these baseless claims, it is to be expected that EuroVegas is only beneficial for a privileged minority and will provoke irreversible environmental damage in the region."
There can be no doubting the wealth of the Las Vegas Sands chairman, Sheldon Adelson. Ranked the 14th richest person in the world, he was a key backer of the failed bid for the US presidency by the Republican, Mitt Romney. But questions remain on where the money will come from to fund such a huge project. Las Vegas Sands will provide between 35 and 40 per cent of the funding, but the source for the remaining 65 per cent is unclear. The key issue for Spain is what it will do for its dole queues. Whilst Spanish daily El País has estimated that around 40,000 employees will be needed in the initial phase, final figures of up to a quarter of a million direct and indirect jobs have been touted - which would wipe out half of the region of Madrid's unemployment total at a stroke.
But opposition parties in Madrid's regional parliament have vigorously questioned such figures as overly optimistic and have criticised the easing of building restrictions, which according to Socialist Party spokesman Jose Quintana, "wouldn't have happened in a banana republic". Building work on the project just south-west of Madrid should start at the end of this year. The initial phase is due to be finished by 2017, with the resort fully completed by 2023 at a reported cost of €22bn. EuroVegas is forecast to provide overnight hotel accommodation for up to 36,000 visitors. Each casino will be home to 18,000 slot machines.
While the resort is confined to a ground area about half the size of Las Vegas, there will be no upper skywards limit. A specially approved law in December has removed usual height restrictions for EuroVegas skyscrapers, as well as allowing for as yet unspecified tax breaks on winnings. Smoking bans, too, may be eased in some sectors of the project.
As for Alcorcón itself, prior to EuroVegas the town's only claim to fame was in 2009 when its recently promoted Second Division football side inflicted a stinging 4-0 knock-out defeat of Real Madrid in the country's equivalent of the FA Cup.
Since then the expression "alcorconazo" has entered regional vernacular as slang for "pulling off Mission Impossible". Whether Alcorcón now becomes a byword for "hitting the jackpot" employment-wise with their successful EuroVegas bid, remains to be seen.
Join our new commenting forum
Join thought-provoking conversations, follow other Independent readers and see their replies