Far-right activists 'with Molotov cocktails and weapons' arrested as police shut down Brussels protests
At least 10 anti-fascist protesters were detained at a counter-demonstration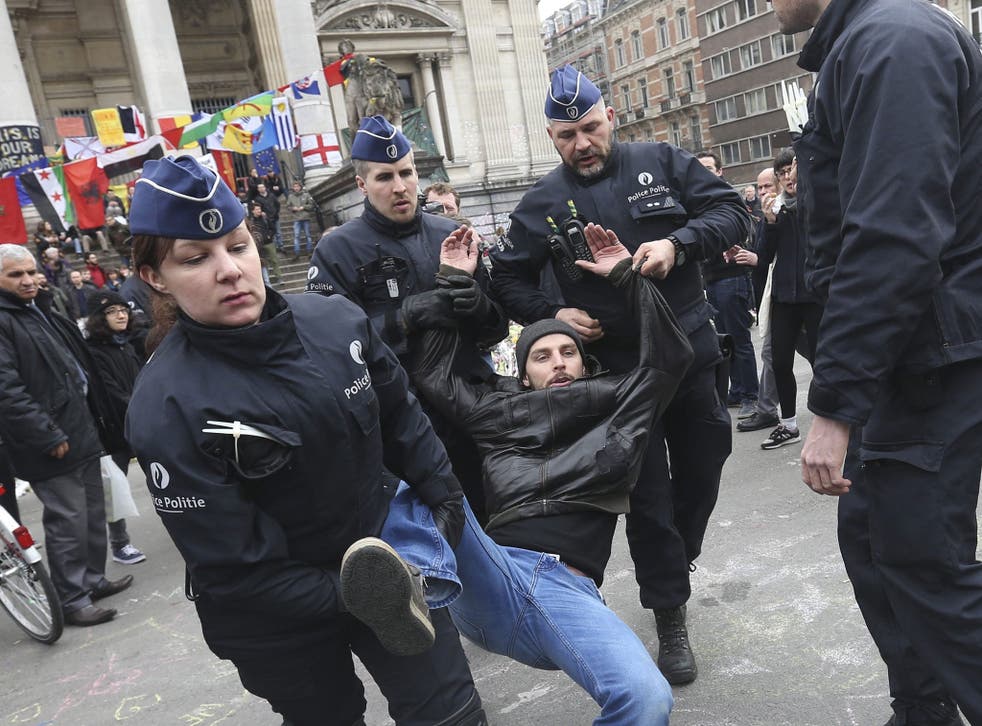 Two suspected far-right activists have been arrested in Molenbeek with Molotov cocktails and weapons as police shut down protests across Brussels.
Supporters of the anti-immigration Génération Identitaire movement gathered in the district known as the home of Isis militants including Salah Abdeslam, who was discovered hiding out there after four months on the run.
Protesters called a rally in its main square on Saturday, which was swiftly banned by the mayor of Molenbeek, Francoise Schepmans, because of the threat of "public order disturbances".
In a statement, Génération Identitaire had dubbed Molenbeek a "breeding ground" for jihadists and called on people to gather under the slogan "Expel the Islamists!".
Minutes after the protest was due to start at 3pm local time (2pm BST) a series of arrests were reported.
Two far-right protesters were arrested in a car containing "prohibited weapons" and Molotov cocktails, according to RBTF television.
At least one other man was seen being handcuffed and taken away by police, who were out in force to enact a city-wide ban on the Génération Identitaire demonstration and any counter-protests.
Half a mile away in the Place de la Bourse, an anti-fascist rally was also dispersed with at least 10 people arrested, De Redactie reported.
The Ligue des Droits de l'Homme (Human Rights League) had organised the event to condemn Islamophobia, which it said had become a "respectable form of racism".
The group's president, Alexis Deswaef, was among the protesters arrested but said he was released after being held in a cell while the square was cleared by riot police.
In a statement, the Human Rights League had said groups like Génération Identitaire were spreading hate speech and fear while camouflaging "government failures" in social justice, equality and foreign policy.
The far-right movement, formed in 2012 as the youth wing of the far-right Bloc Identitaire, claims to fight "the standardisation of peoples and culture and a tidal wave of mass immigration".
Previous events have seen members protest against immigration, the "Islamisation of France" and occupy mosques.
Brussels attacks: tributes are paid to the victims

Show all 27
Its latest rally came as investigations continued into the Brussels attacks and a new plot uncovered in Paris.
A 33-year-old Belgian man named only as Y.A. was charged with participation to the activities of a terrorist group, the federal prosecutor's office said.
He is accused of playing a role in plans to attack the French capital with Reda Kriket, a suspected Isis militant linked to Abdelhamid Abaaoud.
Paris prosecutor Francois Molins said an "imminent" attack had been thwarted following the discovery of a huge stash of weapons and explosives in the Paris suburb of Argenteuil.
A third man was previously arrested in Rotterdam as part of the case, which is separate from the bombings in Paris and Brussels.
Additional reporting by agencies
Join our new commenting forum
Join thought-provoking conversations, follow other Independent readers and see their replies