Inside Europe's first underwater museum, where climate change cannot be ignored
Museo Atlantico, 15 metres under the sea in Lanzarote, contains 12 installations drawing attention to global issues such as climate change, conservation and migration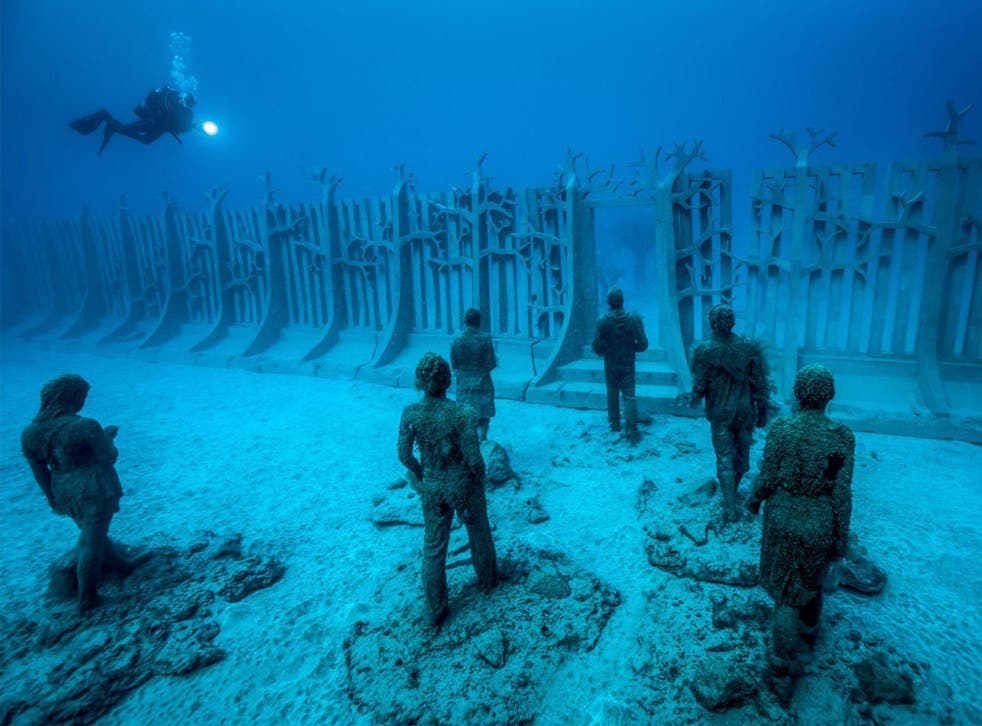 One of Europe's most hotly anticipated art museums to date is now complete and open for public viewing – but visitors will need to bring a snorkel.
The Museo Atlantico (Atlantic Museum), located in the Canary Islands off the coast of Lanzarote, features more than 300 human sculptures created by British eco-artist Jason deCaires Taylor.
Submerged at depths of 15 metres on the ocean floor of Las Coloradas bay, the sculptures are only accessible to scuba divers and snorkelers.
The project, which has taken three years to complete, aims to create a visual dialogue between art and nature – the figures helping to form part of an artificial reef which will act as a breeding site for local species of fish and plants.
A graduate of University of the Arts, London (then the London Institute of Arts), Mr deCaires Taylor has worked on a number of similar large-scale underwater projects including the world's first underwater sculpture park in Grenada, which opened in 2006.
While the Museo Atlantico was first opened in March last year, it is only now the project is complete with all figures submerged.
"The whole idea was for it to become a portal to another world," Mr deCaires Taylor told CNN. "I want it to inspire people to understand more about our oceans and the threats facing them."
Positioned in several groupings, many of the statues were cast from real people. According to the artist, each installation aims to draw attention to global issues such as climate change, conservation and migration.
The largest piece, 'Crossing The Rubicon', is made up of a group of 40 people walking blindly towards a gateway in a 30-metre long barrier.
Some are shown to be taking selfies, and others engrossed in their mobile phones – a statement the artist says denotes mankind's attitude towards climate change.
Another piece called 'The Portal' depicts a hybrid animal-human sculpture looking into a large square mirror, which reflects the moving surface of the ocean.
The concept was designed to portray a looking glass into another world and is elevated on a series of cacti that are designed to attracted octopuses, sea urchins and fish.
The museum is placed across 50m squares of sand and is built with pH-neutral materials designed to be environmentally harmless.
Join our new commenting forum
Join thought-provoking conversations, follow other Independent readers and see their replies