Muslims to form peace ring around Oslo synagogue following Copenhagen attacks
Omar Abdel Hamid El-Hussein killed two people in twin attacks last week at an event promoting free speech and a synagogue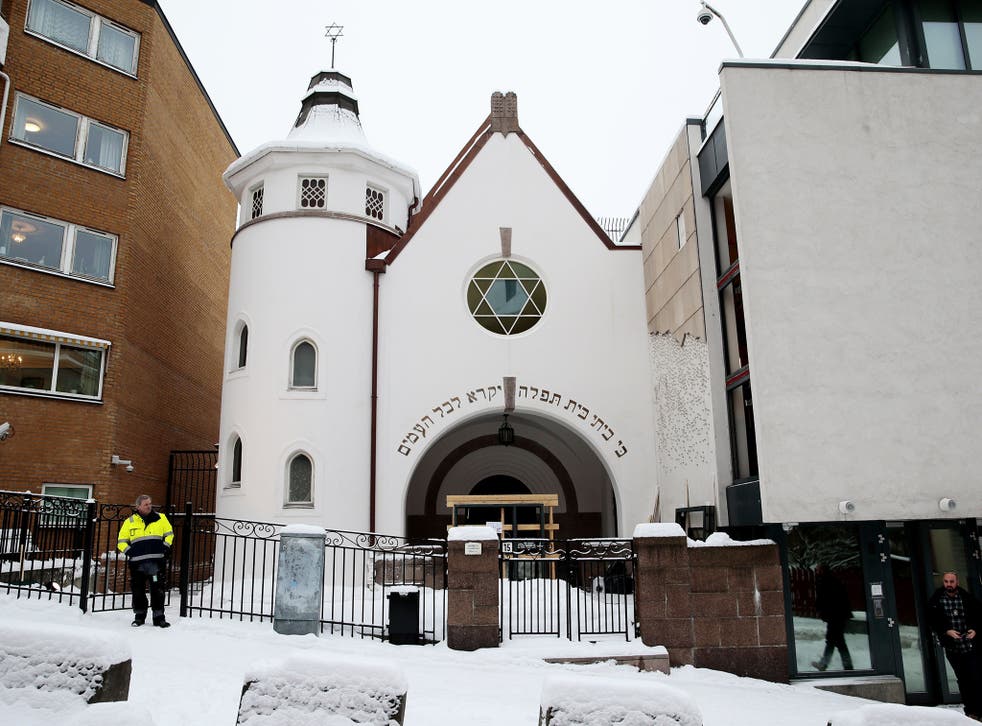 Thousands of Muslims are expected to form a human ring around Oslo's synagogue today in a show of solidarity with Jews – a week after an Islamic gunman attacked a synagogue in neighbouring Denmark.
Organisers expect more than 2,000 people to surround the synagogue in a 'peace ring', intended to show brotherhood with the Jewish community in times of increasing tension between the two religions.
It comes a week after Omar Abdel Hamid El-Hussein, a Danish-born son of Palestinian immigrants, killed two people at a synagogue and an event promoting free speech in Copenhagen last weekend. He was eventually killed by police in a shootout.
The symbolism will be all the more poignant after the 2011 massacre in which nationalist Anders Breivik killed 77 people, then slammed the then Labour Government for facilitating Muslim immigration and adulterating Norwegian blood during his trial.
Shooting at Copenhagen blasphemy event

Show all 12
The issue of anti-Semitism in Europe came back under the spotlight when four men were killed in a Jewish supermarket in Paris in January. This closely followed the attack on political satire magazine Charlie Hebdo in which 12 staff were killed by Jihadists, raised and radicalised in France.
But today's show of support, to take place after the Jewish Shabbat – Sabbath - service this evening, seeks to counter claims of rising anti-Semitism among Muslims, with organisers saying that Islam seeks to "protect all people, regardless of faith or religion".
More than 2,200 people have already signed up to attend on a facebook group called Fredens Ring. Fredens is a Danish word which translates as 'peace'.
On the page, organisers say: "Islam is to protect our brothers and sisters, independently of what religion they belong to. Islam is to rise above hatred and never sink down to the same level as the haters. Islam is to protect each other.
"Muslims want to show that we strongly condemn all type of anti-Semitism and hatred towards Jews and are there to support them."
They have also called for others to promote Islam's true message of protection and acceptance on social media, leading to an outpouring of support on twitter and facebook, from Muslims, Jews and other religions alike.
On Twitter, it's been mentioned alongside associated hashtags salaam – a Muslim greeting meaning peace – and shalom – the Hebrew word for peace.
Thomas Tailer wrote: "There was the Arab Spring. Now you are planting the seeds of the 'Ring of Peace Spring'. When the snow melts, the distrust and hate between people will melt. All of us have the ability to stand with our neighbours in need. You inspire us all. Thank you all for what you are doing.
Binyamin Ben Katzman posted: "If we can all separate the issue of Israel/Palestine (or even better unite in supporting peace, equality and a better life for both sides, making the two-state solution happen) and unite as people who actually have much in common, very similar religions, there is no reason for Muslims and Jews to hate each other.
"There is every reason in the world for us to unite and have each other's back. I hope this kind of support won't be needed in response to tragedies, but I hope Muslims and Jews all around the world will learn from this and be inspired, coexisting and supporting each other in their communities all over the world! Saalam, Shalom, Peace."