Najat Vallaud-Belkacem: 'Sexist' French right accuses education minister of using bra and lipstick as 'smokescreen'
When answering questions on her planned reforms of the middle-school curriculum in the French parliament last week, Ms Vallaud-Belkacem wore an elegant, black dress with a low neck-line. A tiny section of the lace of her brassière was visible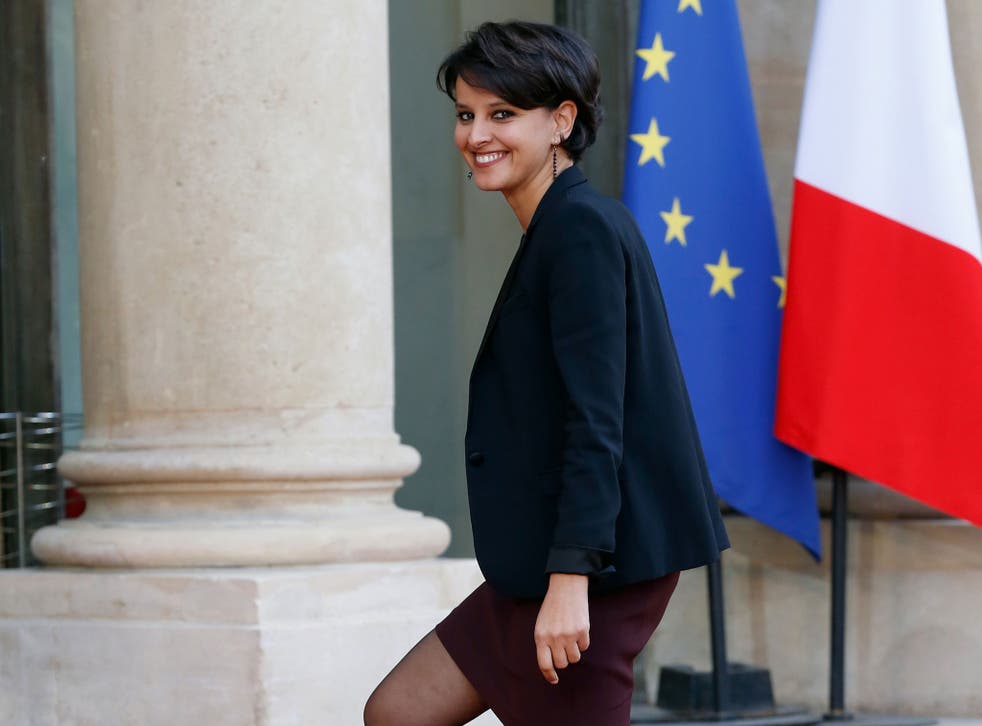 Colleagues have angrily jumped to the defence of the French education minister after she was accused by a right-wing columnist of flaunting her sexual charms to avoid answering questions in parliament.
Najat Vallaud-Belkacem, 38, Moroccan-born and the youngest-ever French education minister, has come under repeated fire from right-wing politicians, while also angering left-wing teaching unions with her plans to reform France's failing middle-school system.
Essayist and politician Jean-Paul Brighelli – himself a teacher – accused her in the magazine Le Point of wearing earrings and a dress with a plunging neckline as a "smoke screen" to avoid answering questions in the National Assembly. His comments provoked a furious response from her fellow ministers.
When answering questions on her planned reforms of the collège (middle-school) curriculum in the French parliament last week, Ms Vallaud-Belkacem wore an elegant, black dress with a low neck-line. A tiny section of the lace of her brassière was visible.
In his column in Le Point, Mr Brighelli wrote: "In the film Annie Hall, Woody Allen developed the Californian idea of the VPL – visible panty line. Najat Vallaud-Belkacem has now updated the concept to become the visible bra line."
"This is a public-relations strategy as old as the planet. The red lipstick and earrings worn by Ms Vallaud-Belkacem during questions to the government in the National Assembly were intended as a smokescreen – something never before attempted in our national parliament."
Pascale Boistard, minister for women's rights, accused Mr Brighelli of making "sexist attacks" which are an "insult for all women". The Europe minister, Harlem Désir, said the Le Point article was "unworthy and desperate".
In his column, Mr Brighelli, a member of the tiny, right-wing party Debout la France (France on its feet), went on to repeat allegations by traditionalist teachers and conservative politicians that Ms Vallaud-Belkacem is trying to "dumb down" the school curriculum. Their complaints have focused mostly on small changes that would slightly downgrade the teaching of Latin and abolish "double" language classes, which allow a minority of students to study German and English at the same time.
The collège curriculum – for 11- to 15-year olds – has long been regarded as the weakest link in the French school system. As often in France however, everyone demands "change" in the abstract but few are willing to accept specifics.
Ms Vallaud-Belkacem's reforms – due to take effect from September next year – have also been the target of demonstrations by broadly left-wing teaching unions. They have threatened "guerrilla actions" against the changes throughout the rest of the present school term.
The unions are indignant that she claimed pupils are "bored" by the traditional and allegedly rigid teaching in middle schools. They oppose her plans to introduce more individual coaching and "horizontal topics" which break down boundaries between subjects.
Some teachers welcome her plans to teach, say, English and history, or geography and science partly through combined "topics" to re-engage the children's attention. Others regard the idea as a threat to "core" educational values.
Many French educational experts suggest Ms Vallaud-Belkacem's reforms go broadly in the right direction. On the French right, the criticism overlaps with long-standing demands for the abolition of a single collège system (created in 1970s). Many conservative and far-right politicians would like to return to a two-tier system, which critics say would effectively segregate disadvantaged ethnic-minority pupils from most of their white peers.
Join our new commenting forum
Join thought-provoking conversations, follow other Independent readers and see their replies