New style, new slogans, no new policies: Hollande tries to start again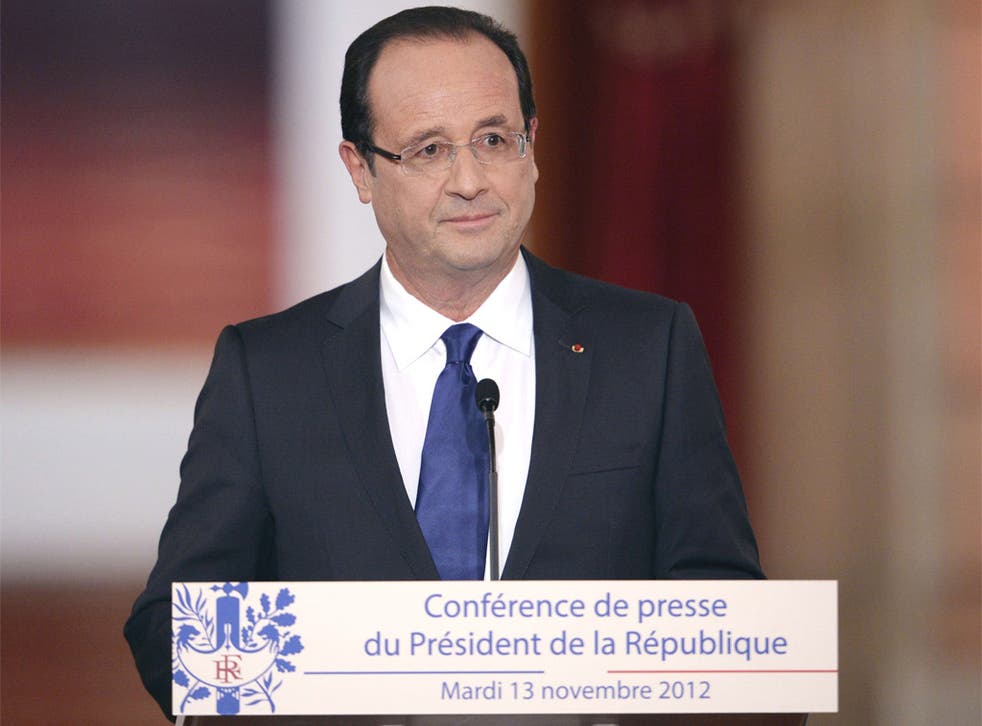 President François Hollande attempted to re-launch his struggling presidency last night by promising to re-build a strong France for a "new generation" and a "new world".
In a press conference seen as a critical opportunity to set a new tone and a new direction after a much-criticised first six months in office, Mr Hollande sought to abandon his image as a bumbling and laid-back "President Normal" and tried to define himself instead as a hands-on "President Responsible".
"I've made the choice of reform… I am not preparing the fate of the next election but of the next generation," President Hollande said. "I wish to be a president who is worthy of the very serious situation in which our country finds itself." France was grappling, he said, "not just with a new crisis but a new world".
In his successful presidential campaign last spring, Mr Hollande promised that he would be a coherent and consistent President who would bring change with "justice". He is accused – by both the right and some on the left – of being incoherent in his message, inconsistent in his policies and moving too slowly in the face of economic stagnation and rising unemployment.
Mr Hollande's approval rating, which was more than 60 per cent at the start of the summer, has slumped to the high 30s – the steepest fall of any head of state since France switched to presidential politics 50 years ago. The popularity of his Prime Minister, Jean-Marc Ayrault, has crashed even further.
The President made no new proposals at the press conference. He said that no French government had taken "so many decisions so quickly" on the two evils "undermining" France: the public debt and flagging industrial competitiveness. He admitted that he may have failed to convey a sense of direction or urgency but hinted that part of the blame for his plunge in popularity must lie with the impatience of the French electorate.
"Our national debt is more than 90 per cent of our national wealth; unemployment is rising; our competitiveness is constantly falling," he said. "A change of government changes those in power. It does not change the world.
"I understand the worries of the French people but the only thing that counts is not today's opinion polls but the state of France in five years. The decline of France is not inevitable."
President Hollande is trapped between the realities of France's perilous economic position and the expectations he raised during his campaign, when he spoke of "putting the magic back into the French dream".
He was much criticised on the left last week – and some Greens threatened to leave the governing coalition – when he accepted the main lines of an official report on France's flagging ability to compete industrially. During the campaign, Mr Hollande criticised President Nicholas Sarkozy for cutting the heavy payroll taxes which fund the French welfare state and imposing VAT rises to make up the shortfall.
Last week Mr Hollande and Mr Ayrault agreed to give a €20bn payroll-tax break to employers over three years, funded partly by an increase in VAT. President Hollande insisted last night that it was "quite wrong" to see this as a revival of the Sarkozy plan that he had once reviled. The previous government, he said, wanted to raise VAT rates immediately from 19.6 to 21.2 per cent. He was raising some rates to 20 per cent but only from 2014. VAT rates on basic items needed by ordinary people would actually be reduced.
Commentators said that Mr Hollande had gone some way towards finding a new "narrative" which would convince the French people that he had some sort of a roadmap towards solid policies. President Sarkozy spoke much of change but achieved little, they pointed out. Mr Hollande has done more than many realise but has failed – until last night – to sell his programme to voters or the media.
After the whirl of the Sarkozy years, Mr Hollande was elected as a muddle-through kind of politician. He is now being accused of trying to muddle through. This is, at least, a variant on the usual French pattern of electing politicians to bring "change" and then protesting against the changes.
Hollande on...
The presidency As a president I will be like the candidate that I am, a respectful candidate, a rallying candidate, a normal candidate for a normal presidency, at the service of the Republic.
Europe Austerity need not be Europe's fate.
The future During a term in office there are highs and lows, but what counts is that the goal is set as well as the means to achieve it.
Achievement I am proud to have been capable of giving people hope again.
The nation France isn't just any country in Europe, and its president is not an ordinary leader in the world.
Join our new commenting forum
Join thought-provoking conversations, follow other Independent readers and see their replies