Nice attack: Heartbreaking photo shows young victim lying beside her doll
Parents threw their children over fences to get them out of the path of the lorry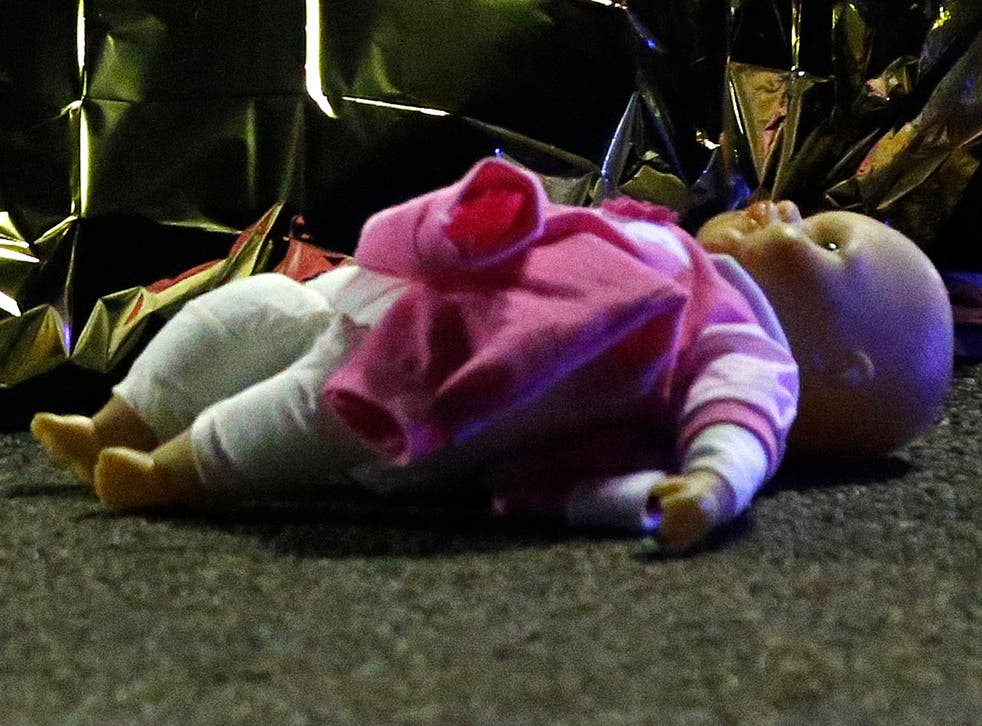 An image of a doll lying next to the covered body of a young victim killed in the Nice attack has underlined the horror of the massacre that left scores of people dead.
The photograph, taken by Eric Gaillard for Reuters, shows the aftermath of the attack on crowds celebrating Bastille Day, which killed at least 84 people and injured hundreds more. At least 50 children were in hospital.
Parents reportedly threw their children over fences in order to get them out of the path of the lorry, which hurtled into the crowds at a "breakneck speeds", according to witnesses.
What happened in Nice: 84 killed as lorry drives through crowd
:: Warning - Story below contains image of a child, covered by a sheet, who was killed in the attack in Nice
One mother, called Linda, told France's iTélé: "My husband picked up the kids and started running, I turned around and just saw so many dead people. I even saw a baby with its head totally crushed."
Another woman who lost her eight-month-old son in the panic of the attack has been reunited with him following a Facebook appeal.
Nice's children's hospital said it had treated around 50 children and adolescents injured in the lorry attack, including two who died following surgery.
The communications director for the Lenval foundation hospital, Stephanie Simpson, said the children had fractures and head injuries.
In pictures: Bastille Day Nice attack

Show all 30
In a phone interview with the Associated Press, she said: "Some are still life and death."
She was not able to say exactly how many children were in hospital or the ages of those who died.
The hospital has one of the France's biggest paediatric emergency units and is also offering psychological counselling to relatives of those injured.
Brazilian political cartoonist Carlos Latuff created a drawing based on the upsetting image of victim and the doll. It was shared by the broadcaster Jeremey Vine alongside the original photo
The lorry driver, Mohamed Lahouaiej Bouhlel, was shot dead by police after he swerved through the crowd, maximising casualties, and shot people for about 30 minutes.
France has declared three days of national mourning and extended the nation's state of emergency.
President Francois Hollande condemnded the massacre as a "monstrosity" and said the "terrorist character" of the attack was undeniable.
"All of France is under the threat of Islamic terrorists," he said.
Register for free to continue reading
Registration is a free and easy way to support our truly independent journalism
By registering, you will also enjoy limited access to Premium articles, exclusive newsletters, commenting, and virtual events with our leading journalists
Already have an account? sign in
Register for free to continue reading
Registration is a free and easy way to support our truly independent journalism
By registering, you will also enjoy limited access to Premium articles, exclusive newsletters, commenting, and virtual events with our leading journalists
Already have an account? sign in
Join our new commenting forum
Join thought-provoking conversations, follow other Independent readers and see their replies