Nicolas Sarkozy's hopes of return to political power boosted as he is cleared of 'fleecing' chief L'Oréal shareholder Liliane Bettencourt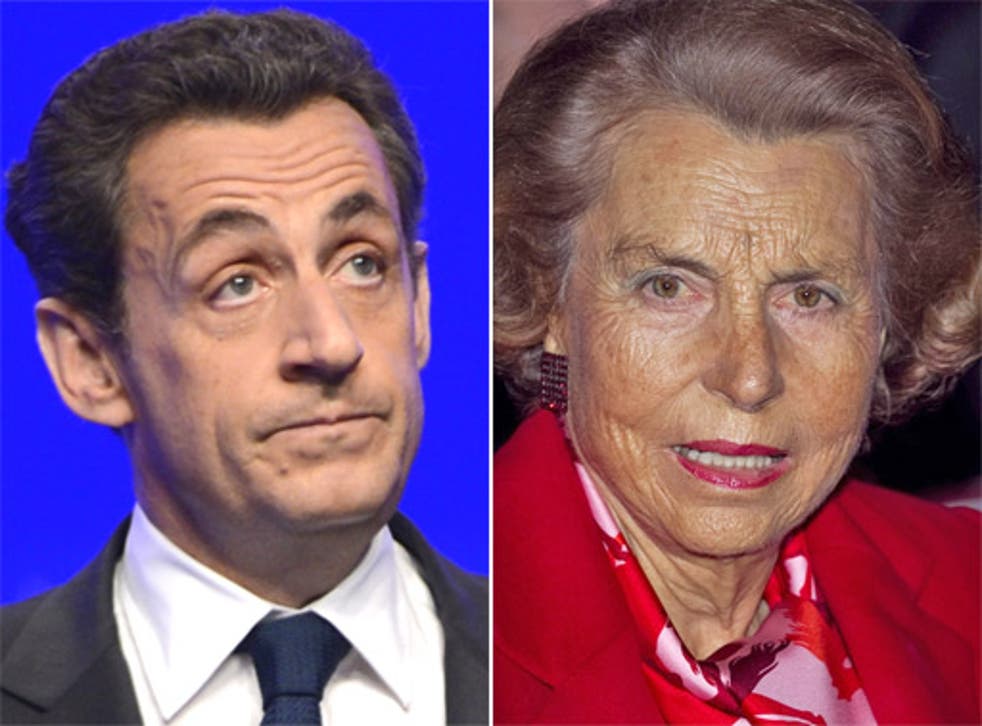 Former President Nicolas Sarkozy's hopes of a political comeback today received a substantial boost when he was cleared of abusing the feeble mental condition of France's wealthiest woman.
Magistrates investigating the "Bettencourt affair" - an allegation that Liliane Bettencourt, chief shareholder of cosmetics group L'Oréal, was systematically fleeced by friends, advisers and politicians - decided that Mr Sarkozy had "no case to answer". Ten other people, including Mr Sarkozy's campaign treasurer and former budget minister, Eric Woerth, were sent for trial.
In a written ruling, the two magistrates investigating the affair announced that they had found insufficient evidence against Mr Sarkozy. The decision clears a sizable obstacle to the former president's ambitions to return to politics. He remains linked to several other criminal investigations but the "Bettencourt" affair is the only alleged scandal in which Mr Sarkozy has been formally implicated, or "mis en examen", since he lost power 16 months ago.
Mr Sarkozy's friends, who had insisted all along that he was the victim of a political witch-hunt, claimed the decision as a "victory". Nonetheless, the "Bettencourt trial", scheduled for early next year, may yet be deeply embarrassing for Mr Sarkozy and his centre right party.
The two investigating magistrates, Jean-Michel Gentil and Valérie Noël, yesterday sent for trial the 10 people, who were charged with the fraudulent "abuse" of Ms Bettencourt's waning mental powers.
Mr Woerth is accused of receiving at least one payment of around €400,000 from Ms Bettencourt in February 2007, three months before the election. The investigating magistrates have been unable to prove that this money helped to fund Mr Sarkozy's campaign.
They also decided that two visits by Mr Sarkozy to the Bettencourt mansion at this time - not one visit as the former President had claimed - were not sufficient proof that he was part of a conspiracy to defraud the then 84 year-old billionaires.
The remaining accused include the playboy photographer, François-Marie Barnier, whose long friendship with Ms Bettencourt was the origin of the scandal. Ms Bettencourt's daughter, Françoise Bettencourt-Myers, accused him in 2008 of taking over €1bn from her mother in cash, art-works and insurance-policies.
The other defendants were mostly advisers to Ms Bettencourt, including her former fund manager, Patrice de Maistre. In conversations recorded by a bug placed by Ms Bettencourt's butler, which were leaked to the press in 2010, Mr de Maistre is heard wheedling the money for a racing yacht from his employer. He is also heard discussing with a vague and confused Ms Bettencourt payments to Mr Woerth for Mr Sarkozy's campaign.
A medical report ordered by the magistrates found that Ms Bettencourt, now 91, had been suffering for many years from a form of Alzheimer's. Her daughter, Francoise, originally brought a civil action to try to protect her mother from her friend, Mr Banier, and her allegedly rapacious financial and legal advisers.
The defendants in the case are challenging the validity of the medical report on Ms Bettencourt, carried out by a doctor friend of one of the magistrates. An appeal court ruling is expected shortly.
Former President Sarkozy's name has been linked to several other alleged scandals. A judicial investigation is in progress into allegations that he took campaign funds in 2007 from the Libyan dictator, Muammar Gaddafi. He is also alleged to have been involved in a sweet-heart deal in 2008 to settle a long-standing legal dispute between his friend, the tycoon Bernard Tapie, and the French state. In this case, however, Mr Sarkozy may be protected by the constitutional immunity from prosecution granted to French presidents for decisions taken while in office.
Join our new commenting forum
Join thought-provoking conversations, follow other Independent readers and see their replies