Nigel Farage claims that Muslims are running UK 'ghettos' according to Sharia law
The Ukip leader was speaking to Fox News in the wake of Paris attacks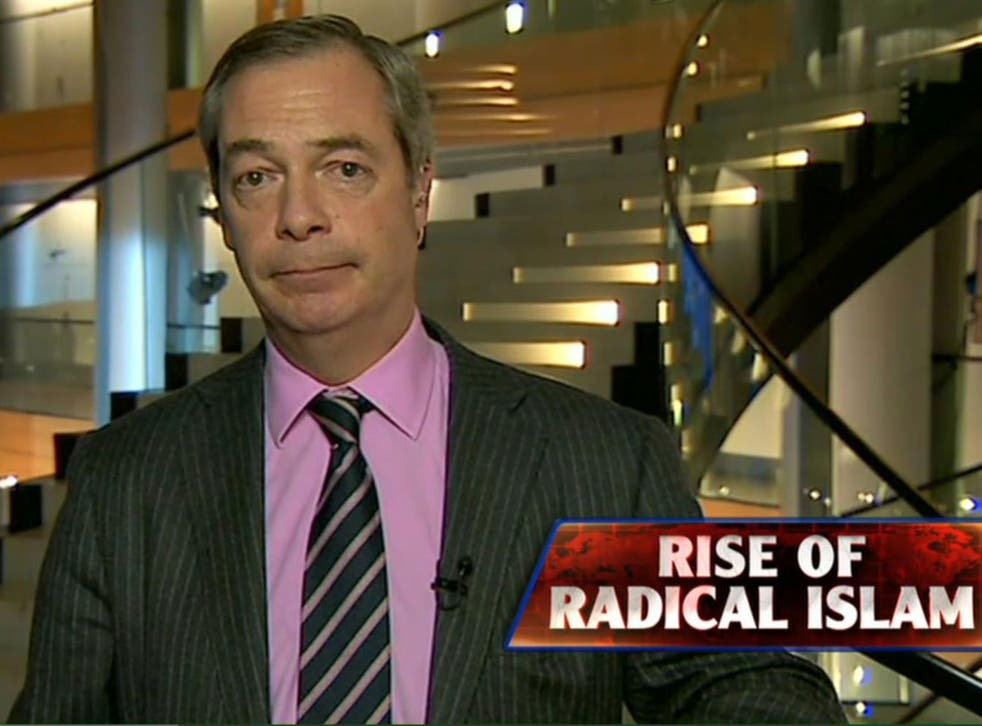 Nigel Farage has claimed that "ghettos" in parts of the UK are being run according to Sharia law as authorities "turn a blind eye" because of their "moral cowardice".
The Ukip leader claimed that "big ghettos" had sprung up in Britain and Europe where child sex abuse, female genital mutilation, extremism and Sharia law were allowed to flourish.
"We've been turning a blind eye to preachers of hate that have been coming here from the Middle East and saying things for which the rest of us would be arrested," he added.
"In parts of northern England we've seen the sexual grooming of under-age girls committed by Muslim men, in the majority, and for all of these things we are seeing the law not being applied equally, we're seeing the police forces not doing their job because we've suffered from moral cowardice.
"We have through mass immigration and through not checking the details of those people who have come to our countries, we have allowed big ghettos to develop and when it comes to confronting tough issues we're run a mile and that is why we're in the mess we're in, we've been led very badly."
Mr Farage claimed that tens of thousands of young women had been subjected to female genital mutilation in Britain, although official estimates put the figure in the hundreds at most because families usually travel abroad for the procedure.
"Wherever you look you see this blind eye being turned and you see the growth of ghettos where the police and all the normal agents of the law have withdrawn and that is where Sharia law has come in and you know it got so bad in Britain that our last archbishop of Canterbury, the leader of our church, actually said we should accept Sharia law," he added.
Mr Farage also alleged that there were "no-go zones" for non-Muslims in large French cities, while discussing the Paris attacks.
His comments came after a self-proclaimed American expert was ridiculed for telling Fox News that Birmingham was a "totally Muslim" city where "non-Muslims just simply don't go".
The Ukip leader's views were welcomed by conservative Fox News presenter Sean Hannity, who had a long-running spat with Russell Brand during the summer over the Israel-Gaza war.
"Why would Great Britain, France, Belgium or any other country, the Netherlands, why would they allow people to come to the country, not assimilate, separate, take their land ostensibly and risk even being at war with them when sharia, if you're coming from a country that you grew up under sharia, those values directly contradict the values of Western countries, why would anybody allow that?" Mr Hannity asked.
Mr Farage said he agreed with the host's sentiments "entirely" and pinned the blame on a "hopelessly out of touch" European political class.
The Europsceptic MEP had previously blamed a "fifth column" of Islamic extremists in Europe for atrocities including the Paris attacks and vowed to "be more courageous in standing up for our Judeo-Christian culture".
In an interview on BBC Radio 4's Today programme on Wednesday, Mr Farage emphasised that he believed there were only "no-go areas" for non-Muslims in France, not Britain.
"There are small sections of that community who are becoming ever further away from what we would call the Judeo-Christian culture of the United Kingdom," he added.
"We need to be honest about this and say we've made some terrible mistakes in the past and, to make things better, we must recognise first what we have got wrong."
In pictures: Cities across the world light up landmarks in show of unity with France

Show all 8
Eric Pickles, the Communities Secretary, said it was "disappointing" to see Mr Farage denigrating the UK on American television, calling his comments "both irresponsible and wrong".
"This Government is standing up for British values and British liberties," he added. "We've clamped down on the excessive use of foreign translation by councils, re-affirmed the importance of Christianity in public life, tackled divisive politics in Tower Hamlets, and are taking firm action to stop the criminal abuse of children.
"Mr Farage should show some leadership rather than pandering to people's worst fears."
Additional reporting by PA
Join our new commenting forum
Join thought-provoking conversations, follow other Independent readers and see their replies