Novelist condemns the 'decline and fall' of the Roman skyline
Dilipidated roads, crumbling buildings and commercial hoardings scarring the 'ugly' city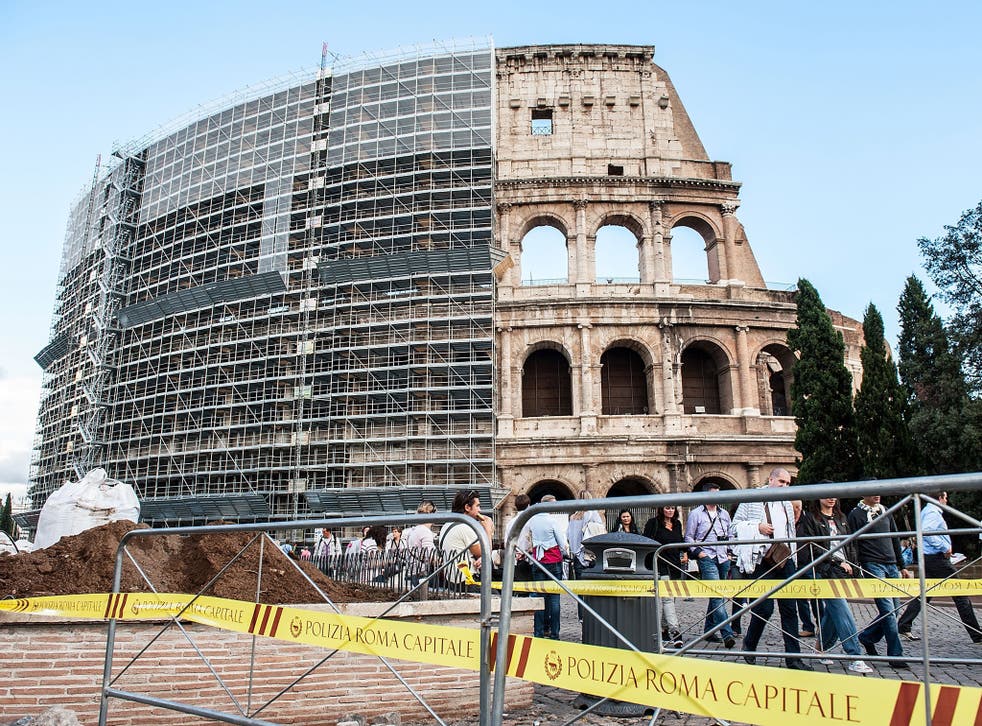 It's something that most Romans – and most Italians – thought would never happen. But by the admission of their own experts, the Eternal City is becoming unsightly. Litter, dilapidated roads and crumbling buildings are part of the problem. But the degradation of the capital's artistic and cultural resources is even worse, according to Roman novelist Tommaso Pincio.
He has declared publicly that the city, which prided itself on being the protagonist of last year's Oscar-winning film La Grande Bellezza (The Great Beauty), had achieved what most thought was impossible – and become ugly. The comments have prompted an array of Italian art and cultural commentators to agree with him – and list in The Journal of Art their priorities for reviving the city that has been commonly called the most beautiful in the world.
In the past few years, concerns have already mounted over the state of Italy's ancient monuments. Experts at the ancient site of Pompeii are racing against time to spend the €75m (£60m) given to them by the European Commission to shore up the ruins.
The site's newly reopened open-air theatre, scene of a landmark Pink Floyd concert more than 40 years ago, is soon to be the setting for the latest brainchild of the Italian culture ministry, the Pompeii Festival. Culture minister Dario Franceschini hopes similar concerts can be put on elsewhere to highlight other, less well-known, archaeological sites in the south of Italy.
But now in Rome, some reports have raised fears of commercial hoardings over landmarks such as the Colosseum and the Spanish Steps, as private firms pay for their restoration.
Diego Della Valle, the billionaire president of Tod's leather goods, has provoked criticism for demanding the right – for a limited time – to put his logo on hundreds of thousands of Colosseum tickets sold each year. But in exchange for €25m of restoration funds, other pundits say this is hardly unreasonable.
Resentment over commercial sponsorship appears like a storm in teacup – even a distraction – compared with a much bigger malaise facing Rome and Italy: the failure to both embrace contemporary art and design as well as honouring the past, as rival capitals Paris and London have done, say the cultural critics.
"I agree with my friend Tommaso Pincio, that Rome has become ugly," said art historian, Raffaele Gavarro, adding that the city needed to "invest in both ancient and modern culture in a balanced way". He added: "Of course we'd better hurry, before even the tourists start to notice that Rome has become ugly."
Another art historian, Laura Cherubini, said: "Often in Rome, contemporary art seems to struggle against the weight of the old. But old art is nothing more than the contemporary culture of someone else. We need to adopt the model of Ancient Rome, which was: be absolutely contemporary."
Adriana Polveroni, the director of Exibart website, said Rome's Macro Museum of Contemporary Art was "asleep" and called for a new director to be appointed as soon as possible. But she also called for more prosaic measures. "Clean the city ... improve the bus and metro service ... and remove the souk from Termini station – what other European capital gives its first welcome to tourists with rags and bric-a-brac?" she said.
One Roman contemporary artist, Vincenzo del Pizzo, founder of the VIA Art Project, which is preparing a show of emerging figurative painters in Rome in November, told The Independent: "It's about caring for and investing in both old and new culture. We've certainly seen enough awful examples of neglect of Italy's cultural heritage." Two weeks ago it emerged that a priceless painting by Raphael had been left to warp in Rome's Galleria Borghese because the air conditioning had not be working since March.
"Italy needs beautiful and interesting new things too," said Mr Del Pizzo. "The problem is that the new generation of creators and artists is failing to emerge here because they are not given the opportunity to do so. These young people are not helped or subsidised in the first phase of their career, which ... is the most delicate."
Ms Cherubini added: "We need to call on the best Italian and international artists to draw and redraw the city continuously. I never tire of pointing out as a model figure Pope Alexander VII, the Pontiff to whom we owe the great Roman Baroque. His first act as Pope? He commissioned Bernini."
Join our new commenting forum
Join thought-provoking conversations, follow other Independent readers and see their replies