Pamplona Running of the Bulls 2015: Peta brands men gored as 'mostly drunk' and 'idiots'
It said the people who are injured during the display of 'human cruelty and idiocy' were volunteers- unlike the bulls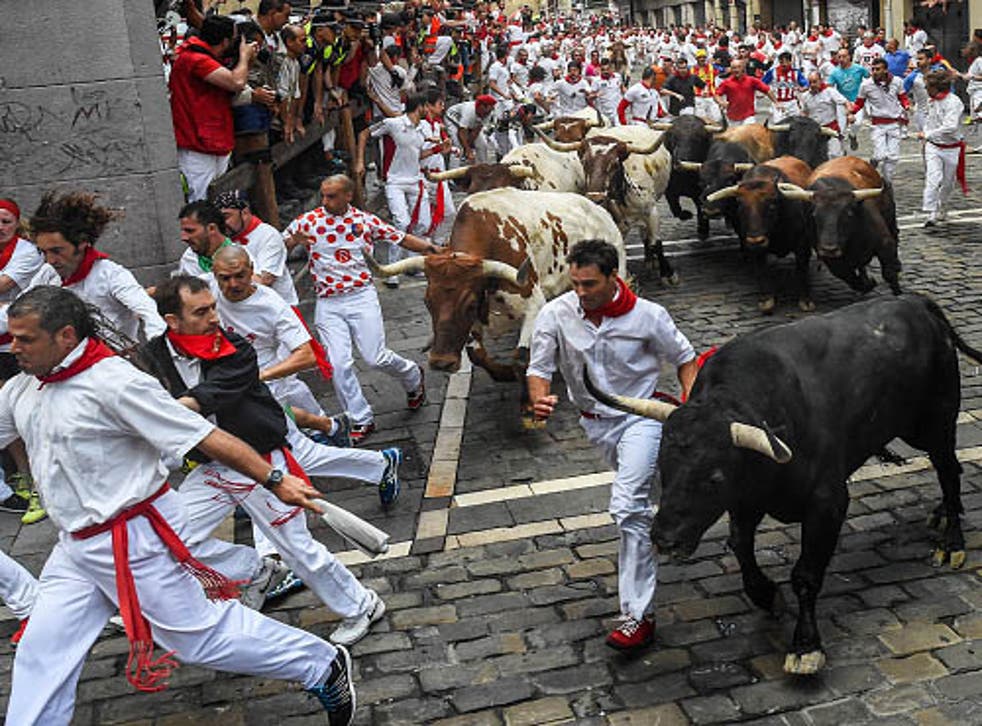 The 13 people hurt in the controversial Running of the Bulls festival in Spain are "mostly drunken men" and taking part is "idiocy", says a leading animal rights charity.
Three men were gored and a further 10 were taken to hospital in the city after taking part in the notorious festival which sees participants running through the streets wearing white clothes and red scarves while being chased by six bulls.
Speaking to The Independent, Peta's director Mimi Bekhechi, called the festival a "shameful, barbaric spectacle" and said: "People who are gored during this display of human cruelty and idiocy have voluntarily chosen to participate, unlike the bulls, who have no choice in the matter and never make it out alive."
According to Peta, the bulls chosen to take part are often held in "small, dark enclosures overnight" and are forced into the street using electric shock prods.
"As the bulls try to get their bearings after being momentarily blinded by the sunlight, runners hit them with rolled-up newspapers and other objects." Ms Bekhechi said "It's no secret that the animals panic, literally run for their lives and often lose their footing and slam into walls, sometimes breaking bones and otherwise injuring themselves, or into people in their desperate attempt to flee from their attackers."
When they do make it to the bullring at the end of the course they are "tormented" and "eventually stabbed to death".
On Sunday, Peta activists staged a dramatic protest against the festival with 100 semi-naked people covered in red paint and wearing bull horns lying on the ground outside the Pamplona bullring.
Ms Bekhechi says the campaign against bullfighting events have picked up momentum with the sport being banned "in city after city" but the sport was awarded "special cultural status" by the Spanish parliament in 2013.
An Ipsos Mori poll last year showed that 75 per cent of Spaniards disapproved of public funds being used on bullfights and only 29 per cent approved of the support.
Separatist region Catalonia became the second region, after the Canary Islands in 1991, to formally banned the sport after numerous protests by animal rights groups but critics say the move was an attempt to distance themselves from the rest of mainland Spain.
Organisers have rejected claims that the festival is cruel saying the bull run is: "a mass gathering of people from all corners of the world where the partying, the fun and the joy of it all are the most outstanding ingredients."
In pictures: Bull running in Pamplona

Show all 20
Join our new commenting forum
Join thought-provoking conversations, follow other Independent readers and see their replies