Paris attack: How a mild Friday night plunged into murderous mayhem
While innocent people lay dead, others survived to praise the Parisians who drove the stranded to safety or took them into their own homes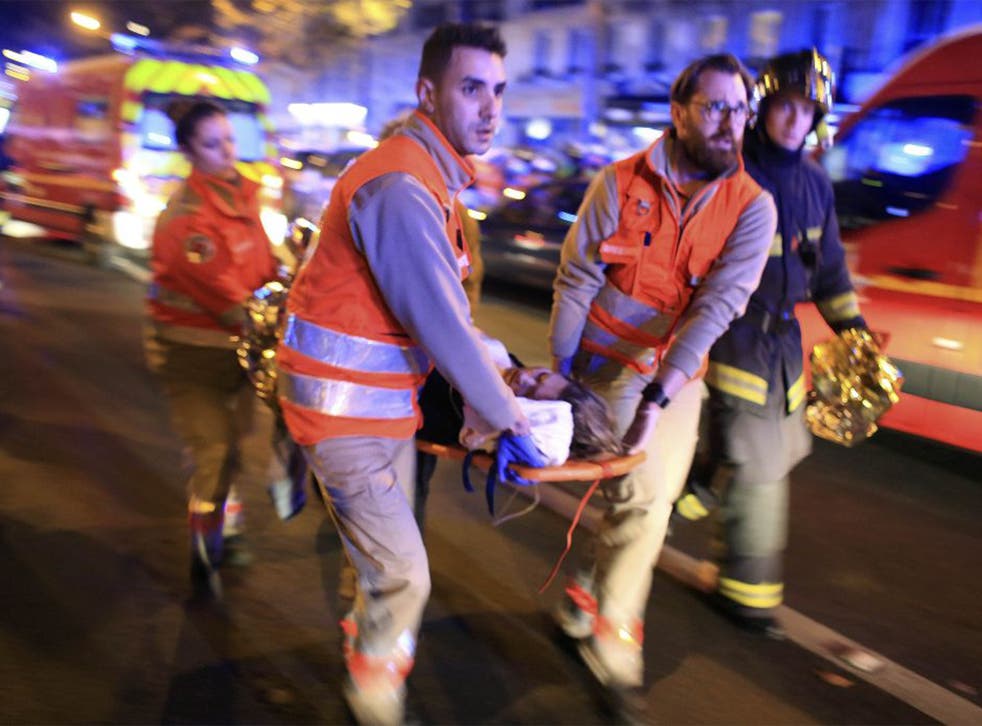 Fireworks. That's what people thought they were hearing at first, as they ate and drank with their friends in bars and restaurants in Paris at the end of the working week, on a mild Friday night.
The whipcrack of fun in a city of laughter and love. Nothing to be scared of. But it was really the sound of gunfire they were hearing, as innocent people were suddenly murdered in cold blood. Or it was the shocking noise of young men blowing themselves up with suicide belts in the name of a death cult that perverts the name of Allah.
Paris became the city of death again as terror struck for the second time in a year and left at least 129 people dead, with 80 critically ill and 177 more still in hospital.
It began unexpectedly at a bar called Le Carillon, in the playful 11th arrondissement of Paris, just after 9pm local time. "We thought it was a firecracker," said a man who was drinking there, among the doctors and nurses from the nearby Saint-Louis hospital. Somebody was messing about, he presumed.
Then he saw the young man in black with an automatic weapon, firing directly into the bar. "People dropped to the ground," said Ben Grant, who was inside Le Carillon with his wife. "We put a table over our heads to protect us. We were held up in the bar because there was a pile of bodies in front of us."
Two black cars had pulled up outside the bar just moments earlier, carrying passengers that eyewitnesses thought were in their teens or early twenties. They shot up Le Carillon then crossed the road to open fire on diners at a Cambodian restaurant called Le Petit Cambodge.
"We heard noise but we thought it was just a usual Friday," said Frederick Buchwalter, who lives with his pregnant wife, Delphine ,and 18-month-old daughter Lucy in a ground-floor apartment close to the restaurant. "I was making up my daughter's bed and I went to the window when I heard noise from all the police cars and ambulances coming to the street. That is when I knew something was happening, they had closed down my street. It was very scary. I locked all the doors. I will not leave the house."
A doctor saw the first of the casualties arrive, and was shocked to hear they had been shot at the bar where he often drinks with his boss. "There were patients with bullet wounds in their heads, in their legs and on their body. We needed to get them straight into surgery and the intensive care unit. There was a lot of blood."
At least 14 people were killed in the bar and the restaurant, and more are still in hospital.
Moments after the shooting, a car was sprayed with bullets by the side of the Canal Saint-Martin and a motorcycle was seen lying on the ground, its wheels still turning.
A few streets to the south, Mark Colclough, a psychotherapist, was walking with a friend. "We heard a firecracker and I looked around and I could see a man, and the position made it clear he was shooting."
The gunman stood with his legs apart like a professional. "If you think of what a combat soldier looks like, that is it, just without the webbing." Black boots, black trousers, a tight black jumper and a machine gun pointing into Casa Nostra, a pizzeria in the rue de la Fontaine.
"He killed three or four individuals who were sitting in the chairs in front of the café. We saw them get shot down. They fell off their chairs on to the ground."
In pictures: Paris attacks

Show all 25
Marie Cartal, who lives above the restaurant, said: "It was really shocking. It was the first time in my life I saw someone dying in front of me. I mean people there were just sitting outside having a drink. They were not politicians, they were not particularly engaged. They were just enjoying the beginning of the weekend. So, why?"
The next shooting happened on the rue de Charonne, a short drive away, at 9.38pm. "I had just walked past the front of the café," said a television cameraman, Charles Pitt, who was close to La Belle Equipe. "It's a popular, typical French café. People were sitting outside. He thought he was hearing firecrackers too, as so many people did. "Then it got louder."
At least 19 people died here. "There was a whole pile of bodies … and a lot of injured," said Mr Pitt. As the ambulances arrived, a woman covered in blood was being held in the arms of a stranger.
***
By now, Paris was on full alert. Sirens and flashing lights seemed to be everywhere in the city centre, but also on the outskirts to the north in Saint-Denis, where the home nation was playing Germany in a friendly football match at the Stade de France.
The 80,000 people inside heard an explosion at 9.20pm, but as one fan said: "We thought it was the boys from Saint-Denis playing with fireworks again."
A second explosion was heard at 9.30pm, but the match went on, the French players looking bemused but keeping possession. President François Hollande of France was watching the game, but left after the third explosion at 9.53pm.
He must have known by then what the football fans did not: that three suicide bombers had blown themselves up in the streets around the stadium, one outside a branch of McDonald's.
France won the game 2-0, but by the final whistle, fans had learned from their mobile phones and radios that Paris was under attack. The stadium announcer told them certain exits were blocked.
"In the distance we could hear screams, cries of terror," said one of the French supporters. "Suddenly the whole world began to run."
They went on to the pitch for safety, then stood around shivering and wondering what to do next.
The France football team did not dare to leave the stadium until nearly three in the morning. The German footballers chose to spend the night there rather than risk going back to their five-star hotel, where there had been a bomb warning earlier in the day. When supporters were eventually allowed to leave their stadium, they sang the French national anthem in defiance of their attackers: "To arms, citizens. Form your battalions. Let's march, let's march!"
***
The sudden attack on rock fans at the Bataclan, an old theatre in the centre of Paris, was the most horrific of the night. A Californian rock band called Eagles of Death Metal was performing to a sold-out crowd when four men entered from the back of the audience and began shouting, "Allah Akbar!"
They were carrying AK-47 assault rifles and firing into the crowd.
"I heard what sounded like bangers behind me, at which point the people on stage left the stage and everybody started to get down on the floor," said Samuel, one of the 1,500 fans in the theatre.
Julien Pierce, who works for Europe 1 Radio, said: "It was a stampede and even I was trampled. I saw a lot of people hit by bullets. The gunmen had loads of time to reload at least three times. They weren't masked. They knew what they were doing. They were very young."
Audience member Marielle Timme said: "I was in the balcony, I believe it saved me." She and the people around her tried to use the emergency exits but found the killers there waiting for them, so went back. "We ended up with three standing in a shower cubicle and we no longer moved. During that time everyone was receiving calls and messages but no one dared to answer or make too much noise. The anguish was terrible to live."
Janaszak Pierre, a radio host who was at the Bataclan, said: "There was blood everywhere, dead bodies everywhere. I locked myself in the toilet. They kept hostages and I heard them talk with them. I heard them clearly say, 'It is the fault of Hollande, it is the fault of your President. He did not have to intervene in Syria.'"
At least 87 people were killed at the concert hall, including the first victim of the attacks to be named: the young anti-corruption lawyer Valentin Ribet, who had recently trained at the London School of Economics. A statement by the LSE said: "Our hearts are filled with sadness at this news."
Daniel Psenny, a journalist with Le Monde, lives behind the theatre and filmed people as they fled the back of the building in terror, stumbling over the bodies in the doorway or dragging their friends along the street, leaving trails of blood.
One girl was seen trying to climb up to a balcony to escape the bullets, and was pulled from above by her wrists to safety.
Mr Psenny was shot as he tried to help those who were fleeing. "I went downstairs to open the door to my apartment, so people could come in to take refuge. That's the moment I took a bullet. I remember feeling like a firecracker had exploded in my left arm and it was pissing blood."
Mr Psenny managed to get to a neighbour's apartment with a man he had rescued, who had been shot in the leg. "He was an American. He vomited, he was cold and we thought he was going to die. We called the emergency services but we could not leave. I called a friend who is a doctor and he explained how to make a tourniquet with my shirt. We were stuck in the apartment until the police raid occurred and they came to find us."
Parisians were now being told to stay in their homes, and the police were ordering anyone they found on the streets to go inside immediately, wherever they could.
Something remarkable was happening on social media though: people had started using the hashtag #porteouvert to let strangers know they could offer a bed or a sofa to anyone caught in the mayhem.
"We were at Châtelet and we couldn't get back home as I live in the suburbs, and the public transport was closed and we didn't have anywhere to go," Carolina Basanta Fouz told The Independent on Sunday. "I posted a message on Facebook asking for help and many people texted me. We stayed with a family for the night who were very kind."
The 22-year-old language student from Spain was with four friends. "Anywhere you went, people were running from there. It was really scary. At the end we are alone here, we didn't know any people living in the centre of Paris. If these people hadn't opened up their houses we wouldn't have known where to spend the night."
The solidarity of Paris and the kindness to strangers seen in the wake of the Charlie Hebdo attacks in January was now rising again with a new force. Taxi drivers were turning off their meters and taking people home without charge, just to get them away.
President Hollande declared a state of emergency in a live television address just before midnight, and soon afterwards the French security forces attacked the gunmen holding hostages inside the theatre. In moments, the siege was over.
Initial police reports said that three attackers blew themselves up with suicide belts and one was shot. One was identified by his fingerprints as a Frenchman known to the security services.
It was also said that three men had already detonated their belts outside the stadium. An Egyptian passport was found on one, a Syrian passport on another. An eighth attacker was thought to have blown himself up, but on 14 November the Paris prosecutor said that only seven people were involved.
British security sources suggested all were members of a self-contained cell just back from Syria. An Islamic State statement in French, Arabic and English claimed responsibility and praised the "eight brothers, wrapped in explosive belts and armed with machine rifles" who had struck at "the capital of prostitution and obscenity, the carrier of the banner of the Cross in Europe".
These simultaneous attacks on apparently random targets were designed to spread fear across Paris, France and ultimately Europe. But Paris was not about to give in to fear.
***
When morning came, there was a call for people to give blood to help the injured, and queues formed outside the 19 hospitals and donor clinics around the city. The injured were still being treated, and one doctor said: "These people arrived with someone else's blood all over their T-shirts and jeans after having to clamber over dead bodies, without knowing whether their wife, husband or friends had made it."
Calls were being made, texts were finally getting through, relief was being felt by some while others were gripped by gut-wrenching grief. With troops on the streets, public buildings closed down and protests banned, some people found their own uniquely Parisian ways to be defiant.
Jean Bonnefoy, a writer and translator whose family has lived near the Bataclan since 1905, said: "Today, we have decided to go out for lunch at the terrace of a restaurant nearby.
"Since, due to the state of emergency, all demonstrations and rallies are forbidden, it will be our modest way of showing to the angels of death, terror and abomination that life goes on anyway and that we're not afraid."
Join our new commenting forum
Join thought-provoking conversations, follow other Independent readers and see their replies