Paris attacks: Britain and US make steps towards agreement with Russia over Isis and Syria
However, after more than an hour spent talking to Vladimir Putin, David Cameron admits 'very big gaps' remain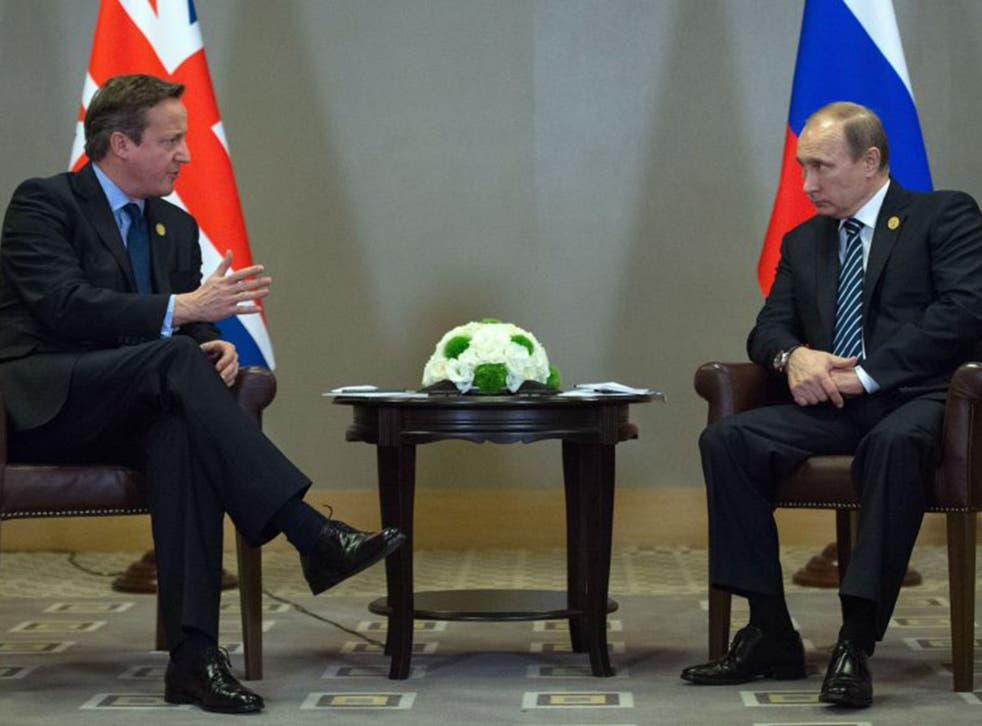 Britain and the US have inched towards a rapprochement with Russia over their contrasting approaches to tackling Isis and resolving the conflict in Syria but admitted that "very big gaps" remain in their positions.
David Cameron spent more than an hour in one-to-one talks with Vladimir Putin at the fringes of the G20 summit in Antalya, Turkey, in an attempt to persuade the Russian president to co-operate with efforts to bring about a "transition" from the rule of Bashar Assad.
In pictures: Paris attacks

Show all 25
Mr Cameron also urged President Putin to concentrate Russia's firepower on Isis in Syria which posed a threat to countries around the world, rather than targeting more moderate Syrian opposition groups to the Assad regime.
While Mr Putin insists that Russian air strikes are directed at "terrorists", the West accuses him of concentrating fire power on other groups ranged against Assad. But after two days of intensive diplomacy directed at Mr Putin by Mr Cameron and President Obama, the Russian leader hinted at a change in the Russian position.
He said there had been a "certain revival" in the bilateral relationship and announced that Russia would be prepared to provide air support to Syrian opposition groups fighting Isis. Mr Putin also said he was open to greater anti-terrorism co-operation with the West.
Timeline of Paris attacks
"Some armed opposition groups consider it possible to begin active operations against IS with Russia's support and we are ready to provide such support from the air," he said.
"If it happens it could become a good basis for the subsequent work on a political settlement."
Mr Putin pointed out the change in the West's stance on co-operation with Moscow in the fight against the terrorists. "The recent tragic events in France show that we should join efforts in preventing terror," he said. "We need to organise work specifically concentrated on the prevention of terrorist attacks and tackling terrorism on a global scale. We offered to cooperate in anti-IS efforts."
Speaking after the British meeting with Mr Putin, Downing Street said it had been a "constructive, measured discussion". In a press conference afterwards Mr Cameron said that the refusal of the UK and the US to give ground on the need for Assad's removal was not a matter of "pride or stubbornness" but a recognition of the political reality that he would not be accepted as leader by many Syrians who had suffered under his rule.
"The gap has been enormous between those of us who believe Assad should go immediately and those like President Putin who have been supporting him and continue to support him. I think everyone recognises the need for compromise," he said.
"That's the gap we have. I think it has been reduced and the talks in Vienna between foreign ministers, I hope, can close the gap still further. "There is still a very big gap, but I think there's some hope that this process could move faster in the future than it has in the past."
Mr Cameron said while Britain had "big disagreements" with Moscow over Ukraine and Syria he added "where we do agree with each other we should work together".
The Prime Minister said the G20 had repeatedly discussed Syria in recent years, but "the body count has piled up, the migration issue has got worse, the terrorism situation is deteriorating".
He said G20 leaders had agreed "important steps to cut off the financing the terrorists rely on, to counter the extremist ideology and the terrorist propaganda and to better protect ourselves from the threat of foreign fighters by sharing intelligence and stopping them travelling".
He added: "For the first time ever, we have also agreed to work to strengthen global aviation security together."
A G20 communique released as the summit drew to an end condemned the Paris outrage, as well as the bomb attack which killed 102 in the Turkish capital Ankara last month. The statement, agreed by all the leaders in Antalya, said: "The fight against terrorism is a major priority for all of our countries and we reiterate our resolve to work together to prevent and suppress terrorist acts through increased international solidarity."
Join our new commenting forum
Join thought-provoking conversations, follow other Independent readers and see their replies