Paris attack: French PM warns that more attacks could come as rocket launcher found in pre-dawn police raids
Last night France launched 'massive' air strikes on Isis's stronghold of Raqqa, in retaliation for Friday's shootings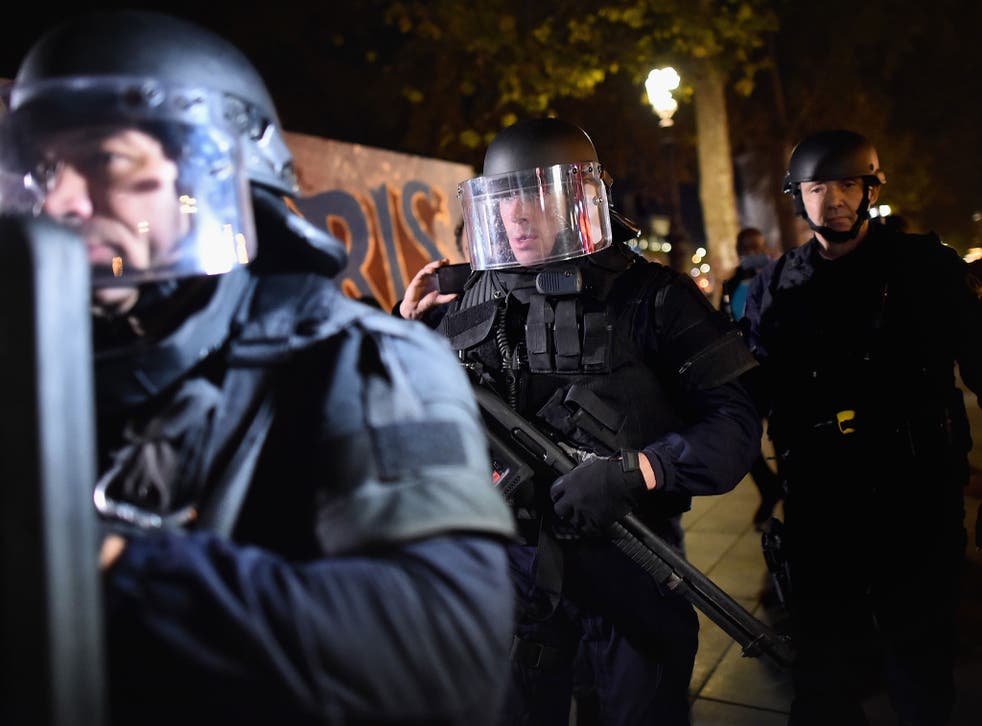 A rocket launcher was discovered in the French city of Lyon overnight as police mounted more 168 raids following the Paris attacks.
At least 20 people were arrested and more than 100 put under house arrest.
The anti-terror operation in Lyon reportedly has no direct links to the shooting and bombing attacks that killed at 129 people in the capital on Friday night but are part of measures under the state of emergency declared by Francois Hollande.
Video: Police arrest Paris suspect
The French Prime Minister says authorities knew attacks were being prepared and has warned that more are expected to come.
Manuel Valls told the French media the shootings were "planned in Syria", and said Europe should be prepared for a repeat attack in the coming few days and weeks.
He also confirmed that police had carried out a series of pre-dawn raids on Monday morning, making dozens of arrests.
Speaking in an interview on the RTL radio station, Mr Valls said: "France was not only attacked because we hit Daesh (Isis), but because we are France. We defend secularism, and we have conceptions of equality between men and women."
Asked about the raids in the early hours, Mr Valls said: "Let the police do their job...I am convinced of their professionalism."
According to reports, anti-terror police launched operations in Bobigny-Paris, Toulouse, Grenoble, Jeumont and Saint-Denis with officers reportedly removing firearms and cash from some properties.
The raids came after the French air force launched a series of "massive" air strikes on Sunday night, targeting the Isis militant group which has claimed responsibility for the shootings.
Twelve aircraft, including 10 fighter jets, dropped a total of 20 bombs in the biggest air strikes since France extended its bombing campaign against the extremist group to Syria in September, the defence ministry said.
Officials said the strikes hit the jihadist group's de facto captial of Raqqa in Syria, where Iraqi intelligence officials say the attacks on Paris were planned. The raids reportedly destroyed a jihadi training camp and a munitions dump, among other targets.
Meanwhile, Europe continued its hunt on Monday morning for the world's most wanted man - Saleh Abdeslam.
The arrest warrant for the suspected gunman described him as very dangerous and warns people not to intervene if they see him.
The world mourns Paris attacks - in pictures

Show all 25
It emerged last night that Abdeslam, believed to be one of three brothers linked to the attacks, was stopped by police early on Saturday.
Hours earlier, authorities in Paris had identified him as the renter of a Volkswagen Polo that carried hostage takers to the Bataclan theatre where so many died
Yet when police stopped a car carrying three men near the Belgian border, officers let Abdeslam go after checking his ID.
Meanwhile, a judicial source has said a 20-year-old Frenchman police identified as one of the three suicide bombers to strike at the Stade de France stadium was Bilal Hadfi.
A 31-year-old identified by police as the suicide bomber who detonated his explosive vest on Boulevard Voltaire in Paris was named as Brahim Abdeslam, the source said.
Abdeslam is the older brother of 26-year-old Salah Abdeslam.
A third suicide bomber, Ismael Mostefai, 29, had already been named by police, after being identified through remains found at the Bataclan music hall, another of the six separate attack sites across Paris and its suburbs.
Speaking on the sidelines of the G20 summit in Turkey, the French foreign minister Laurent Fabius said France had the "legitimacy" to take action against Isis after the terror attacks in Paris.
France had to be "present and active" following Friday's attacks, Mr Fabius said.
Tantalising clues about the extent of the plot have emerged from Baghdad, where senior Iraqi officials said France and other countries had been warned on Thursday of an imminent attack.
An Iraqi intelligence dispatch warned that Islamic State group leader Abu Bakr al-Baghdadi had ordered his followers to immediately launch gun and bomb attacks and take hostages inside the countries of the coalition fighting them in Iraq and Syria.
The Iraqi dispatch, which was obtained by the Associated Press, provided no details on when or where the attack would take place. A senior French security official said French intelligence gets these kinds of warnings "all the time" and "every day".
However, Iraqi intelligence officials told the AP they also warned France about specific details - including that the attackers were trained for this operation and sent back to France from Raqqa.
The officials also said that a sleeper cell in France then met the attackers after their training and helped them to execute the plan.
There were 24 people involved in the operation, they said, 19 attackers and five others in charge of logistics and planning.
Additional reporting by agencies
Join our new commenting forum
Join thought-provoking conversations, follow other Independent readers and see their replies