Paris attacks: Salah Abdeslam's fingerprints and DNA found at scene of gun battle at Brussels flat
One suspect was shot dead in a police raid on Tuesday, which was linked to November's Paris attacks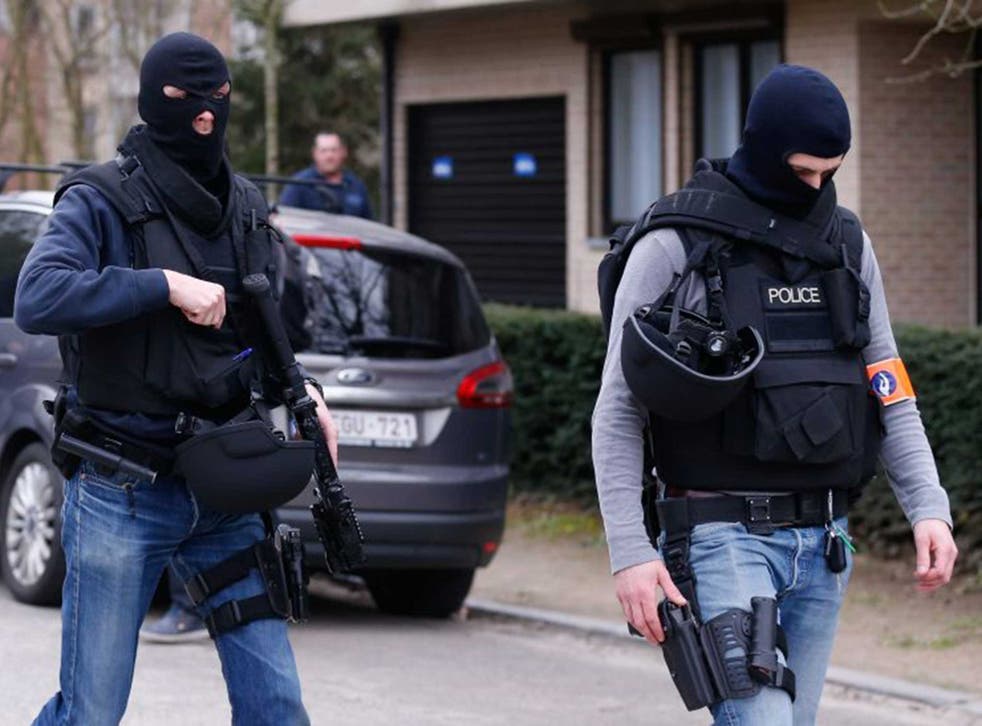 Fingerprints belonging to Paris attacks suspect Salah Abdeslam have been found at a Belgian flat where suspected Isis sympathisers started a shoot-out with police earlier this week.
One gunman was killed by a sniper but two other suspects are still at large after the raid in the Brussels district of Forest on Tuesday, where four officers were injured.
RTBF, Belgium's public broadcaster, reported that Abdeslam may have been one of the men who fled but officials would not confirm whether he was present.
"According to our information, it is more than likely that he is one of the two individuals who escaped during the shootout," RTBF said on its website.
Brussels raid: IS flag found
Tony Connelly, from Irish broadcaster RTE, separately quoted a Belgian police source claiming the killed gunman "sacrificed himself" to allow Abdeslam time to escape.
A spokesperson for Belgium's federal prosecutor confirmed that Abdeslam's fingerprints were found at the property, while Belgian and French media outlets said his DNA was also found on a glass.
"The investigation continues day and night," a spokesperson said. "It is currently not possible to give any additional information to avoid causing any damage to the investigation."
The fugitive remains on the run after appearing to have removed his suicide vest and fled during the Paris attacks on 13 November, when his older brother Brahim blew himself up.
No sightings have been confirmed since friends gave him a lift to Brussels on that night, despite an international warrant for his arrest.
Abdeslam's fingerprints were previously found at another Brussels flat where investigators believe explosive belts may have been manufactured ahead of the massacres.
Prosecutors released two men they detained in the wake of Tuesday's raid without charge on Wednesday, leaving the hunt on for the unidentified suspects.
In pictures: Brussels shooting

Show all 9
The dead man was identified as Mohamed Belkaid, an Algerian living illegally in Belgium, whose only contact with authorities appeared to be a theft charge two years ago.
But it emerged on Friday that the 35-year-old was already wanted for involvement under the Paris attacks under a pseudonym, Samir Bouzid.
Authorities did not know the Isis militant's real name when putting out alerts to trace him in November after revealing that he was one of two men who travelled to Hungary with Abdeslam last year.
The pair was with a third accomplice using a fake Belgian identity card under the name Soufiane Kayal who went through police checks at the border with Austria on 9 September.
Belkaid was suspected of facilitating and financing the Paris attacks and other planned atrocities, transferring €750 (£580) to Hasna Ait Boulahcen, the female cousin of ringleader Abdelhamid Abaaoud who died alongside him in another police raid five days after the Paris attacks.
Officials said they were part of a terror cell planning further attacks in France, possibly on Charles de Gaulle Airport and the La Defense business district in Paris.
A Kalashnikov was found by his body as well as a book on Salafism, the ultra-conservative strand of Islam violently adhered to by Isis and other extremist groups.
An Isis flag was also discovered inside the flat, along with 11 loaders for Kalashnikovs and a large stock of ammunition.
The Belgian federal prosecutor said four Belgian and two French police officers came under fire from "at least two" militants as they burst into the home, which they believed to be empty.
Four officers were slightly wounded and one of their guns and protection vests were left with bullet holes.
More than a hundred houses have been searched and 58 people arrested so far in Belgium's investigation into the Paris attacks, where 130 people were murdered in a series of shootings and suicide bombings.
Join our new commenting forum
Join thought-provoking conversations, follow other Independent readers and see their replies