Paris attacks: Terrorists' hometown Molenbeek holds peace vigil to change negative images of their neighbourhood
Thousands crowded the main square in Molenbeek to pay tribute to the victims of the Paris attacks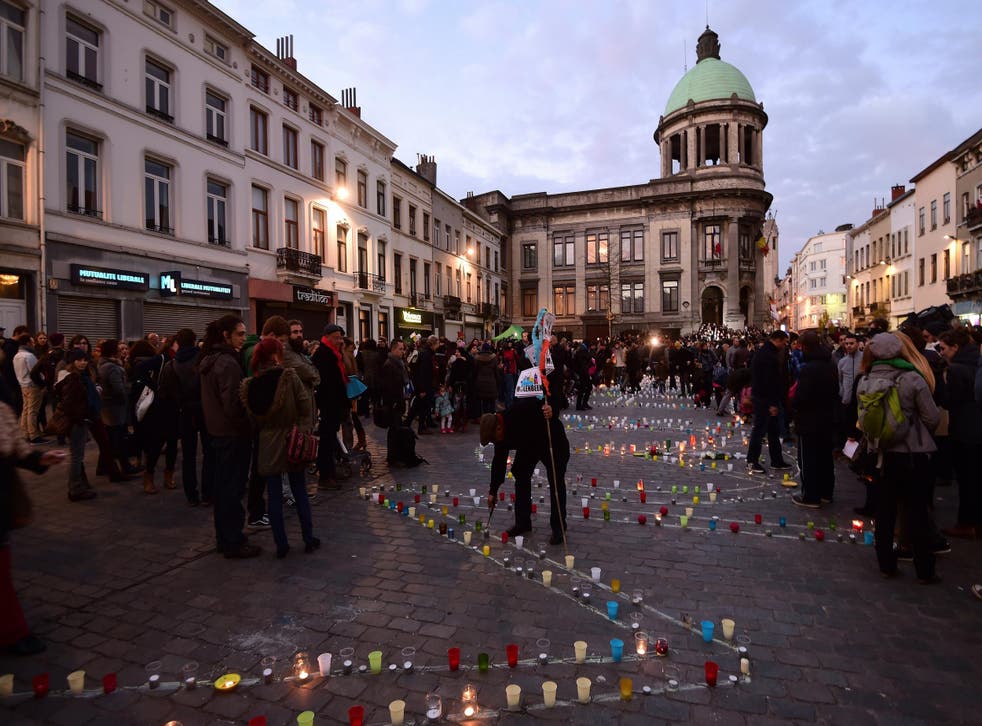 Residents of the Molenbeek area of Brussels have taken to the streets for a candlelit vigil, to commemorate Friday's terrorist attacks in Paris and to dispel the negative image of the deprived neighbourhood that has developed in the last few days.
The vigil was organised through a Facebook event, and around 2,600 people pledged to attend.
Writing on the event page, De Vaartkapoen, a community group and the organisers of the vigil, wrote: "In these dark times, it is important that we give a clear message of solidarity."
"On Wednesday, November 18 at 5pm, we will be at the Molenbeek town square with hundreds of candles in tribute to victims of terrorism and political violence, whether in Paris or anywhere else in the world."
"We will show that we are a friendly town and we do not accept the climate of fear that has been created."
Images from the vigil showed many hundreds of people crowding into the town square, some of them waving French and Belgian flags.
World's monuments show solidarity with Paris

Show all 30
Another even larger vigil is planned to take place in Brussels city centre on Sunday.
After the links between the area and the Paris attacks emerged, Belgian interior minister Jan Jambon promised to "clean up Molenbeek".
Molenbeek has developed a reputation as a troubled, run-down area, and is a hotspot for crime, drugs, and increasingly, jihadists.
Less than 24 hours after the Paris attacks had took place, Belgian police had swooped on a number of addresses in Molenbeek, arresting seven suspects over the weekend.
One of the suburb's most high-profile jihadi residents was Abdelhamid Abaaoud, who has been called the 'mastermind' between the Paris attacks and a number of other plots.
Brahim Abdeslam, who killed himself and injured three people when he blew himself up outside a café in Paris, also used to live in the area.
Speaking to the BBC, one Belgian woman attending the vigil said: "We are here today because we want to show the world that Molenbeek not the place where there is only jihadism."
"There are a lot of people living here and they don't agree with this kind of terror. We want peace, and this is a clear message to the world that Molenbeek is a fine place to live."
Join our new commenting forum
Join thought-provoking conversations, follow other Independent readers and see their replies