Paris attacks suspect Mohamed Abrini 'arrested in Belgium' amid links to Brussels bombings
Belgian authorities made five arrests in the Anderlecht area of Brussels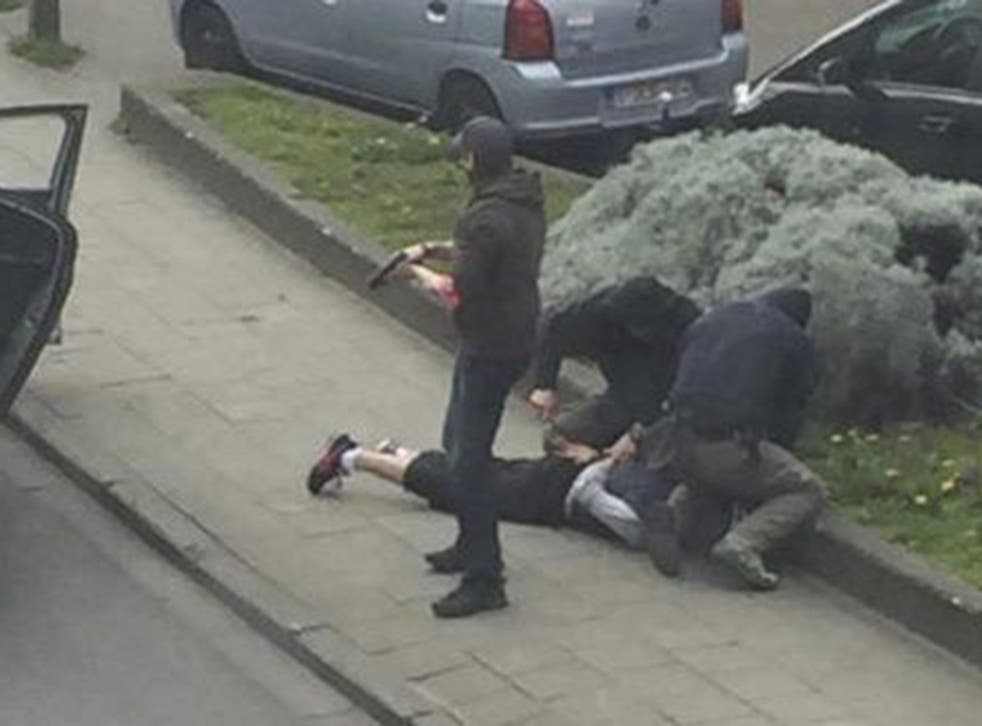 Mohamed Abrini, the only suspect still at large from last year's Paris attacks, was arrested on Friday in Brussels, along with other associates alleged to have been involved with last month's Brussels bombings, Belgian authorities have confirmed.
Abrini, who has also been identified by local media as the 'man in the hat', was arrested in Anderlecht, on the west side of Brussels, where four other suspects linked to the Paris attacks were also caught.
Another man arrested in a series of raids, identified as Osama K. by Belgian authorities, was linked to the 13 November Paris attacks by French authorities on March 22, hours after the Belgium attacks.
Abrini and Osama K.are now suspected of playing a role in the two biggest attacks carried out by the Islamic State group in Europe over the past year, killing 130 people in Paris and 32 in Brussels. French authorities renewed their call to arrest an armed and dangerous Abrini within hours of the Brussels attacks.
"We are investigating if Abrini can be positively identified as the third person present during the attacks in Brussels National Airport, the so called 'man in the hat,"' said prosecutor Eric Van der Sypt.
Abrini, 31, a Belgian of Moroccan origin, who was seen in security footage a fortnight ago just before the double bombing at Brussels Airport that killed 16 people, local media said.
He was seen on footage in a Renault Clio at a petrol station at Ressons, north of Paris two days before the attacks, with would-be suicide bomber Salah Abdeslam, a boyhood friend. While Abdeslam was arrested in Brussels three weeks ago, Abrini has remained elusive until now. Abrini was on a European watchlist for almost five months, and is described on the arrest warrant as "dangerous and probably armed".
Although police lost track of him after the Ressons stop, his DNA was found in the flat on Rue Max Roos in the Brussels district of Schaarbeek from where the airport bombers caught a taxi on the morning of the attacks. The finding was the first clear link between the Paris and Brussels attackers.
Abrini was known to police for thefts and drug-related offences. Abrini was believed to have traveled early last summer to Syria, where his younger brother Souleymane, 20 died in 2014. Souleymane was part of ISIS's French-speaking wing, headed by Abdelhamid Abaaoud, the ringleader of the Paris attacks who was killed by police in November.
Syria was not his only foreign trip: Abrini went multiple times to Birmingham, meeting with several men suspected of terrorist activity, and taking photographs of an as-yet-unidentified football stadium.
In pictures: Paris attacks

Show all 25
Osama K. is thought to have briefly met suicide bomber Khalid El Bakraoui on the Brussels metro shortly before he blew himself up at Maelbeek station, killing 16 people. Another arrest is said to be Abu Amrid, also involved in the Brussels attacks.
Officials have also refused to officially confirm that Abrini is the 'man in the hat', from Brussels Airport, seen walking with his two companions – since identified as Ibrahim El Bakraoui and Najim Laachraoui - just before they blew themselves up in the departure hall. He is thought to have fled the scene after failing to activate his own device.
Belgian police release new CCTV
The arrest comes a day after police issued a public appeal for help finding him. They released further footage showing him calmly walking from Brussels airport among terrified crowds of people and heading for the city. The man then spent two hours walking six miles to a crossroads just half a mile from the European Commission's Berlaymont headquarters. Along the way, he discarded his white coat, revealing a blue shirt with distinctive dark elbow patch.
However, the police have been cautious about their findings in recent days: two weeks ago, prosecutors were left red faced after they arrested and then released another suspect who was thought to be the man in the hat. Fayçal Cheffou, 31, who was known to police as a jihadist recruiter, was picked up two days after the Brussels bombings, but was let go three days later after prosecutors admitted that the clues that led to his arrest "were not backed by the evolution of the current investigation."
Despite multiple arrests, Brussels remains under the second-highest terror alert, meaning an attack is considered likely.
Additional reporting by Associated Press
Join our new commenting forum
Join thought-provoking conversations, follow other Independent readers and see their replies