Paris attacks video: First CCTV footage shows woman's miraculous escape as attacker's gun jams at point-blank range
The attacks across Paris killed 129 people, while at least one gunman is believed to still be on the run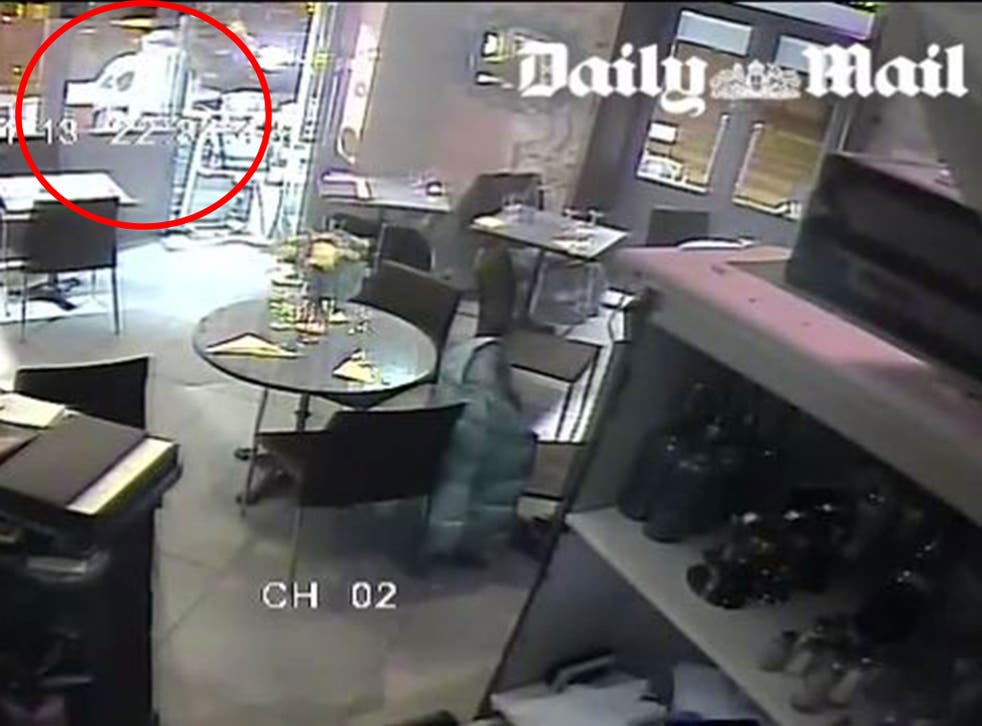 Dramatic CCTV footage has emerged showing the moment a gunman wielding an AK47 opened fire on a pizzeria in central Paris last Friday night.
In the first video to be released showing one of the Paris shootings more or less in its entirety, a man can be seen spraying gunfire towards the busy establishment, smashing glass and causing havoc.
Starting off shooting from across the road, the gunman can be seen suddenly approaching the door of the restaurant and, in a chilling moment, raising his rifle to shoot a woman at point-blank range.
Miraculously, however, his gun appears to jam at that point, and he flees to a waiting vehicle. The woman can be seen fleeing for her life.
According to the Daily Mail, which acquired the footage, security sources believe the video shows 26-year-old Salah Abdeslam, an alleged "eighth attacker" who is still on the run.
Seven gunmen and bombers died in last Friday's attacks, which killed 129 people and injured more than 300.
No one was killed in the footage that has emerged today, though some suffered injuries as the restaurant's regulars dove for cover behind the bar and tables and ran to safety in the basement.
One man died in the street, the Mail reported, after he was shot in the back as he arrived to collect a pizza. It said the restaurant was not being named for security reasons.
The footage will be important evidence for the ongoing investigation into the wider conspiracy behind the Paris massacres.
It appears to show the gunman fleeing in a black vehicle, and sources have suggested that another accomplice at the scene of the restaurant shooting may also be on the run.
One gunman confirmed by officials as attacking restaurants and cafes in the 10th and 11th arrondissements has been identified as Ibrahim Abdeslam, Salah's older brother.
Victims of the Paris attacks

Show all 33
Three attackers were killed in the massacre at the Bataclan theatre, when 89 people attending a packed concert were shot dead.
Another three attackers blew themselves up outside the Stade de France. Between them, they killed one man.
Join our new commenting forum
Join thought-provoking conversations, follow other Independent readers and see their replies