Paris kosher supermarket hero Lassana Bathily given French citizenship for bravery and calls for 'liberty, friendship and solidarity'
The Mali-born Muslim hid a group of customers in a store freezer until the attack was over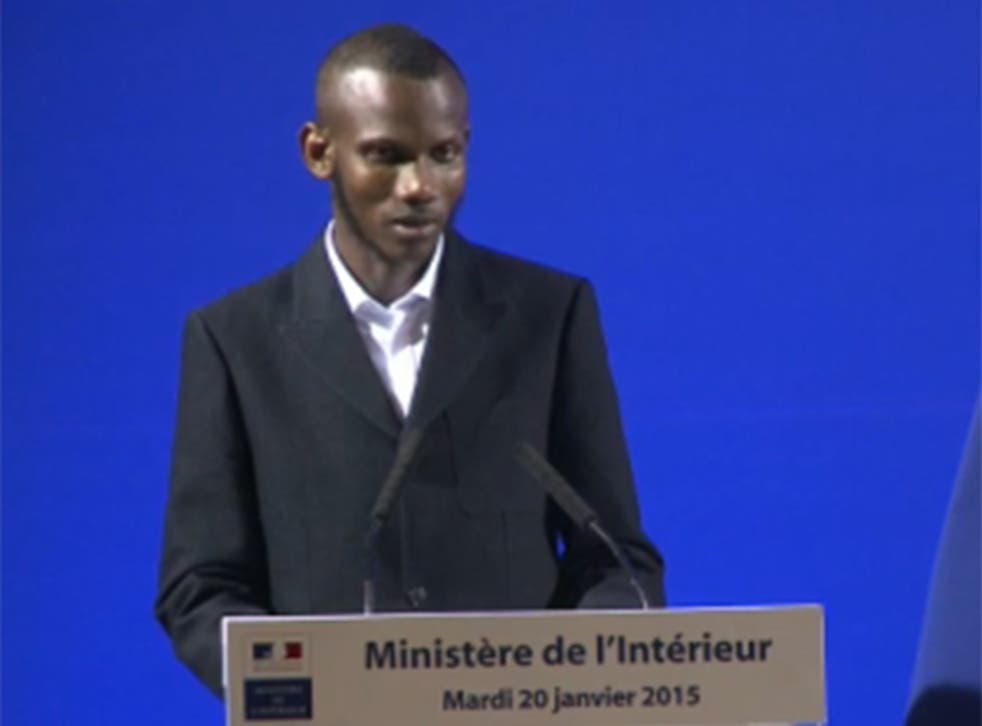 A Malian national who hid customers during a siege on a kosher shop in Paris has been granted French citizenship for his bravery.
Employee Lassana Bathily managed to sneak customers into a storeroom after gunman Amedy Coulibaly burst into the supermarket in Port de Vincennes and killed four people.
Mr Bathily was presented with his citizenship at a ceremony in France yesterday evening. The event was attended by top officials, including France's Prime Minister Manuel Valls and interior minister Bernard Cazeneuve. He was given a French passport by Valls and also presented with a medal for his action.
At the ceremony Mr Bathily said, "Tonight, I am very proud but also very touched. I would like to thank everyone who truly believed in me, everyone that has always supported me."
"People are calling me a hero but I am not a hero. I am Lassana and I will always just be myself," he added.
Mr Bathily finished by saying, "Long live liberty. Long live friendship. Long live solidarity and long live friends," leading members of the audience to give him a standing ovation.
The 24-year-old, who is Muslim, has lived in France for the past nine years and applied for citizenship back in 2014. Last night he said that he was "truly happy" to have a dual citizenship.
His act of bravery only came to light after he told local French news channel BFM-TV about how he led the group of customers to safety in a freezer, while Coulibaly walked through the store in the siege on 9 January. The extremist terrorist was later shot dead by police.
In pictures: Kosher grocery attack in Paris

Show all 25
An online petition was set up calling for Mr Bathily to be given citizenship and gained over 420,000 supporters.
Mr Bathily had worked in the store for four years when the attack happened. After sneaking the customers into the cold room, he tried to convince them to escape in the shop lift but they feared that the noise would attract the attention of the gunman.
Despite the risk to himself, Mr Bathily managed to escape from the shop but was arrested by the police before he managed to convince him that he was an employee. He eventually helped the police with the layout of the supermarket as they prepared to raid it.
"Yes, I helped Jews get out. We're brothers," he said. "It's not that we're Jewish or Christian or Muslims, we're all in the same boat. You help so you can get through this attack," he told BFM-TV.
Join our new commenting forum
Join thought-provoking conversations, follow other Independent readers and see their replies