Paris march: President Hollande asked Israel's Netanyahu not to attend Paris march
France's President claimed the Israeli premier's presence would be 'divisive'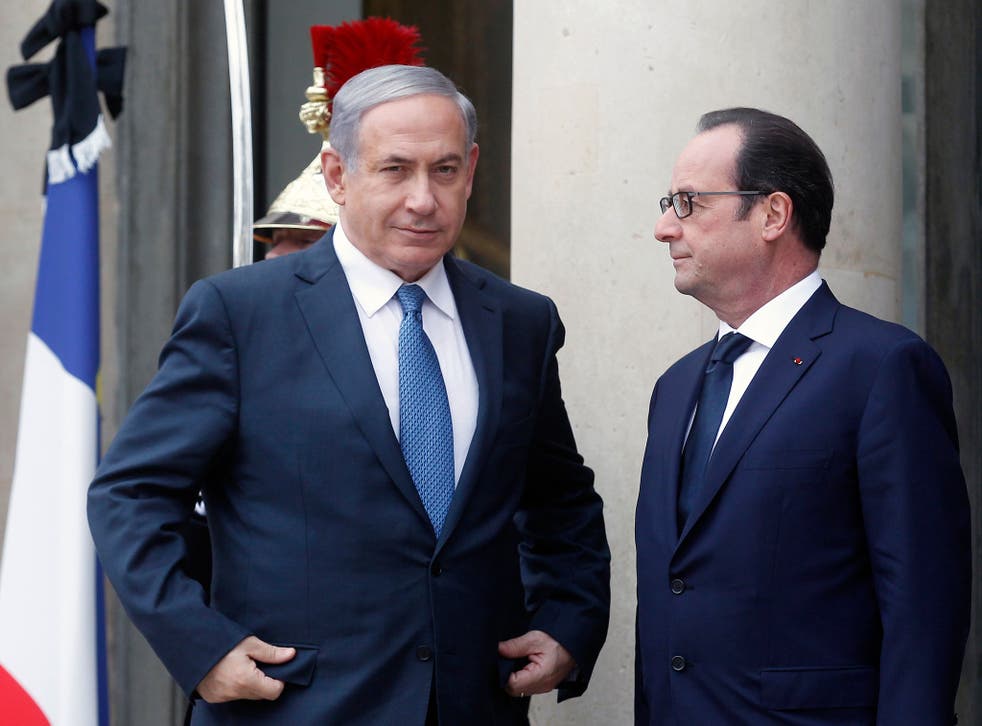 France's President Francois Hollande asked Israeli premier Benjamin Netanyahu not to attend Paris's phenomenal march against hatred on Sunday, claiming that his presence would be divisive, it has been reported.
The unity rally in Paris was fronted by more than 50 world leaders, who all linked arms as they led the march from the Place de la République in eastern Paris, where 1.5 million people gathered to honour the 17 victims of last week's bloody massacre that left the country reeling.
In an unprecedented show of solidarity, the Israeli Prime Minister was seen marching just four people apart from Palestinian leader Mahmoud Abbas, while Prime Minister David Cameron's appearance marked his first ever street march. Demonstrators carried placards brandishing the phrases "I am Charlie" and "I am Jewish".
In pictures: Charlie Hebdo demonstration, Paris

Show all 20
The reports claim that Mr Hollande's national security advisor Jacques Audibert contacted his Israeli counterpart, Yossi Cohen, to say that the French leader would prefer Mr Netanyahu not attend the march.
A source who spoke to PressTV claims that one of the French concerns - which was not conveyed to Israel - was that Mr Netanyahu would use the rally as an opportunity to deliver speeches about the Jews in France, and to campaign.
It has been claimed that Mr Netanyahu had at first agreed not to attend the march, but changed his mind when his foreign minister Avigdor Lieberman and economy minister Naftali Bennet revealed they would, in fact, be travelling to Paris for the event.
When Mr Netanyahu informed the French government of his plans, Mr Hollande reportedly extended an invitation to Palestinian leader Mahmoud Abbas, who accepted the opportunity.
President Hollande held a meeting with Jewish leaders at the Elysee Palace ahead of yesterday's march, and sought to reassure France's Jewish community that they will be protected following the brutal attack made by Amedy Coulibaly on a Kosher supermarket in the capital, which left four dead.
While in Paris, Mr Netanyahu announced that the bodies of the four French Jews killed in the supermarket attack will be buried in Israel.
A day earlier he had tweeted: "To all the Jews of France, Israel is not just the place in whose direction you pray, the state of Israel is your home."
After Sunday's march Mr Hollande met with the family of Ahmed Merabet, the police officer who was killed during the shocking assault on satirical magazine Charlie Hebdo's offices, in which 12 people were killed, before he took part in a remembrance ceremony at the Grand Synagogue of Paris held for the victims of last week's attacks.
Both the French and Israeli embassies have been contacted and are yet to comment on the claims.
Join our new commenting forum
Join thought-provoking conversations, follow other Independent readers and see their replies