Paris riots ten years on: Unemployment is rising and the 'banlieues' problem remains a decade on from teens' deaths
On 27 October 2005, the deaths of two boys prompted riots across France. Amelia Jenne reports from  Clichy-sous-Bois, where residents say there is little to show for politicians' promises of action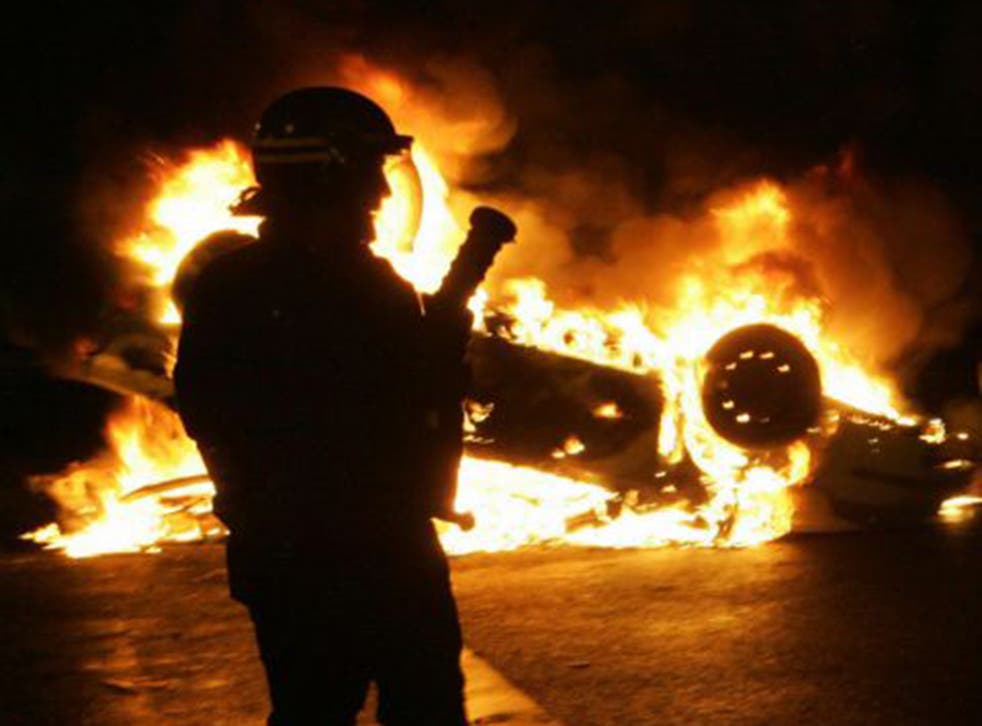 A decade since their deaths, the electrocution of Zyed Benna, 17, and Bouna Traoré, 15, while hiding from police remains a stain on the conscience of France.
After they were killed and their friend Muttin Altun severely injured in an EDF transformer in Clichy-sous-Bois, a deprived Paris neighbourhood, the boys became a symbol of the discontent of the banlieues, the suburbs where they lived.
The deaths triggered three weeks of rioting in cities across France. Within hours, violent protests against police had spread across Clichy-sous-Bois, and within weeks, to the suburbs of almost every city. Yesterday, on the eve of the anniversary, France's Prime Minister Manuel Valls and 17 ministers travelled to Mureaux, another disadvantaged suburb, to set in motion a number of moves to tackle "urban ghettos".
It was another assault on the "social, ethnic, territorial apartheid" that Mr Valls vowed to dismantle following January's jihadist attacks on Charlie Hebdo and a Jewish grocery. But the deprived suburbs, or banlieues, are still a byword for social exclusion, poverty and unemployment.
The measures Mr Valls announced include attaching cameras to police uniforms and forcing recalcitrant mayors to ensure that 25 per cent of homes are social housing in their districts.
"We learnt a terrible lesson," Zyed's brother, Adel Benna, told The Independent yesterday. "It made people start talking about problems in the estates… at least they didn't die for nothing." But Mr Benna said little has changed. "Politicians always make promises," he said. "Clichy-sous-Bois is still isolated, without proper transport, with nothing at all."
In Clichy-sous-Bois, which is today holding a vigil for Zyed and Bouna, unemployment is double the national average. Some 45 per cent live below the poverty line. Outside a modest shopping centre in the Chene Pointu neighbourhood, Sami Altun, 26, says "things are changing little by little". "But only up there," he adds, pointing to Haut Clichy in the suburb's east. A €620m (£446m) urban renovation programme was set in motion a year before the riots in 2004.
From that, a swimming pool, new school and government employment centre have been built. Next year, a disused 14-storey office will be demolished and replaced by a cultural centre, inspired by the Villa Medici in Rome, a residence for French artists.
Crucially, in response to the riots, a new police station was built in 2007 – giving the suburb a force of its own. While Clichy is improving from the inside, its flimsy transport links have entrenched its isolation: it is an overland train and bus journey away from central Paris.
Charlie Hebdo: The first edition since the Paris massacre

Show all 15
A tramline will be finished by 2018 and authorities hope to open a Metro station by 2023 – a move that is hoped will ease the high level of unemployment. But for another Chene Pointu resident, Tidjan Fall, 23, Clichy-sous-Bois's greatest scourge still remains: slum landlords. "They're buying flats and charging too much", he said.
The suburb was built on hunting land east of Paris in the 1960s, on the promise of the construction of a motorway that never materialised. Flats hastily bought and sold fell cheaply into the hands of private landlords who let them fall in to disrepair.
"Some people are living in unmanageable, unacceptable conditions", the council's spokeswoman, Lamya Monkachi admitted. "Yes there are problems with drugs and with security – we can't deny that it doesn't exist."
She was at pains, however, to stress that Clichy-sous-Bois was transforming: little by little. The council is cracking down on slum landlords as well as buying up some of the properties, making improvements and selling them to tenants. "The solution to end ghettoisation of the poor is to increase social housing and stop stigmatising people who need it," said Ms Monkachi.
Mr Valls said that the government would intervene in towns that failed to subsidise at least a quarter of their housing – and named and shamed 36 who were failing to do so. He also promised a campaign to identify and tackle discrimination in the labour market.
On the 45-minute journey to Clichy-sous-Bois from Gare du Nord, Samir Mihi, who runs Au-delà des mots, an association to support Zyed and Bouna's families, said that Clichy-sous-Bois has moved on from 2005. "I'm tired of people taking our area hostage: it has physically changed and people's mentality has too. There were no riots after the verdict on the police officers," he said.
In May a court acquitted the two police officers who had failed to raise the alarm after the boys ran towards the EDF site of "non-assistance to individuals in danger" – a ruling the families' lawyer Jean-Pierre Mignard said was symptomatic of a "judicial apartheid".
Much of the case was based on recordings of patrol officer Sebastien Gaillemin reporting "they are running towards the EDF site… if they stay [there] I don't like their chances of getting out".
"It was during the trial that we learnt they died at 12 minutes past six," said Mr Mihi. "When they were electrocuted there was a power cut and the area was plunged in to darkness- that's how we know." Tonight, residents of Clichy-sous-Bois are gathering to light candles when the darkness falls at 6.12pm.
Join our new commenting forum
Join thought-provoking conversations, follow other Independent readers and see their replies