Paris shootings: How the sieges with Charlie Hebdo killers at Dammartin-en-Goele print works and Jewish grocer ended
All three suspects were killed and 16 hostages freed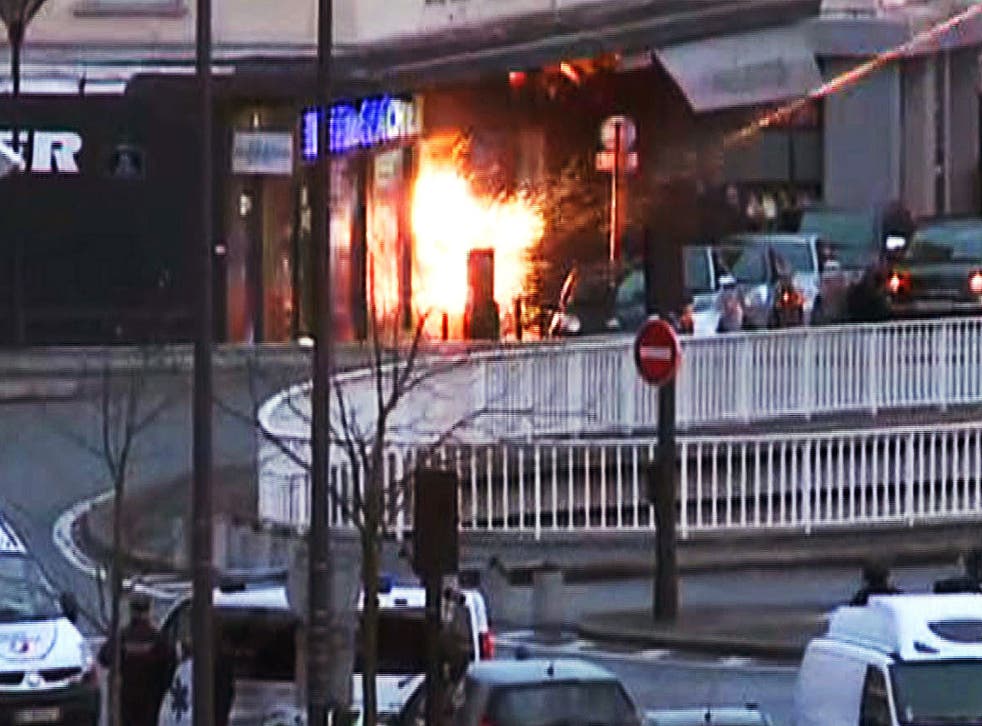 Two days of manhunts and sieges came to an abrupt and violent end in the space of a few moments on Friday with the deaths of the brothers who carried out the Charlie Hebdo massacre and a man who seized a Kosher supermarket in an attempt to help them escape.
Gunmen Cherif Kouachi, 32, and Said Kouachi, 34, and their alleged associate Amedy Coulibaly all died during the operations.
Paris prosecutor Francois Molins said several people have been handed preliminary charges in the investigation following the three-day rampage, including unidentified family members of the three suspects.
Coulibaly had burst into the Hyper Cacher shop earlier in the day "shooting in all directions", sparking panic and a police lock-down of the surrounding area. Four people were killed as he made his bloody entrance, with their bodies still there when police raided it hours later.
After hours of eerie quiet in the Parisian suburb of Vincennes when authorities shut down Jewish businesses and shoppers fled, explosions lit up the Hyper Cacher in Paris as police stormed the shop at around 5pm.
Authorities had hijacked the shop's CCTV cameras to watch the unfolding hostage crisis inside, as Coulibaly threatened to murder the men, women and children he had captured if police made a move on the Kouachi brothers.
Footage from the scene showed the moment Coulibaly ran out of the kosher store firing and was taken down by a volley of bullets shot by French police.
Commandos then fired stun grenades into the shop before swarming inside, flanked by an armoured vehicle and a stream of ambulances.
Frenzied civilians - one of them carrying a toddler - scurried out under escort by helmeted police in body armour.
Fifteen hostages were freed but four were already dead according to Coulibaly, who told a French television station he had killed them. Some of the survivors had holed up in the supermarket's freezer, apparently unbeknownst to the gunman.
BFMTV, a 24 hour channel, said it had conducted a telephone interview with Coulibaly, who claimed to have worked "in synchronisation" with the Charlie Hebdo killers and to have links with Isis. He targeted Jews specifically with his choice of the Kosher grocer, he said, claiming to defend "oppressed Muslims" in Palestine.
Coulibaly did not hang up properly after the phone call, the station said, allowing police to hear him saying a final prayer before his death, perhaps prompting the raid.
Minutes before, police had launched their assault on a printing plant north of Paris in Dammartin-en-Goele, where the Kouachi brothers were hiding with a single hostage.
The Kouachi attack and the siege of a kosher grocery store by Coulibaly were closely co-ordinated, with Coulibaly and his girlfriend speaking more than 500 times to the Kouachi brothers over the phone according to police.
The pair reportedly burst out of the building firing their guns at police at around 5pm on Friday after saying they "wanted to die as martyrs".
They had gone on the run after allegedly shooting 12 people dead at the offices of satirical magazine Charlie Hebdo two days ago and threatened to kill a hostage if police attempted to enter the building.
The Kouarchis had hijacked a Peugeot near the small town of Crepy-en-Valois and were pursued for 30 miles south along the N2 trunk road by gendarmerie cars before taking refuge in the print works.
Security forces had surrounded it for most of the day and after a series of explosions at around 5pm (4pm GMT), Swat teams could be seen on the roof of the building as a helicopter landed nearby.
Authorities said the brothers temporarily took a man hostage at the plant but let him go, and they were reportedly shot dead during the firefight with police. A second man was later discovered to have been hiding inside the building.
Cherif Kouachi spoke to BMFTV hours before his death, claiming to be funded by al-Qaeda in Yemen, which later claimed responsibility for ordering the Charlie Hebdo attack.
He called himself and his brother "defenders of the prophet", calling Charlie Hebdo journalists "targets." He claimed he did not want to kill women and children but that "the West massacred them in Iraq and Afghanistan".
The brothers' link to 32-year-old Coulibaly, who is suspected of shooting a female police officer dead before taking hostages at the Kosher grocery shop, appeared to be through Cherif.
The pair were named together as part of a plot to free an Islamist terrorist from a French prison and may have been radlicalised by the same group.
In pictures: Charlie Hebdo suspects siege

Show all 25
Coulibaly's girlfriend Hayat Boumedienne, 26, has also be named by police as a person of interest. It is believed that Ms Boumedienne attended a suspected jihadist training camp in Cantal, a mountainous area of central France.
Her whereabouts are unknown.
Additional reporting by agencies
Join our new commenting forum
Join thought-provoking conversations, follow other Independent readers and see their replies