Paris to sue Fox News over claims city is no-go zone for non-Muslims
Expert said parts of France were like Afghanistan, Iraq and Kashmir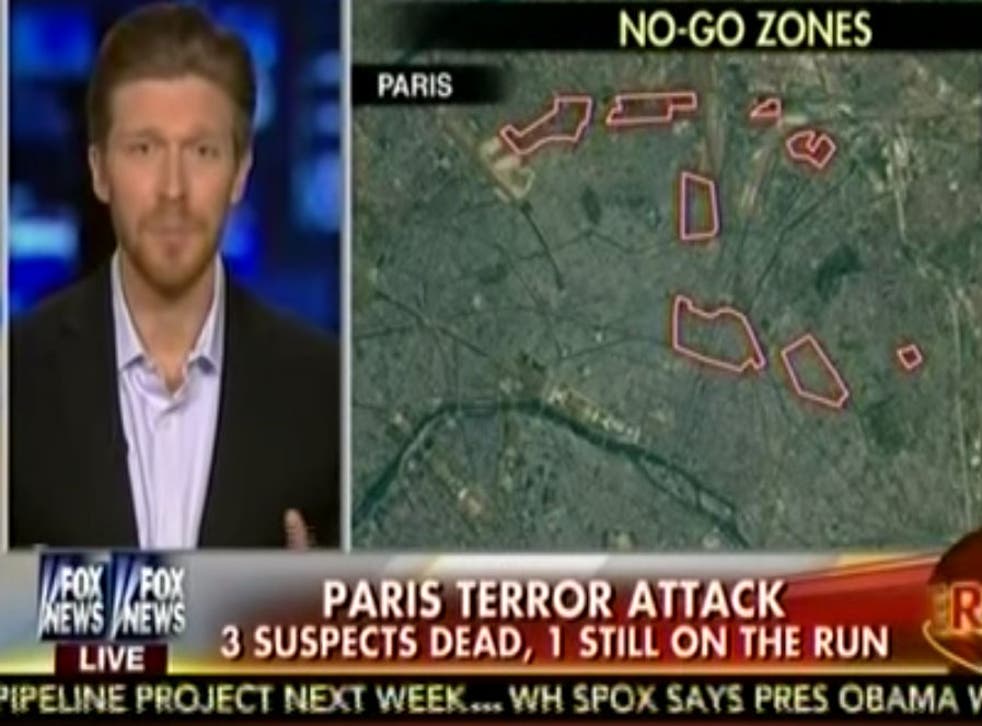 The city of Paris is to sue Fox News for claiming that areas of the French capital – including sought-after residential districts – are "no-go zones" forbidden to non-Muslims.
In the days after the jihadist attacks in Paris last month, the ultra-conservative US news channel owned by the Murdoch organisation broadcast claims about Muslim "control" of Paris and Birmingham.
In the case of the French capital, the TV channel showed a map of eight alleged areas subject to "sharia law" where non-Muslims were unwelcome.
The areas included the whole of the ninth arrondissement in central Paris, which includes much of the capital's night life and scores of streets of highly-priced apartments.
The mayor of Paris Anne Hidalgo said that she was bringing the law suit to protect the city's status as the world's most popular urban tourist destination.
"I will not accept insults against our city and its people," she said. "What's in question here is not fun or... a bad joke, it's lies."
The lawsuit was approved by the left-wing and Green majority on the city council. The centrist and right wing opposition abstained on the grounds that the legal action was largely a mayoral "publicity stunt."
Dori Ann Hanswirth, a lawyer representing Fox News, told the French news agency AFP that the law suit was "antithetical to free speech." Previously, Fox News had apologised on air for its "regrettable" errors about Birmingham and Paris.
There is nothing remotely resembling a Muslim no-go zone – or a no-go zone of any kind – within the 20 arrondissemenst (districts) of the city of Paris. There are violent and poor multi-racial suburbs outside the Paris boundary but none of them are exclusively Muslim and none are subject to sharia law,
An "expert" called Nolan Petersen, a US army veteran and specialist on conflict-zones, spoke of Muslim-dominated no-go zones in Paris. Backed by a map showing eight districts ringed in red, he said that parts of Paris resembled areas of Afghanistan or Iraq. "There are 741 no-go zones throughout France located in ghettos. I've been to Afghanistan, Iraq and Kashmir and at times it felt like those places."
Fox News also came under heavy criticism in the wake of the Paris attacks for featuring another terror "expert", Steve Emerson, who described Birmingham has been a no-go area for non-Muslims.
Join our new commenting forum
Join thought-provoking conversations, follow other Independent readers and see their replies