Paris terror attacks: US admits higher-level representative should have attended Sunday's unity rally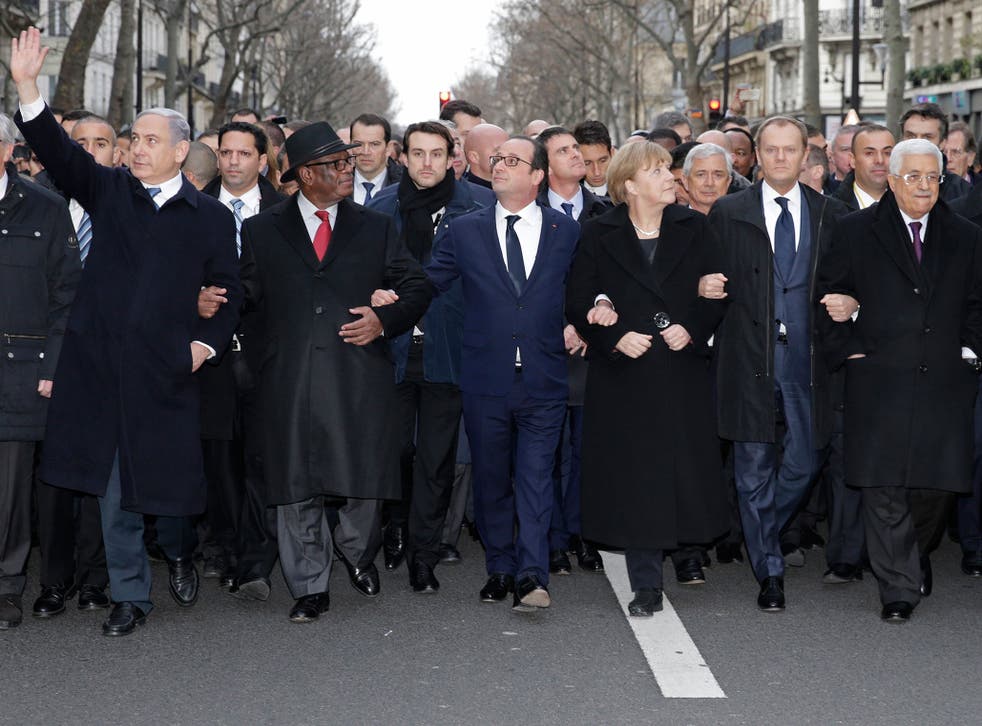 The White House has admitted that the United States should have sent a higher-level representative to Sunday's unity march for the victims of the Paris terror attacks, which was attended by around 40 world leaders.
President Obama's administration faced criticism from Republican politicians and US media outlets for not sending a top leader to the rally in the French capital.
Millions of people gathered in the centre of Paris on Sunday after extremist Islamic militants killed 12 people at the offices of satirical magazine Charlie Hebdo, and four others died in a separate attack at a Kosher supermarket.
French President Francois Hollande, British Prime Minister David Cameron, German Chancellor Angela Merkel, Palestinian leader Mahmoud Abbas and Israel's Prime Minister Benjamin Netanyahu were among the 44 leaders who took part in the march.
US Attorney General Eric Holder and Homeland Security Deputy Secretary Alejandro Mayorkas were in Paris for security meetings on Sunday but did not attend the march.
Florida Republican Senator Marco Rubio said the administration had made a mistake by not at least sending Holder or Secretary of State Kerry to attend the Sunday rally. And Senator Ted Cruz, a Republican, wrote for Time Magazine: "Our president should have been there, because we must never hesitate to stand with our allies."
White House spokesman Josh Earnest told reporters that Obama would have liked to have gone.
Charlie Hebdo: Mourning in Paris

Show all 6
"I think it's fair to say that we should have sent someone with a higher profile,"he added.
"That said, there is no doubt that the American people and this administration stand foursquare behind our allies in France as they face down this threat," he said.
Security requirements were a central reason why neither Mr Obama nor Vice President Joe Biden attended the demonstration, US administration officials also said, adding that their security needs can be distracting from such events.
In the wake of last week's deadly attacks in France , Mr Obama denounced the gunmen's actions and spoke to Mr Hollande soon after. He later went to the French Embassy in Washington to sign a book of condolences.
Additional reporting by Reuters
Join our new commenting forum
Join thought-provoking conversations, follow other Independent readers and see their replies