Italian police cook elderly couple pasta after neighbours hear crying
'Sometimes the loneliness melts into tears. Sometimes it's like a summer storm. It comes suddenly and overtakes one,' say the Rome police in a statement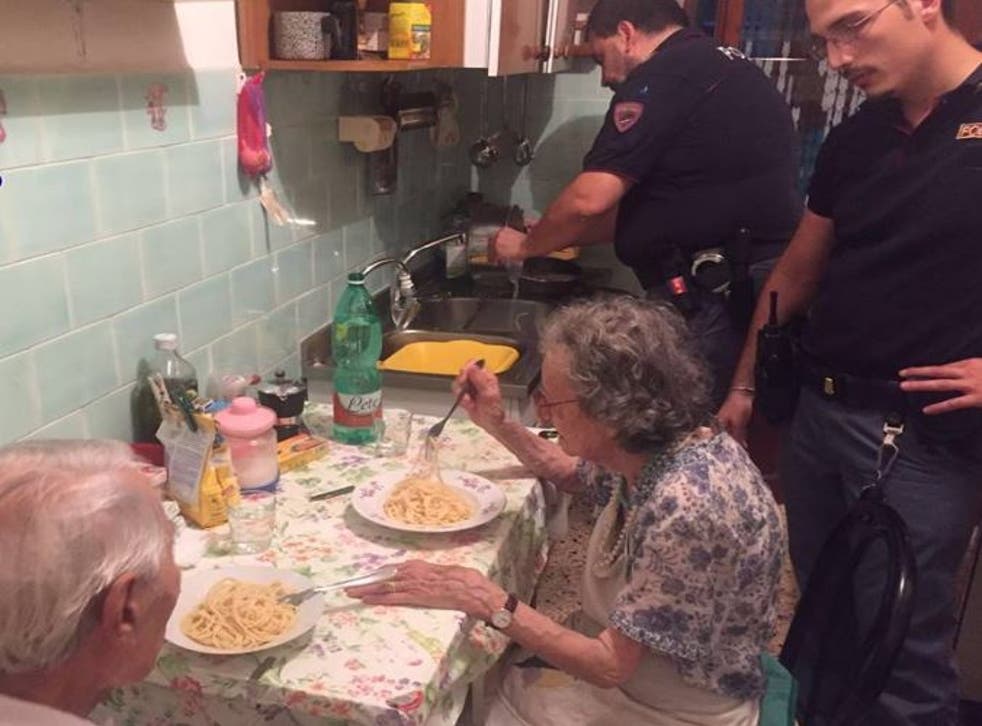 Four policemen cooked pasta for an elderly couple after their loneliness and television news caused them such distress they were overheard crying.
Eighty-four-year-old Jole and 94-year-old Michele told police that no one had visited them in months and they were desperately saddened by the state of the world.
Yet in a rare break from fighting crime in one of Italy's best-known tourist - and mafia - hotspots, four policemen called to their door stopped to comfort them by cooking them up some of the country's most famous exports: pasta and parmesan.
Their team posted the incident on the force's Facebook post, where it has been shared more than 23,000 times and liked, loved or cried over using the site's emojis more than 64,000 times.
The almost-poetic description of the incident laid out the scene in the moments before the policemen - named Andrea, Alessandro, Ernesto and Mirko - were called out.
"It is not always an easy life. Especially when the city is empty and the neighbours are away on vacation. Sometimes the loneliness melts into tears. Sometimes it's like a summer storm. It comes suddenly and overtakes one," said the statement.
Kitten saved from drowning by Italian Coastguard
"Jole and Michele, they love each other. But when the loneliness is a burden on the heart, it may happen that they lose hope.
"Can happen, like this time, that they scream so loud in their despair that, in the end, somebody calls the state police."
The couple told the policemen that Jole had become overwhelmed by the tales of abuse and war on the television and begun to desperately cry, with her partner despairing at her grief and becoming upset too.
"There isn't a crime. Jole and Michele are not victims of scams, as often happens to the elderly and no burglar came in the house. There's no one to save," continued the post.
Heartwarming news stories from around the world

Show all 30
"This time, for the boys flying over, there is a more difficult task to perform. There are two lonely souls to reassure.
"[...] They ask for permission to access the pantry. Improvise a little dinner. A bowl of pasta with butter and cheese. Nothing special.
"But with a precious ingredient: inside it is humanity."
Register for free to continue reading
Registration is a free and easy way to support our truly independent journalism
By registering, you will also enjoy limited access to Premium articles, exclusive newsletters, commenting, and virtual events with our leading journalists
Already have an account? sign in
Register for free to continue reading
Registration is a free and easy way to support our truly independent journalism
By registering, you will also enjoy limited access to Premium articles, exclusive newsletters, commenting, and virtual events with our leading journalists
Already have an account? sign in
Join our new commenting forum
Join thought-provoking conversations, follow other Independent readers and see their replies