Ukraine crisis: President Poroshenko says resignation of Prime Minister will not affect military operation to defeat pro-Russian rebels
As emergency workers were collecting the remains of the 296 people killed in the MH17 crash, operations against the rebels have continued
Andrew Buncombe
Friday 25 July 2014 19:02 Comments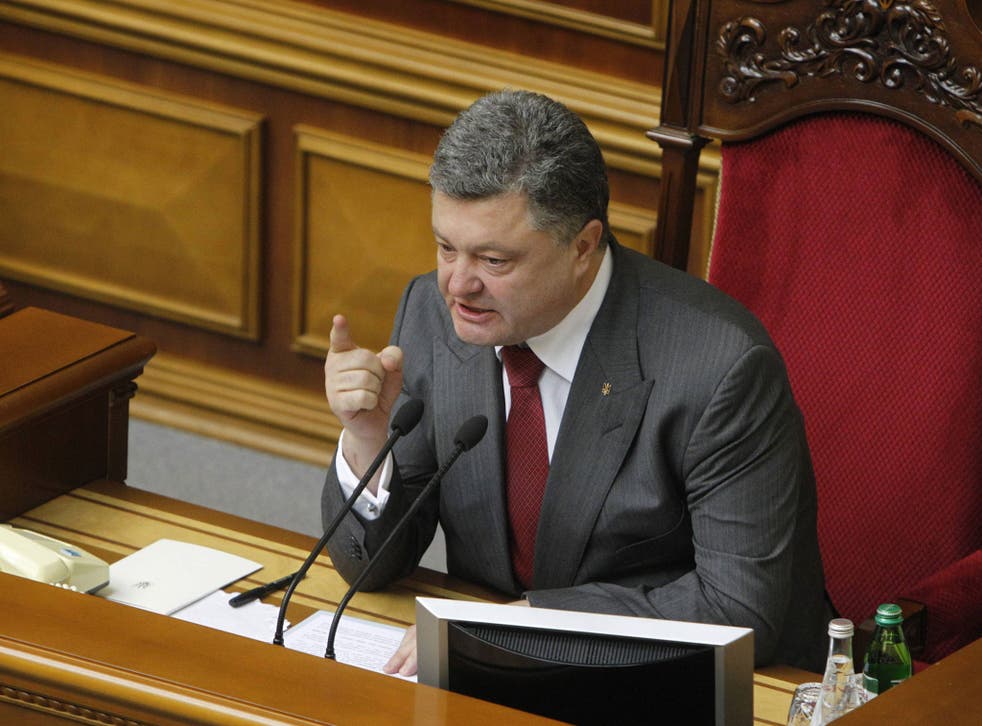 Ukraine is facing further uncertainty after the parliament announced it was yet to receive a resignation letter from the country's Prime Minister and was therefore unable to vote on whether or not to accept it.
Arseny Yatseniuk, a usually mildly spoken political who has supported closer links with Europe, berated his colleagues in the parliament on Thursday and said it had betrayed people's demands for change.
But today a spokesman for the parliament said Mr Yatseniuk's letter had not been received and could not be voted on – a development that further stalled work at the very heart of a government trying to lead a military operation to crush separatist rebels and handle the aftermath of the downing of Malaysia Airlines Flight 17.
The Reuters news agency said Mr Yatseniuk had shouted at politicians in the parliament, accusing them of failing to pass laws designed to address a potentially dangerous energy situation and provide additional funding for the armed forces.
"History will not forgive us," he said, telling politicians they were at risk of losing the hearts of Ukrainians who had protested for months in the so-called Maidan demonstrations in favour of joining Europe and against a pro-Russian president.
Ukraine's President, Petro Poroshenko, elected in May after the ousting in February of former President Viktor Yanukovich, has said the resignation of Mr Yatseniuk will not affect the military operation underway in the east of the country to defeat pro-Russian rebels who seized a number of towns and large swatches of territory in the spring. Ukraine claims the rebels receive weapons, training and manpower from Moscow.
This week, even as emergency workers were collecting the remains of the 296 passengers and crew killed when the Boeing 777 crashed to the ground and arranging for them to be flown out of Ukraine, operations against the rebels have continued and expanded.
Ukraine crisis: Bridges blown up as rebels retreat

Show all 10
As the troops have advanced closer to the city of Donetsk, a stronghold of the so-called Donetsk People's Republic, rebels have been hardening their defences, destroyed roads that could be used by the government forces and preparing for a fight.
Today it was reported that the Ukrainian army said it had come under attack from shelling that came from the Russian side of the border between the two countries. Moscow always denies such claims.
Quite how many people have been killed in the fighting that has raged since the spring is unclear. But campaigners have repeatedly urged both sides to take all steps to avoid civilian casualties.
This week, Human Rights Watch said at least 16 people had bee killed by the use of unguided Grad rockets, that were apparently used by Ukrainian government forces in attacks on rebels positions in Donetsk between July 12 and July 21. Meanwhile, local health officials said 14 people had been killed within the last 12 hours as the government sets up its advance.
"The use of indiscriminate rockets in populated areas violates international humanitarian law, or the laws of war, and may amount to war crimes," said the group.
It has also become more dangerous for the media. A least two journalists, including one British reporter working for the Russia Today network, have been detained. It is unclear who seized Graham Phillips and another journalist in Donetsk earlier this week. Moscow has claimed they were detained by the Ukrainian authorities, though that has been denied.
For all of Mr Yatseniuk apparently genuine emotions, experts said his decision to resign was likely a move planned to open the way to new parliamentary elections later this year. The government had been complaining that despite the election of Mr Poroshenko, the parliament has remained full of politicians linked to Mr Yanukovich, some of whom have opposed proposed reforms.
Orysia Lutsevych, a fellow at Chatham House in London, said it was likely that elections will be held on October 26. She told The Independent: "There have been many in the parliament who have been blocking reforms."
Register for free to continue reading
Registration is a free and easy way to support our truly independent journalism
By registering, you will also enjoy limited access to Premium articles, exclusive newsletters, commenting, and virtual events with our leading journalists
Already have an account? sign in
Join our new commenting forum
Join thought-provoking conversations, follow other Independent readers and see their replies