Plot to 'explode three bombs in German football stadium' foiled after game cancelled at last minute
The German chancellor, Angela Merkel, said: 'Security officials took a responsible decision'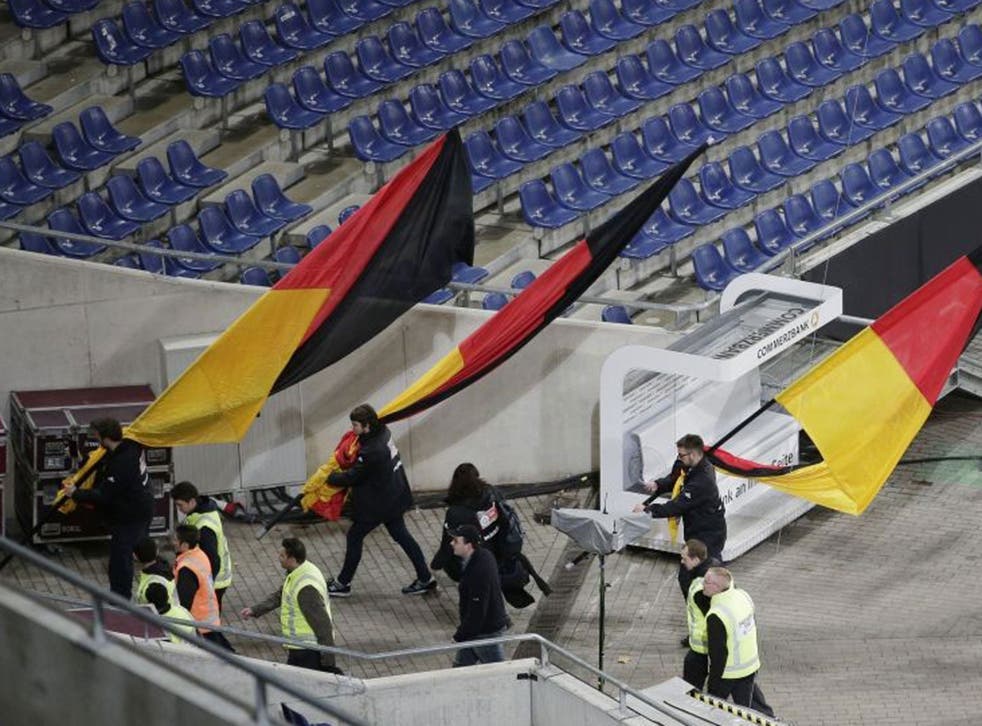 A terrorist plot to detonate three bombs at a German international football match was foiled at the last minute when the game was cancelled, security sources claim.
German security services were warned by their French counterparts that the plot to bomb the HDI Arena in Hanover included five explosives, with a fourth at a nearby bus stop and a fifth at a rail station.
The apparent plot was foiled when match between Germany and the Netherlands was cancelled and the stadium evacuated 90 minutes before the scheduled kick-off on Tuesday evening.
The details of the plot were revealed by an unnamed security official, speaking to the Frankfurter Allgemeine Sonntagszeitung. Despite the security precautions, no arrests were made and no explosives found at the stadium.
Germany's interior minister Thomas de Maiziere has refused to disclose details of the threats that led to the match's cancellation.
The state premier of Lower Saxony Stephan Weil said a firm indication about a "concrete danger" based on secret information had prompted the cancellation of the match.
Lower Saxony's interior minister, Boris Pistorius, said there had been indications of a security threat but declined to confirm or deny media reports that a tip-off came from a foreign intelligence agency.
The Frankfurter Allgemeine's claims have been contradicted by state broadcaster ZDF, also using anonymous security officials as their source, who said they could not be certain whether a German terror group existed, The Guardian reports.
The German chancellor, Angela Merkel, who had been due attend the match along with several other government ministers, said: "I was just as sad as the millions of fans that the match was cancelled. But the security officials took a responsible decision."
"These are difficult decisions, perhaps the most difficult given the conflicting priorities of freedom and security. But yesterday it was right to decide based on security."
The head of Germany's BfV domestic intelligence agency said that while Germany is an enemy of Isis, which has claimed responsibility for the Paris attacks, it should not cancel public events in the face of security fears.
But the head of the federal police, Holger Muench, warned the number of potential Islamist attackers is growing, posing an increasingly difficult challenge to German security.
Mr Muench said police know of around 750 people from Germany who have travelled to Syria and Iraq, possibly to military training camps, and about one third of them have returned.
In the UK, Premier League clubs are also on "extra high alert" following the Paris attacks, Richard Scudamore, the league's executive chairman, told BBC's Newsnight.
Sunday saw Brussels enter a second day under its highest terrorism alert level as the manhunt continued for Salah Abdeslam, a suspect missing since the Paris terror attacks which killed 130 people.
Belgium's national Crisis Centre raised the threat alert in the Brussels region to Level 4 on Saturday, which indicates a "serious and immediate threat."
Additional reporting by Reuters
Join our new commenting forum
Join thought-provoking conversations, follow other Independent readers and see their replies