Polish government set to U-turn on total abortion ban after women stage all-out strike
Minister says protests by women 'taught us humility'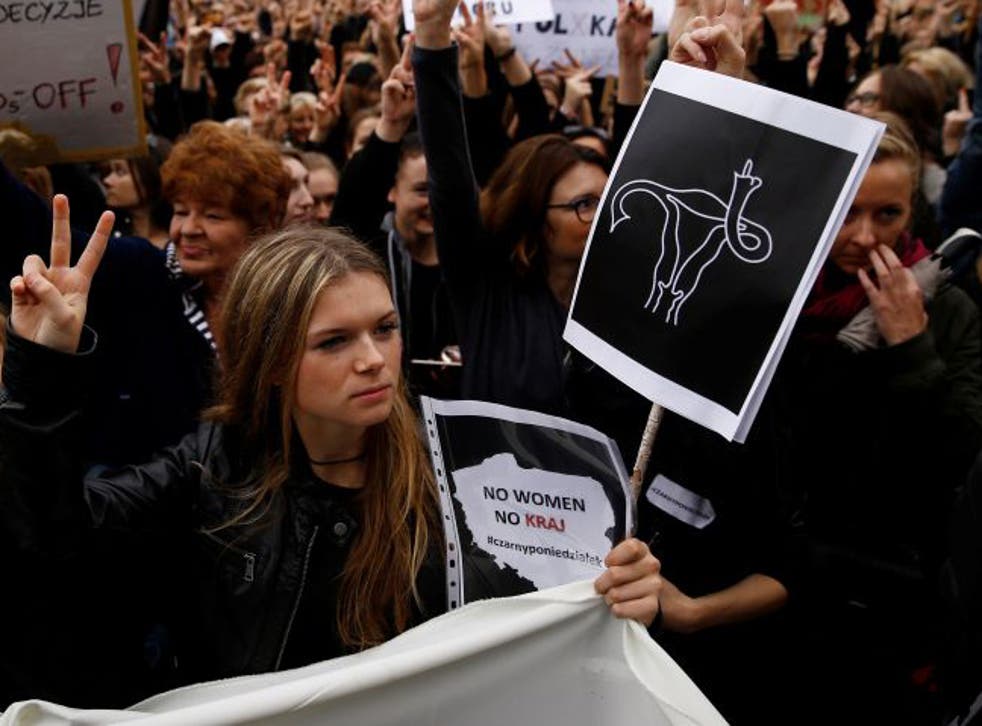 Poland has signalled a U-turn on plans for a total ban on abortion following mass protests in over 60 cities in the country.
Minister Jaroslaw Gowin said demonstrations by thousands of women agianst the proposed new measures had "caused us to think and taught us humility".
Women had boycotted work and dressed across Poland for a day dubbed "Black Monday". In Warsaw, 30,000 people turned out to protest the change
The remarks by Mr Gowin - the Science and Higher Education Minister - indicate Poland's right-wing leadership wil not proceed with the divisive proposal to ban all abortions – even in cases of rape or incest.
A Senate speaker said Poland's upper house of parliament would not initiate work on their own bill that would further restrict Poland's abortion law.
Stanislaw Karczewski said senators would wait to see what the more powerful lower house of parliament will do. "We will now see how the... proposal fares in parliament," he said.
But he voiced support for a ban on abortions of foetuses with Down's Syndrome, something which is currently permitted.
"They are wonderful children, very much loved by their parents, very loving parents, bringing a lot of warmth and a lot of love into a home. I am a great opponent of killing such children," Mr Karczewski said.
Women go on strike in Poland over abortion laws
The country government, led by the Law and Justice (PiS) party, was also under international pressure not to move forward with the plans. A debate has been scheduled to take place later on Wednesday in the European Parliament on the situation of women in Poland.
Under the existing law, a compromise in force since 1993, abortion is banned except in cases where the woman's life is in danger, the fetus is irreparably damaged or the pregnancy results from rape or incest.
Yet even in cases where it is allowed, hospitals invoke "conscience clauses" and can turn away women when a practitioner disagrees with carrying out a termination for religious or moral reasons.
The cost of abortions in the country can also be prohibitive, with the price of an operation being the same as the average polish salary.
World news in pictures

Show all 50
Many women cross the border to Slovakia or Germany to terminate pregnancies and many turn to dangerous underground procedures. Although the number of illegal abortions is disputed, even by conservative estimates the number of unofficial terminations far outstrips legal ones in the country.
The proposal for the stricter law came from an anti-abortion citizens petition that had gathered 450,000 signatures.
Additional reporting by Associated Press.
Join our new commenting forum
Join thought-provoking conversations, follow other Independent readers and see their replies