Thousands turn out to pay respects to murdered Gdansk mayor
Polish mayor's widow blames his murder on state TV's 'hate speech' against him
Wife of assassinated mayor says national broadcaster has 'responsibility' for killing at charity event
The widow of a Polish mayor assassinated on stage at a charity event earlier this month has blamed his death on alleged "hate speech" against him broadcast on government television.
Magdalena Adamowicz said in an interview published on the Onet news portal that state broadcasting corporation TVP had "responsibility" for the death of Gdansk mayor Pawel Adamowicz.
Mr Adamowicz, a political independent who had been critical of Poland's ruling right-wing populist party, died earlier in January after being stabbed at a public event.
The suspect arrested at the scene publicly voiced a grudge against the opposition centrist Civic Platform party, of which the 53-year-old mayor was a member until 2015.
"I have pain in my heart, suffering, regret," Ms Adamowicz told news station TVN24 in a separate interview.
Polish mayor dies after being stabbed on stage at charity concert

Show all 10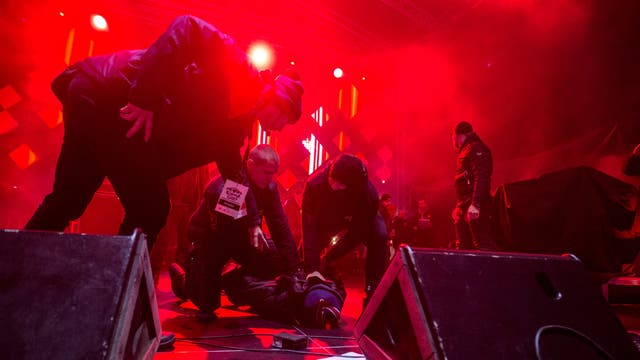 "But I know that [the attack was] the behaviour of a man who was in prison and indoctrinated by regime television, that what is happening, this hate, this hatred, he was the fruit of this hatred."
TVP said it will sue anyone suggesting that its programmes were in part to blame for the politician's death.
However, the killing has sparked controversy in Poland, where some blame the polarising rhetoric Law and Justice employed towards opponents, including Mr Adamowicz, for encouraging his killer to act.
The mayor had forged a reputation as a champion of civil rights, LGBT+ people and immigrants, which made him a target of attacks from the far right.
The fundraiser he had been taking part in on the night of his attack, the Great Orchestra of Christmas Charity, which raises money for healthcare funding, has also been labelled a leftist movement.
Further controversy was caused the day after the mayor's death when TVP ran a report on its main evening news selectively showing Civic Platform politicians using harsh language against Law and Order opponents.
However, critics noted the broadcast omitted examples of similarly aggressive rhetoric used by Law and Justice officials.
Support free-thinking journalism and attend Independent events
A 27-year-old Gdansk man, known only as Stefan W, was detained following the incident, during which he shouted he had been wrongly sentenced to prison time under a previous government led by Civic Platform.
"I was jailed but innocent ... Civic Platform tortured me. That's why Adamowicz just died," he was heard to shout on stage before he was detained by police.
The attacker's mother has begged forgiveness from Mr Adamowicz's family, claiming her son had been diagnosed with paranoid schizophrenia.
Additional reporting by AP
Join our new commenting forum
Join thought-provoking conversations, follow other Independent readers and see their replies