Polish town erects fluorescent statue of Lenin urinating called 'Fountain of the Future'
Nowa Huta's original statue of the communist revolutionary has been replaced by a less subtle sculpture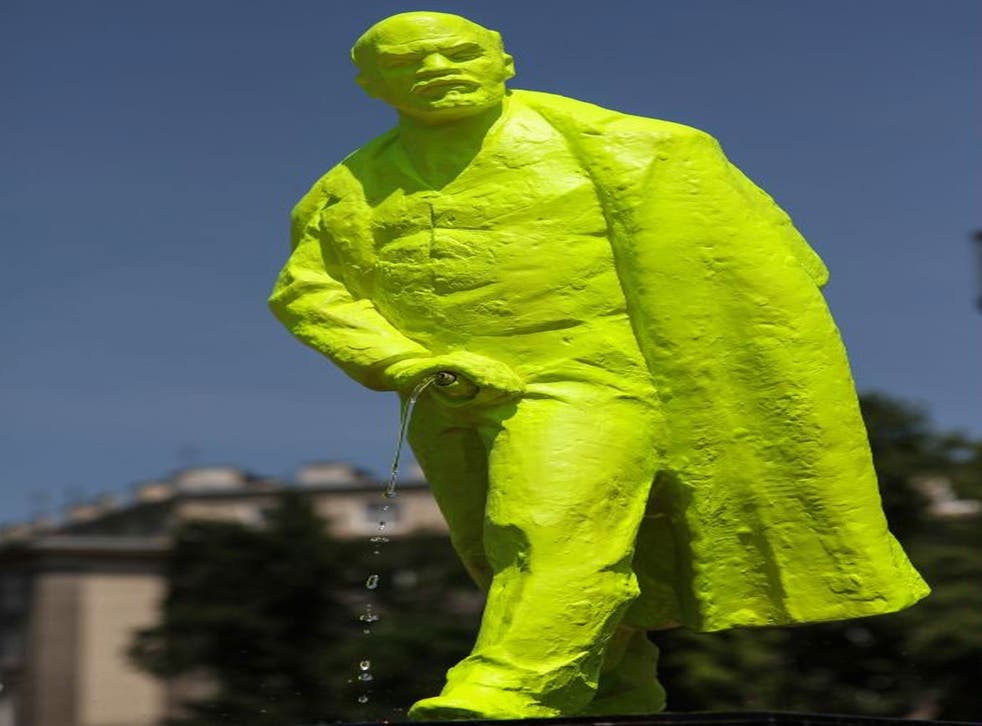 A fluorescent green statue of Vladimir Lenin depicting the communist revolutionary urinating has been erected in a Polish district and even features a strategically placed natural water feature for a more realistic effect.
The unusual sculpture has appeared in Nowa Huta as part of Krakow's 6th Grolsch ArtBoom Festival. It temporarily replaces the original statue of Lenin, which was removed in 1989 following the collapse of communism in Poland.
Nowa Huta was constructed by communists to combat the influence of what authorities deemed to be 'bourgeois' Krakow, but quickly became a bastion of dissent. The original bronze statue survived two attempts at blowing it up by anti-regime activists in the 1970s and 1980s before it was removed from the Central Square.
However, attempts at destroying the statue only succeeded in damaging its feet when attackers did not use enough explosives.
The Fountain of the Future, as the revamped Lenin has been called, takes pride of place during the festival and is designed to encourage debate on what should take permanent place in its spot.
This year's theme focuses entirely on the former industrial centre, where the giant Lenin Steel Mill was constructed.
Bartosz Szydlowski, one of the creators of the installation, told The Telegraph the statue demonstrates that residents of the town do have a sense of humour, and Nowa Huta itself is not just a "grey and gloomy" place.
The original Lenin has been relocated to Stockholm after it was purchased by a Swedish millionaire in 1992.
Join our new commenting forum
Join thought-provoking conversations, follow other Independent readers and see their replies