From a political economics professor to the Marxist head of Syriza's far-left: Greek PM Alexis Tsipras unveils the members of his new cabinet
The new cabinet members have been tasked with steering Greece through the potentially choppy waters of anti-austerity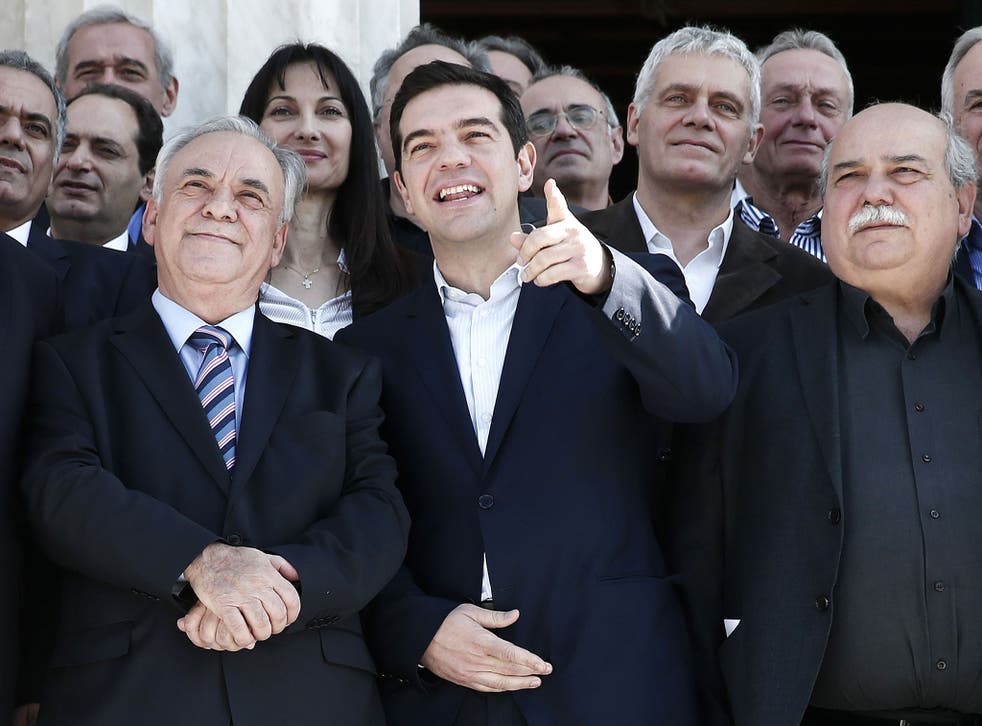 From an outspoken bailout critic to the Marxist head of Syriza's left-wing hardliners, Alexis Tsipras has wasted little time signalling his government's intentions after naming his anti-austerity cabinet.
As concerns of a confrontation with eurozone countries were today fuelled by the newly-elected Greek government's indication the country would scrap or backtrack a series of budget measures demanded in exchange for bailout loans, Prime Minister Tsipras yesterday lined up his cabinet of left-wing radicals, academics and critics of austerity measures.
Mr Tsipras today described the bailout budget facing Greece as "crushing and unobtainable", while his new finance minister called the bailout agreements a "toxic mistake".
"This is a government of societal salvation and it has a very difficult task," Mr Tsipras told his first cabinet meeting. "We want to negotiate the reduction of the debt and an end to conditions of choking austerity."
He said the government was looking for "realistic proposals" to make the rescue loans easier to manage, as well as ways of dealing with the "humanitarian crisis" of mass unemployment and rising poverty.
As share prices were sent plummeting by the comments, with investors expecting tough negotiations with eurozone creditors, here are a few of the cabinet members tasked with steering the country through the potentially choppy waters of anti-austerity.
Yanis Varoufakis
A Greek economist and outspoken bailout critic, Yanis Varoufakis has perhaps so far garnered the most attention of the new cabinet members after announcing in a blog post on Tuesday that he was going to be sworn in as the new government's finance minister, hours before the new cabinet was unveiled.
The 53-year-old has been a vocal critic of Greece's bailouts, describing the arrangement as "fiscal waterboarding". He has argued repayment of the huge rescue loans should be linked to growth, a policy which he also claims would benefit eurozone lenders.
After being sworn in however, he told reporters the government would be constructive.
"We are about to begin negotiating with our partners," he said. "It is a great challenge, but the challenge is how to minimize social costs that were unnecessary throughout Europe."
Greece elections 2015: In pictures

Show all 25
Writing on his private blog meanwhile, Varoufakis has said he would continue to post his views as minister.
He wrote: "Naturally, my blog posts will become more infrequent and shorter. But I do hope they compensate with juicier views, comments and insights."
Panos Kammenos
Leader of Syriza's coalition partners the Independent Greeks, Panos Kammenos has been named as the country's new defence minister.
Mr Kammenos is a former deputy shipping minister who broke away from former Prime Minister Antonis Samaras' New Democracy party in 2012.
Although the party is centre-right, the Independent Greeks share Syriza's oppostion to the bailout terms.
Mr Kammenos has described the bailout by the EU, European Central Bank and IMF as reducing Greece to the status of a debt colony.
In a campaign speech last week he said: "We will never go as beggars on our knees to (German Chancellor Angela) Merkel, we will go standing tall as Greeks do. The Greek people are fighting united to restore national sovereignty and dignity."
While the Independent Greeks agree with the left-wing Syriza on Greece's austerity measures, the two parties differ on most other issues, including immigration.
Yannis Dragasakis
In his new role as Deputy Prime Minister, Yannis Dragasakis is also expected to oversee economic issues.
A former members of Greece's Communist party, 68-year-old Mr Dragasakis, was first elected to Parliament in 1989 and is the sole member of Syriza's economic team with some experience of being in government, according to the Wall Street Journal.
The paper reported he served for five months between late 1989 and early 1990 as deputy finance minister.
Giorgos Stathakis
Syriza's financial planning officer, Giorgos Stathakis has taken over the newly formed development super-ministry, The Guardian has reported.
A 62-year-old political economics professor, Mr Stathakis also reportedly has a history in the Communist party.
On Monday, Mr Stathakis said the new government had no plans to meet with negotiators from the "troika" of the European Central Bank, the European Commission and the International Monetary Fund and would instead seek talks directly with governments.
Panaghiotis Lafazanis
A Marxist who reportedly heads up the far-left hardliners in Syriza, Panaghiotis Lafazanis has been made the new energy minister.
Since being handed the portfolio, Mr Lafazanis has already told Greek television the government was halting plans to privatise a public power company, the Reuters news agency has reported.
Additional reporting by AP and Reuters
Join our new commenting forum
Join thought-provoking conversations, follow other Independent readers and see their replies