Pope Benedict XVI: There have been times when 'it seemed like the Lord was sleeping' during my papacy
Pope Benedict XVI told the crowd he had sought advice from God and had made the decision to resign for the Church and not himself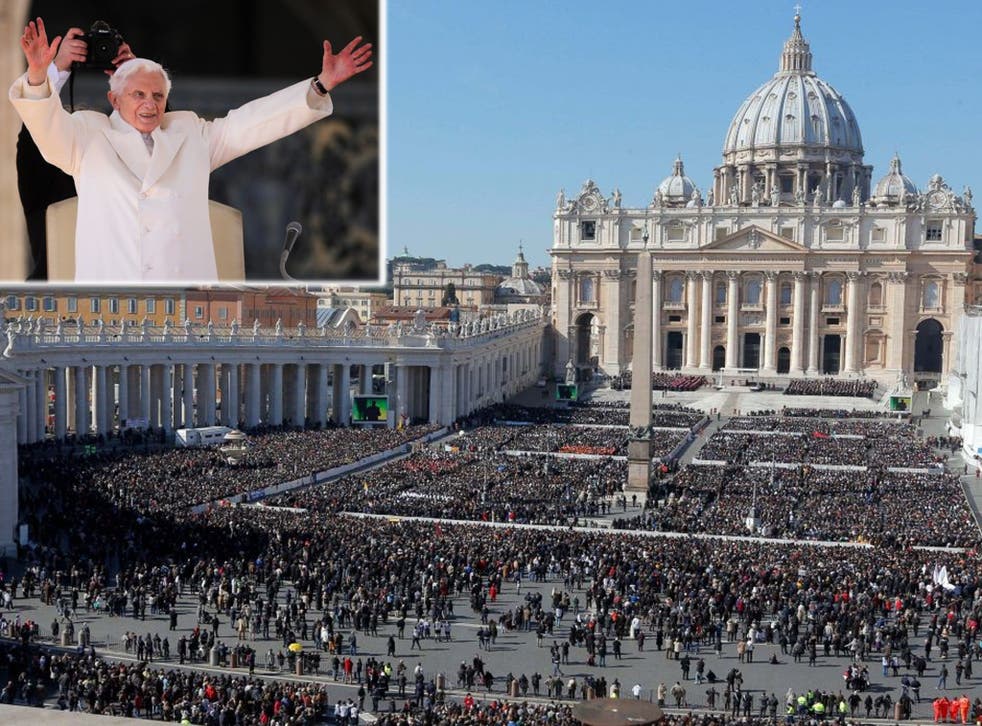 In his outgoing address in front of 150,000 people in St Peter's Square, Pope Benedict XVI today said there had been times when "it seemed like the Lord was sleeping" during his crisis-hit papacy.
Benedict XVI said there had been moments of joy during his tenure, but that "stormy waters and headwinds" had left the church in difficulty.
He said that, despite the troubles, he felt God would not let the church "sink", adding that while "the Lord gave us days of sun and of light breeze, days in which the fishing was good', there were also inevitable periods of "stormy waters and headwinds".
Two weeks ago, with the clamorous news of his abdication ringing in their ears, the faithful appeared lost during Pope Benedict's penultimate general audience. Today the big farewell in St Peter's Square, under a clear blue sky, was a very different affair.
The German pontiff — whose eight-year reign in Rome was marked by scandal and rancour — entered St Peter's Square at 10.39 in the Mercedes popemobile to rapturous applause.
While the vehicle trundled through the crowds, ten black-suited bodyguards kept watch — this was the place where his predecessor was shot in 1981. Every so often the popemobile stopped and an ecstatic mother handed over her baby for a papal peck on the cheek.
The faithful seemed to have accepted Benedict's resignation – perhaps some of them had even began to see the final act of this most-conservative of pontiffs as a liberating and modernising movement for the Church.
Fifteen minutes later, seated on a dais outside the huge Basilica, he spoke publicly for the final time.
Looking up now and then in the peculiar Benedict fashion – fluttering his eyelids while lifting his gaze — he said in that small, breathless voice: "In the past month I've sought the advice of God. I've made the decision with a full aware of its gravity. I made it not for my benefit but for the good of the Church."
A huge Communion and Liberation banner, placed by the ultra-conservative Catholic lobbying group in the south corner of the vast piazza reminded us of Benedict's reactionary social agenda that alienated so many people – Catholics among them.
But today he was with friends – 100,000 of them. One banner said in Italian: "you will always remain our father." In a sense, this is true given Benedict's surprise decision to take the title of Emeritus Pope, when he retires to his monastery in a leafy corner of the Holy City, following his abdication at 8pm tomorrow evening.
At midday, the final prayer completed, he climbed aboard the popemobile for the last time, stopping briefly to kiss one more baby, before exiting stage left.
Benedict, who was the make-do choice of pope eight years ago; the conservative theologian who swiftly became the bogeyman of liberals and non-believers everywhere, left St Peter's Square today an unlikely hero.
Join our new commenting forum
Join thought-provoking conversations, follow other Independent readers and see their replies