Pope Francis brands rejection of migrants 'an act of war'
'This is war, this is violence, it's called murder'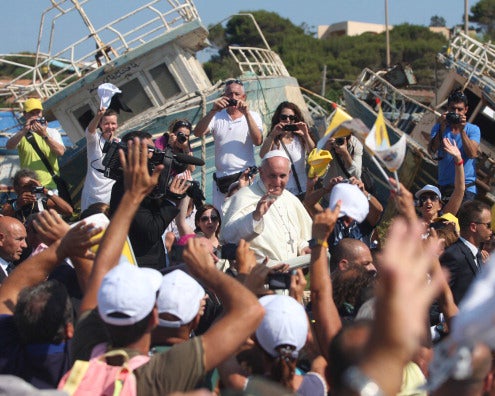 Pope Francis has called the rejection of migrants fleeing violence "an act of war".
Speaking to a youth group, he said the situation where desperate migrants were bounced from country to country seeking shelter was "an unresolved conflict... and this is war, this is violence, it's called murder".
In his speech on the island of Lampedusa in southern Italy the Pope called on European powers to do more to help the migrants that have been arriving on the island, according to the Gazzetta del Sud.
More than 2,000 migrants are believed to have died in the past eight months while making the journey across the treacherous Mediterranean sea in overfull, unseaworthy boats operated by people smugglers, according to Doctors Without Borders.
They are fleeing persecution, war and famine in their home countries with the majority from migrants believed to be from Eritrea, Syria and Afghanistan.
Many set off from Libya and capsize with charities such as DWB and Save the Children forced to sends boats to rescue them and bring them to Lampedusa or Sicily.
The British government has been particularly criticised for its handling of the migrant crisis in Calais as people, some of whom who have already made the dangerous Mediterranean crossing, attempt to board trains and lorries travelling through the Eurotunnel.
Prime Minister David Cameron in particular was called "racist" by the Deputy Mayor of Calais for calling the migrants "a swarm".
He said the comments showed his "ignorance of the situation".
Foreign Secretary Philip Hammond caused further controversy on Sunday when he told the BBC he believed "marauding" migrants threatened the British "standard of living". Amnesty International condemned the remarks saying they were "mean spirited" and "shameful".
Pope Francis gives life advice: in pictures
Show all 10
In June, the Pope said countries that turn away migrants would need to seek forgiveness from God for their actions.
In his weekly audience in Vatican City he said: "I invite you all to ask forgiveness for the persons and the institutions who close the door to these people who are seeking a family, who are seeking to be protected."
In 2013, he gave Christmas presents to 2,000 immigrants in a shelter near the Vatican.
Each of the gift packages sent to the Dono di Maria shelter in Rome contained a Christmas card signed by the Pope, a pre-paid international calling card and a free day pass on the metro in Rome.
Join our commenting forum
Join thought-provoking conversations, follow other Independent readers and see their replies